Duplicate pictures can clutter a lot of space in your storage and make you run out of space soon. There are several reasons behind duplicate images on any device. We capture burst mode images on our smartphones and then transfer the whole lot to our PC once our phone storage is full. Capturing a perfect selfie may create a lot of duplicate photos on our smartphones.
If you transfer the entire album without deleting duplicate photos, the backup folders also contain duplicate images. It is always recommended to clean up duplicate pictures before taking a backup on our PC or on cloud storage. The free storage on Dropbox is limited to 2GB whereas OneDrive offers 5GB and Google Drive offers 15GB of space. If you want to utilize Dropbox space wisely, you will need to delete Dropbox duplicate images to make room for upcoming files.
Does Dropbox Find Duplicates?
Unlike Google Photos, Dropbox doesn't have any inbuilt scan algorithm to find duplicate images stored on the cloud storage. Google Photos has this algorithm to automatically filter out duplicate pictures and only upload unique images in one album. Even if you upload the same file again, it will not notify or block the upload. Dropbox will upload everything selected and you will have duplicate images on the storage.
How to Delete Dropbox Duplicate Images
You can manually check Dropbox folders if there are fewer albums saved on your Dropbox.
Step 1. Access your browser and sign in to your Dropbox account.
Step 2. Access your folder that has all the albums stored or click on All Files in the left panel.
Step 3. Click on the down arrow to change the view from List mode to Grid mode. This will display all the thumbnails of the images.
Step 4. As you hover the mouse cursor on the image, you will find a checkbox. Put a tick on the images you consider to be duplicated and need to be removed.
Step 5. Once selected, click on the Delete button on the top to delete the selected images.
Delete Dropbox Duplicate Images Automatically
There are dozens of duplicate image finders on the web. We have compared and listed the best duplicate picture finder for Windows that can even scan cloud storage space like Dropbox and Google Drive and listed Duplicate Photos Fixer Pro as the best tool to delete duplicate pictures.
Duplicate Photos Fixer Pro
Duplicate Photos Fixer Pro is a great utility to quickly find and delete duplicate photos from Dropbox or Google Drive. You can use it on all the latest versions of Windows, MacOS, Android, and iOS devices. It has a smart algorithm to quickly scan internal hard drives, external SSD, SD cards, USB Flash drives, or any other storage on any operating system.
Duplicate Photos Fixer Pro is easy to install and can initiate a quick scan or deep scan. You just need to select Dropbox as the device to scan and initiate the scanning process. It can quickly list down all the found duplicate pictures in groups. You can preview the duplicates and decide what to keep or remove from your Dropbox or selected storage device. Just with a few clicks you can quickly find and delete duplicate photos from any storage device.
How to Avoid Uploading Duplicate Pictures
When you think of uploading pictures on Dropbox or any cloud storage, ensure there are no duplicate pictures in the source folder. You can filter duplicate images on your smartphone or on your PC before uploading the pictures.
Remove Duplicate Photos from Android
There are dozens of duplicate photo finders available for smartphones. We have tested, compared, and reviewed the best duplicate image finders and listed Duplicate Photos Fixer Pro for Android as one of the best utilities to find duplicate images.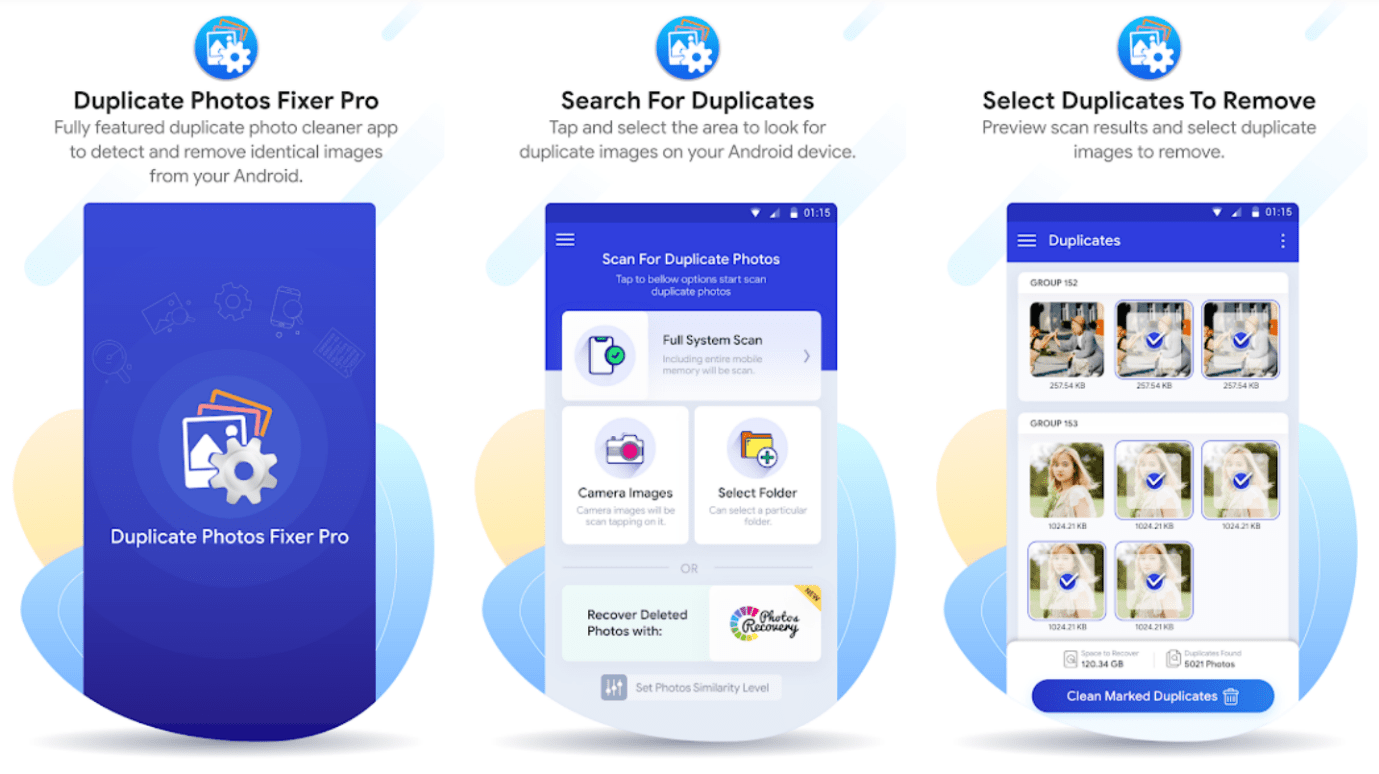 You can quickly download and install it on your Android to find duplicate photos on internal and external storage. It ensures that your data is not compromised or shared on any external sources. It doesn't create any log files and abides by the rules of the data protection act. It has flexible scan modes to organize and arrange your duplicate images in groups to preview and delete just the duplicates.
Remove Duplicate Photos from PC
Windows Explorer is the best console where you can explore all the photos at once in your album. You can quickly find and delete duplicate photos manually.
Step 1. Access Windows Explorer (Win + E) and go to your albums.
Step 2. Select 'Extra Large Icons' in the View menu to view thumbnails of all the stored images.
Step 3. Hold down the Ctrl key and scroll through all the pictures in the album.
Step 4. Click on the duplicate picture that comes across to select and delete duplicate pictures.
Step 5. Hit the Delete key to send them to the Recycle Bin. Go to the Recycle Bin using the icon on the Desktop.
Step 6. Once confirmed that you have deleted all the duplicates in the Recycle Bin, you can choose the 'Empty Recycle Bin' option. Follow the same steps for all the folders and subfolders on your PC.
Final Words
This article on how to find and delete Dropbox duplicate images has the best tips and tricks to manually find and delete duplicate photos from Dropbox, Google Drive, or any other storage device. You just need to select Dropbox as the device to scan and it will find and display all the found duplicate images. You can quickly preview them and delete the duplicate pictures.