We create a lot of duplicate photos on Windows unintentionally without knowing that it is taking up a lot of space on our storage drive. There are a lot of reasons behind these dupes that we often ignore and once we run out of space on the hard drive, we think of cleaning them. It is not easy to find duplicate photos manually as we can't check exact duplicates, similar photos, or edited photos all at a glance. There are a few techniques to identify duplicate photos and remove them.
If you deal with a lot of picture albums every day, you should make use of the best duplicate image finder to quickly find and delete duplicate images from Windows. Not all duplicate image finders are compatible with multiple OS platforms. Every duplicate photo finder is not equipped with additional settings and advanced algorithms to find duplicate photos. You can perform a scan just with a few clicks and delete humongous duplicate photos in no time.
Duplicate Photos Fixer Pro
Free Trial: Available
Setup File Size: 10.3 MB
Latest Version: 1.3.1086.188
Tech Requirement: 512 RAM, 2 GB HDD
Price: $39.95 / Year with FREE Systweak PhotoStudio v2.1 (Lifetime Validity)
OS Platform: Windows 7+, macOS 10.7+, Android 4.1+, iOS 8.0+
Moneyback Guarantee: Yes, 60 Days
Technical Support: Email & Chat
Duplicate Photos Fixer Pro has been one of the best duplicate image finders for Windows 7 and above versions in 2022 testing. It shares wonderful compatibility with all the recent versions of Windows OS, macOS, Android, and iOS devices to perform a quick scan and delete duplicate files. It has a robust algorithm to not only scan the exact duplicates but also list out similar, edited, or cropped images.
Duplicate Photos Fixer Pros:
·       One-click scan for all duplicate photos on the drive
·       Adjustable matching levels for unmatched accuracy
·       Auto-select duplicate photos or manually select removable images
·       Remove duplicate photos from Google Drive, SSD, HDD, and other external storage devices
·       Works great on all the recent versions of Windows, macOS, Android, and iOS devices
·       Finds duplicate images by content, metadata, size, name, and other parameters
·       Preview images before you decide to remove them
·       Compatible with multiple image file formats
Duplicate Photos Fixer Cons:
·       The trial version removes limited duplicates
·       Time Interval only list out duplicates clicked in the last 24 hours
Duplicate Photos Fixer Pricing
Duplicate Photos Fixer Pro is available at a discounted cost of $39.95 for Windows, $38.99 for macOS, $6.99 for iOS, and FREE for Android versions. This is an easy-to-use and user-friendly application that can quickly dive deep into selected storage and list out all the duplicate photos on the device. The company offers a 60-day money-back guarantee without any questions asked if you are not satisfied with the product or services.
Why Duplicate Photos Fixer Pro?
Duplicate Photos Fixer Pro is developed by Systweak Software Pvt. Ltd. The company has served over 10 billion users with over 150+ software products across the globe. Duplicate Photos Fixer Pro is one of the popular products of Systweak that has worked best for millions of users. This duplicate image finder is AppEsteem certified and has been reviewed in among the top 10 duplicate picture finders in several countdowns.
How to Use Duplicate Photos Fixer Pro
Using Duplicate Photos Fixer Pro is absolutely easy and user-friendly. It just requires a few clicks to download, install and scan the storage for duplicates.
Step 1. Access the official website of Duplicate Photos Fixer Pro to download and install it on your PC.
Step 2. Access the App from the Start menu.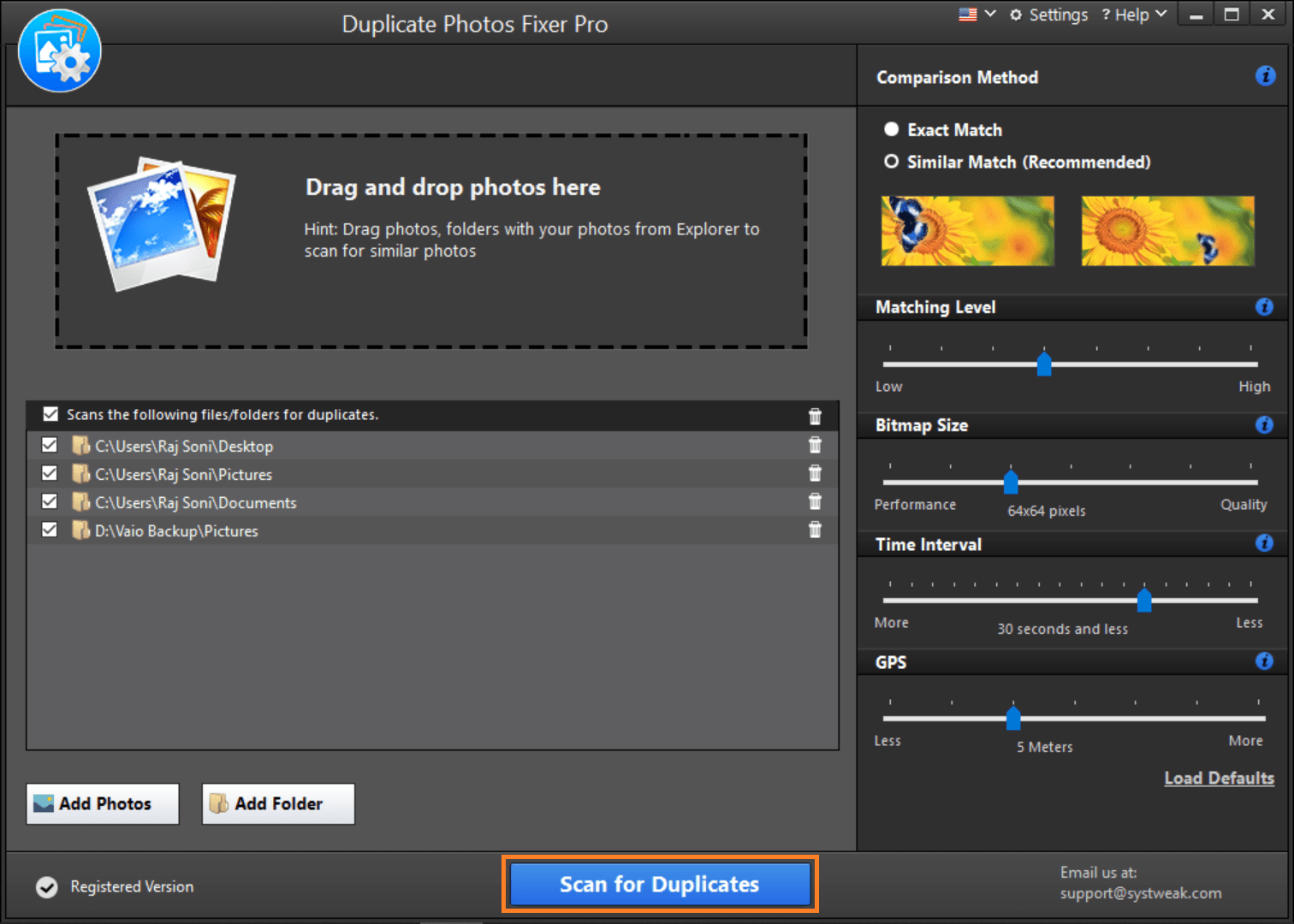 Step 3. Configure the comparison method, matching levels, Bitmap size, Time Interval, GPS, and other settings.
Step 4. Drag and drop pictures, and folders, or simply browse the folder that needs to be scanned. You can also scan the entire computer or scan Google Drive directly from here to find duplicate photos.
Step 5. Once configured, hit the 'Scan for Duplicates' button to initiate the scan.
Step 6. It will complete the scan and display a list of all the found duplicate images. The trial version will not delete more than 15 images. You can register the product with the license key and activate the product.
Step 7. Click on the Auto-Mark button to select all the duplicate images or manually select images that you wish to delete. You can also preview the images to select between multiple duplicate photos.
Step 8. Click on the 'Delete Marked' button to send duplicate images to the Recycle Bin. You can double-check and empty the Recycle Bin once you are sure that you deleted the right duplicate photos.
Final Words
Duplicate photo finder is an essential application if you deal with a lot of photo albums. All the paid applications are not efficient enough to delete all the duplicate photos. Duplicate Photos Fixer Pro is compatible with all the latest versions of the operating system on different platforms like Windows, macOS, Android, and iOS. This duplicate picture finder can scan all the internal or external storage devices and can scan the cloud storage (Google Drive) directly to find duplicate photos and remove them from the storage.