We all love taking photographs and videos whenever we go to a party, new place or travel…don't we? But one thing that feels haunting is the collection of similar photos and videos on our smartphones, laptops, and everywhere!
I literally scared of the time when I return after taking pictures and have to sort everything out to keep my photos and my library clean and short!
It's quite obvious that our devices get filled up with so many duplicate photos and it starts consuming a lot of storage space!
Manual finding, selecting, and deleting are surely big tasks. But thankfully, now we have duplicate picture finder tools that instantly without taking so much time.
These tools literally not only save time but storage space also. Indirectly, they help in keeping our devices optimized and speedy. In this blog, I am here with 5 amazing tools that help in deleting duplicate photos on our Windows PC. So, let's get started.
5 Tools for Finding and Removing Similar Photos on Windows
Duplicate Photos Fixer

Duplicate Photos Fixer is one of the best and my favorite tool for finding and removing Windows 10. This tool can also be used for different versions of Windows like Windows 11, 10, 8, 7, and others. Not only this but it can also be used for iOS and Android devices. This tool also supports memory cards and USB Flash Drives, and more. This software is loaded with various modes which provide 100% accurate results.
Users can also use the trial period for testing this amazing tool on their Windows PC. Later, you can upgrade to the pro version as well. The pro version is loaded with top-notch features that offer a solid comparison. The other best part about this software is the drag-and-drop feature. The results can also be customized as it offers an auto-mark feature to select or de-select the result for better optimization.
Duplicate Files Fixer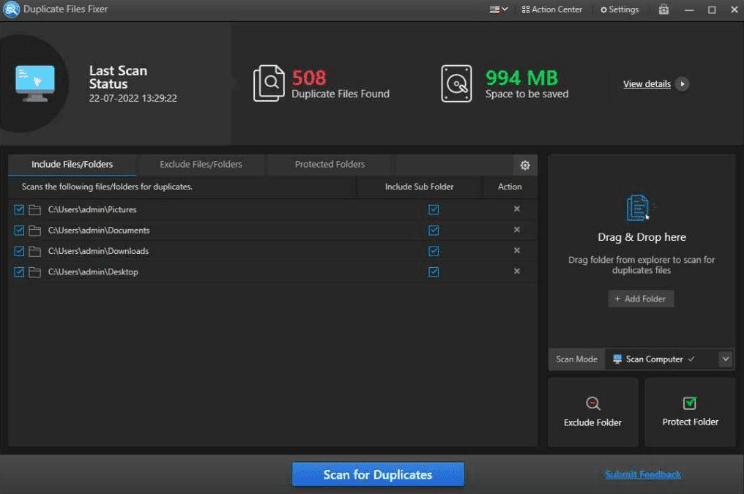 Duplicate Files Fixer is our next choice but trust it is also one of the best tools, it is the most strong and most versatile duplicate photo finder that can also work on Android and Mac devices. It not only helps in finding duplicate photos but also finds other multimedia files as well like audio, documents, and other multimedia files on your devices. It comes with a quacking scanning and automatic selecting feature that provides 100% accurate results in the speediest way. The other best part about this software is that it is loaded with a photo cleaner utility which removes empty folders and duplicate files that takes up extra space on our devices.
3. CCleaner
CCleaner is optimization and PC cleaner software that is one of the best duplicate finders. It helps in scanning entire computers to find and remove identical images like landscapes, selfies, and more. This tool also helps in maximizing the performance of your PC. This software is loaded with a new performance optimizer that helps in reclaiming the maximum speed on your Windows PC. Users can look for the "File Finder" option for finding and removing duplicate photos on their devices. Additionally, it is a light-weighted app that does not hog storage space unnecessarily. Overall, it is one of the best optimization and duplicate finder tool.
4. Duplicate Cleaner pro
Duplicate Cleaner Pro is designed for Windows with the 10,8, and 7 versions. It is loaded with more advanced features that help in finding and removing duplicate data from the system. it looks for duplicate images on the basis of their size, name, content, and more so that accurate results can be provided within a few minutes of searching. This software can also be used for finding duplicate documents, audio files, and more. It also supports formats like M4p, WMA, MP3, OGG, AAC, WAV, FLAC, and more. Additionally, this software can also be used for finding duplicate photos from Google Photos. It is a light-weighted app with a simple interface.
5. Awesome Duplicate Photo Finder
Awesome Duplicate Photo Finder is an excellent and robust tool that helps users in finding and remove duplicate photos from Windows PC. This software is best because it always keeps our system up-to-date and clean. It helps in reclaiming the original speed by comparing similar photos. It can also help in finding resized, rotated, and edited photos from the system. This software ensures that clone images are not left behind and that users are provided with the most accurate results possible. Additionally, users can also review the result and export the detected list as well for further use. It comes with an easy and simple interface.
I hope this blog helps you with the 5 best and most amazing tools for finding and removing similar photos on your Windows PC.
Thanks for reading!