User experience or UX design centers around increasing user satisfaction by constantly improving the way users access and interact with applications, devices, and websites. It shapes the way companies do their business and ensures that the needs of an average customer are not only met but they are met with perfection. A properly developed UX design provides the users with a seamless experience across all platforms increases conversion rates, saves valuable resources further down the line, and effectively drives customer loyalty. That said, here are the essentials of how to design your website with user experience in mind.
Table of Contents
Visual hierarchy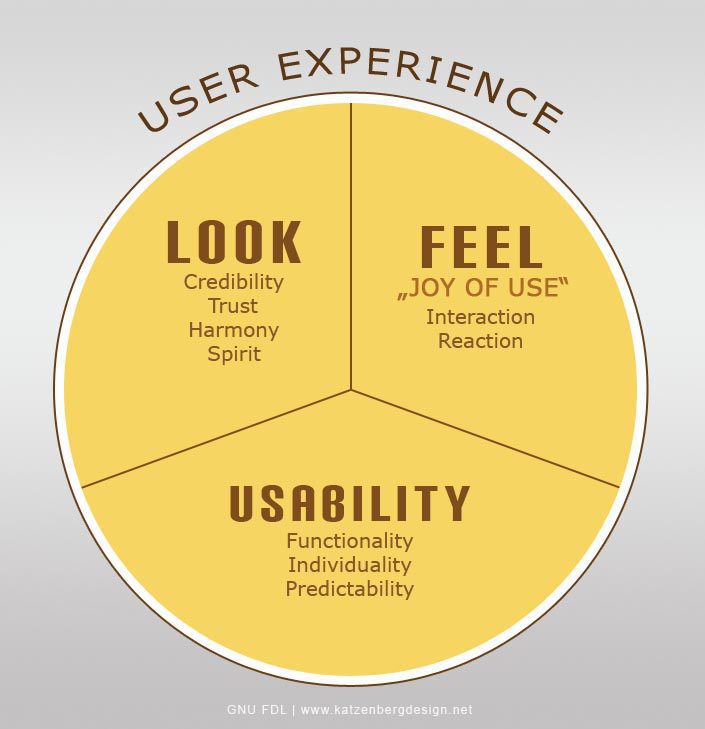 Visual hierarchy is a term that describes methods of organising content in order to follow the natural movement patterns of our eyes. All content follows a particular hierarchy: headers are always above the text and menus are often at the top or at the sides of a page. In other words, everything has its own place in the overall design. The job of a UX designer is to use visual cues that signal the users what content and pieces of information are the most important and which actions are available for them to use.
Factors that affect visual hierarchy and are used in UX design include:
Color

Contrast

Alignment

Size

Proximity

Repetition

Whitespace

Texture

Style
Every factor that is responsible for visual hierarchy needs to be carefully incorporated in order to adequately guide the users from one action to another, present content in a specific fashion that matches the way users prioritize and process information, and create a positive emotional response. The best way to test your website's visual hierarchy is to completely blur it out and see which elements stand out the most. If an undesired element is standing out, then you need to modify your design.
Homepage
A website's homepage should always include the most rudimentary messages you want to convey to your visitors. The most important ideas, as well as your website's main targets, need to be accurately represented on the homepage in order for the message to be properly conveyed. When it comes to homepage design, keeping it simple is the way to go. All the important content and website elements such as calls-to-action should be kept above the fold and all the pages properly linked. Finally, make sure you link the company's logo to your website's homepage on every page of your website.
Navigation
People visit your website with a specific purpose, whether it's looking for information or locating a particular product or a service. This is exactly the reason why it's important to help users find what they're looking for without too much hassle. Visitors should use your website's navigation with ease and know exactly where they should click in order to navigate through the pages and reach the one they need. When designing the navigation menu, always use clear titles inside the primary navigation, add links in the footer, and never use more than three levels of navigation.
Readability
The text is a major part of every website's design, as it carries your company's marketing message and explains what your website is all about. If your content isn't user-friendly, then your marketing message doesn't stand a chance. The best ways to improve your website's readability are to use a large enough font for the text to be legible, keep the line length at 50 to 60 characters per line, use bolding and italics appropriately, incorporate bulleted lists, and never underline words unless they are links.
External and internal links
Every link that takes users to a different page on your website is called an internal link. Every link that takes users to a completely different website is called an external link. Internal links should always open in the same tab the user is currently on, while external links should always be opened in a new tab. This small visual difference in using existing tabs or opening a new one actually signals to the user exactly when they are leaving your website.
Responsive and mobile-first design
As more than half of all Internet traffic now comes from a mobile device, delivering the best possible user experience to mobile users has become imperative. Mobile-first design refers to a design practice of creating for smallest screens first and working up to the larger ones. Responsive design, on the other hand, allows for a single website that can respond and change its layout based on the size of the device being used to view it. Web design pros recommend that you make your website mobile-first or at least responsive in order to avoid losing potential customers due to the poor mobile user experience.
Wrap Up
Although user experience can sometimes be a tough nut to crack, all business owners should look for new ways to improve it. If a specific page isn't performing as well as you've expected, then you need to make sure to go to the content and page layout and see if there is any room for improvement. Of course, not all website owners are adept at making adequate, user-oriented decisions regarding their website's design. This is why it may be better to invest in a professional design company to help you get the absolute most out of your website and provide your visitors with the best possible experience.
---
Author Bio: Sam Cyrus is CEO and co-founder of GWM, a Digital Marketing agency from Australia. Sam is also a creative writer and likes to share his insights on entrepreneurship, business, online marketing, SEO and social media.