Smartphones have gifted us a lot of intuitive features in the past few years and one of them is the high-quality digital camera to click photos and capture memories on the go. In the lure of a perfect selfie, we end up clicking a lot of duplicate photos. Most of the time, when we try to remove duplicates or clean up our device, we end up deleting the required ones. We can't compromise our precious memories just like that.
If you are unaware of how to recover deleted photos, this article will guide you with a step-by-step process to recover deleted photos. There are a few manual steps or you can make use of one of the Best Photo Recovery App to automatically scan and list out all the recoverable photos. Let's start with the manual process before installing the app!
Manual Method to Recover Recently Deleted Photos
Recently deleted photos or videos are moved into the Trash folder. You can always go to the Trash Bin and restore recently deleted photos. Here is how to get deleted photos.
Step 1. Open the Google Photos app on your Android phone or tablet.
Step 2. At the bottom, tap on the Library Folder and then tap on Trash or Bin.
Step 3. Touch and hold to select the first photo and then tap to select multiple photos that you wish to restore.
Step 4. Tap on the Restore button at the bottom. All the selected photos will be restored back to your Gallery.
"Please Note: You may not find the deleted photos in the Trash Bin if you have deleted photos for more than 60 days ago, you ever tried to empty trash, or you have permanently deleted photos from the Gallery. You won't be able to restore deleted photos if there is no backup."
Recover Deleted Photos from Cloud Storage
If you have this habit of uploading or syncing your gallery with the cloud storage apps like Google Drive, or OneDrive, you are lucky enough to get it back from the cloud storage. Just with a few taps you can download all the required photos from the could drives.
Step 1. Go to the OneDrive / Google Drive app.
Step 2. Browse through the folders and backups to select your photos.
Step 3. Tap and hold to select the first one and then continue tapping to select multiple photos.
Step 4. Tap on the three dots on the top for more actions and tap on the 'Save to device' or 'Download' option. All the selected photos will be downloaded on your smartphone in the downloads folder.
Use Photos Recovery App
Product – Photos Recovery
Price: Free
Version: 3.1.5.09
Compatibility: Android 5.0 & Above
Released / Modified: 25 Jan 2021
Size: 7.6 MB
Photos Recovery is one of the most intuitive apps to restore deleted pictures, images from Android phones or tablets. If you don't know how to recover deleted photos, you can simply rely on this app and it will list out all the recoverable images on your device.
Systweak Photos Recovery is an advanced and powerful tool with smart search engines and a robust algorithm to recover all deleted photos from both internal and external storage spaces. It has an easy-to-use interface to scan internal and SD Card storage and list out all the deleted photos to preview and select the required ones.
The Photos recovery App supports all the image file formats that can be recovered. It easily saves all the recovered photos to the Photos Recovery App folder keeping safety measures and privacy into consideration. There are different sorting methods by name, date, and size to easily list out the required ones.
Once you recover deleted photos, you can upload them on Google Drive, Google Photos, Sync with OneDrive, DropBox, or share them directly in an email or messenger with your friends. This is one of the best FREE Photos Recovery Apps on the Google Play store to find and recover temporary or permanently deleted images.
How Photos Recovery App Works
Using Systweak Photos Recovery App is absolutely easy! You just need to follow these instructions to recover deleted photos from your device.
Step 1. Download and install Photos Recovery App from Google Play Store.
Step 2. Initiate the app once you are done. Tap on Start Scan to initiate scanning your device for deleted photos.
Step 3. It will scan and list out deleted photos, WhatsApp photos to preview.
Step 4. Preview the scanned photos and retrieve deleted photos with a single tap.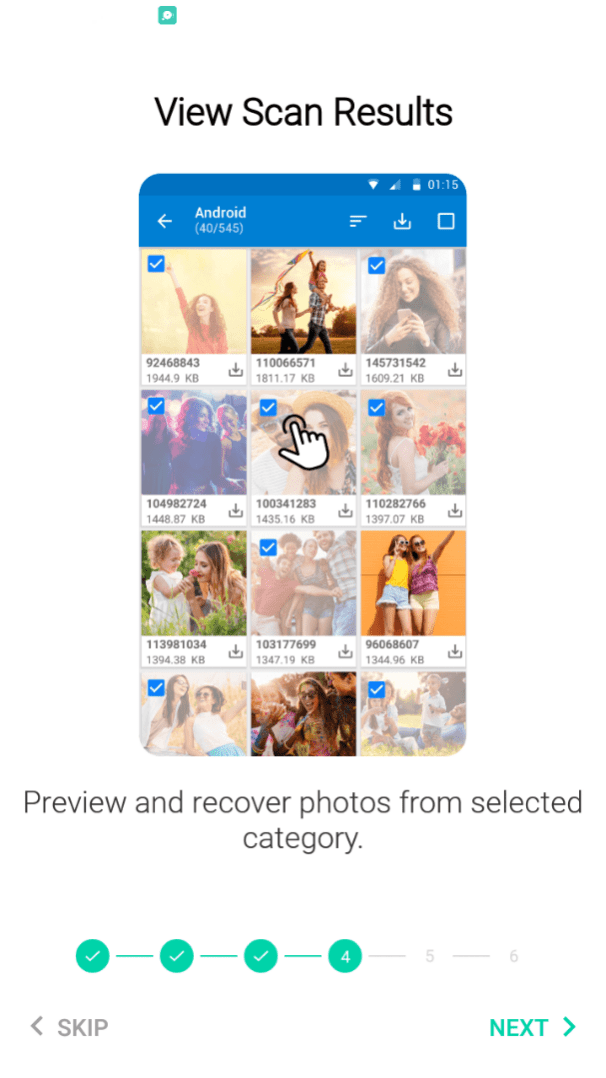 Step 5. Go to the recovered photos album and share or download photos to your device.
Summing Up
This article on how to recover deleted photos is a complete guide for those who wish to recover recently deleted photos or permanently deleted photos from their internal or external storage space. You can recover deleted photos from Android or from cloud storage space just with a few simple steps. Don't compromise your memories, rather recover deleted photos just like a pro!