Sound issues in Windows is an issue that is rarely caused due to a physical defect with the audio device or sound card. While this might be the scenario for you and many other, but sound-related issues are more likely to be caused by software update or driver update on your Windows 11 computer.
Why is there no sound on my computer?
There are various areas where sound problems might develop. It might be due to audio software or operating system, or due to a faulty sound card or audio driver.
Many Windows sound errors are caused by misconfiguration, making the solution as easy as increasing the volume or selecting the suitable device from the applications to run the audio.
It is very simple to decide whether the sound is not working or you have no sound on Windows error, with the specific devices, or within a particular software
How to Resolve the 'No Sound' Error in Windows 11
We have discussed the solution below of the no sound problem on your Windows 11 computer in this comprehensive article. Follow the instruction from beginning to end to get the solution to your Windows 11 PC's audio output problem.
1. Check volume level
Turn your speakers/headphones up to maximum level, and make sure the sound is not muted in your Windows 11 PC. Select the sound icon beside the clock and make sure the volume is set to high.
Additionally, right-click on the sound icon> Select Open Sound Settings.  Confirm that the output device you are using is not muted.
2. Set sound device as default.
When you put in numerous audio devices, such as speakers, headphones then at a time, only one will play. Make one of them the default device and begin playing sounds from there.
Right-click on the taskbar and click on sound icon then choose Sounds. Now choose Set Default from the Playback tab after selecting a device.
3. Check the application.
Check the application you are using to see whether it is set up to send sound to the device.
For example, if you are not able to hear anything in an app like Skype or Zoom, then check the settings just to ensure that the app is configured to use an audio device like speakers or headphones.
4. Install updates
If everything above looks to be normal, there may be some pending updates that need to be completed to run audio drivers on Windows 11. It might possibly be a transient incompatibility that may be creating an issue that will be rectified after restarting the computer.
Install Windows updates by navigating to Settings> Update & Security. When the updates are installed, restart the computer.
5. Update Drivers
Update the device drivers on your computer. Even if the devices, such as speakers, keyboards, headphones, etc., are operating properly, a missing/corrupted sound card driver might interfere with good sound.
You can update the drivers manually or with a driver updater software. The best approach to update outdated drivers is with Advanced Driver Updater. With help of this you may rapidly find outdated & corrupt drivers and update them. You can use Advanced Driver Updater with any version of Windows OS. It will search for and display suitable driver updates, enabling you to select whether or not to upgrade.
Click on the link below to download Advanced Driver Updater:
Manually download and install drivers:
In the Windows search area type device manager and open it.
Click on audio input and output.
Now right-click and on Update Drivers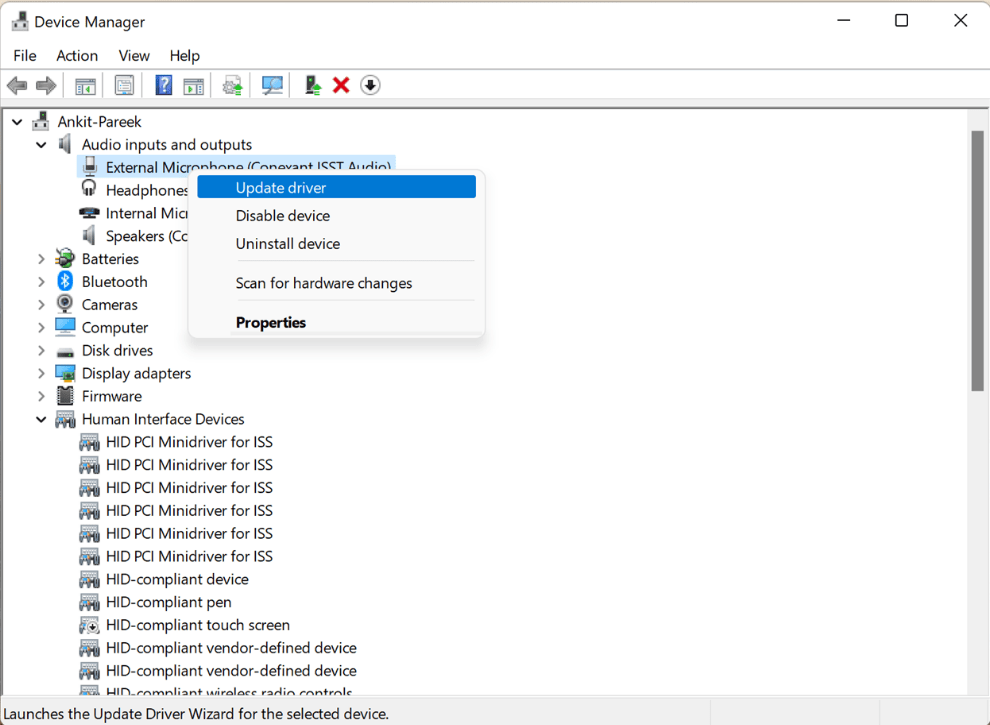 You will get a prompt choose Search automatically for drivers
Download and install drivers using the Advanced Driver Updater:
Download and install the Advanced Driver Updater.
Run the Advanced Driver Updater by clicking on Start Scan to update outdated drivers.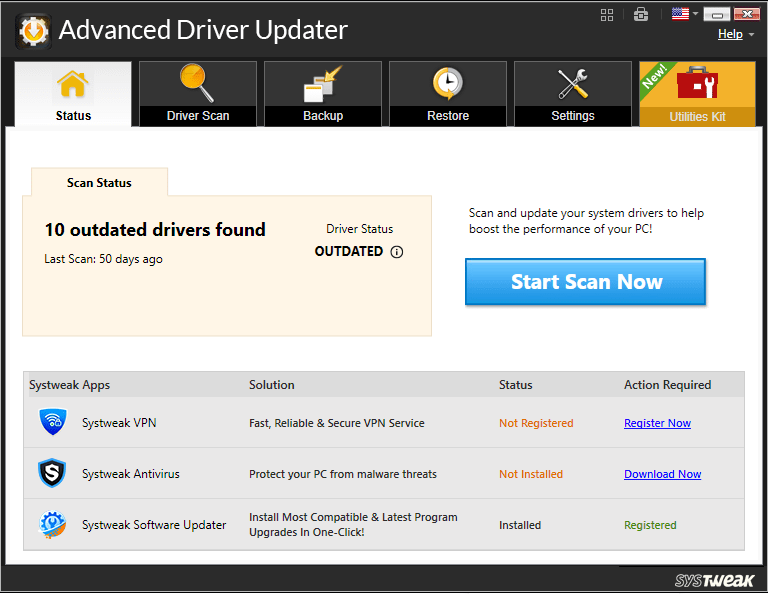 Once the scan is finished you will get list of all the outdated drivers
You will be presented with a list of all the outdated drivers. If you are using an unregistered version then one by one, click on the Update driver button next to the driver you want to update. If you are a registered user, choose to Update All to quickly update all outdated drivers.
This way you will be able to install all the outdated audio drivers on Windows 11.
Conclusion:
In this blog, there are several solutions to the no sound problem or audio driver issue with Windows 11. I've included all of the information you'll need to fix audio issues on Windows 11 OS. I recommend that you follow the tutorial to resolve the audio driver issue. If you have any queries concerning sound on your PC, please leave them in the comments area below.