Have you ever met some situation, like, you change your login password to a more complicated one, but you forgot it the other day, Or your friends used your HP laptop and accidentally changed the password to an unknown one? Forgetting a Windows login password means you will be locked out of your account and unable to access all of the files and software on your computer. What could you do? Take it easy! Now there are two options to help you reset your Windows 10 password and regain access to a locked HP laptop. The steps are as follows.
How to Reset Password on HP Laptop (Windows 10)
Option 1: Recover Password with a Created Password Reset Disk
It can be the easiest and most convenient way to crack forgotten and lost Windows 10 passwords if you have created a password reset disk before forgetting the password. If not, you are supposed to learn how to reset the password disc.
Step 1: Insert the prepared password reset disk into your locked Windows 10 laptop.
Step 2: You will be prompted to enter the current password. After you enter the wrong password, the "Reset Password" option will appear. Just click it to confirm.
Step 3: Follow the instructions in "Password Reset Wizard" to find the lost Windows 10 password.
Option 2: Reset Password With Windows Password Recovery
Windows Password Reset is the best and top-rated password recovery tool for Windows. It can help you reset lost Windows passwords on Windows 10/8.1/8/7/XP/Vista, and unlock user accounts that are disabled, locked out, or expired. It can also support password resetting for Windows 10 Microsoft accounts.
To reset your password with the Windows Password Recovery tool in Windows 10, just walk through the following steps:
Part 1: Download and Install the Program
Step 1: To get started, download the free demo version of SmartKey Windows Password Recovery Standard software on another available computer, or buy the full version online to reset an unknown password on an HP PC.
Step 2: Click "SmartKey Windows Password Recovery Standard.exe" to install the program on any laptop you have access to.
Part 2: Burn Program to Vacant CD/DVD
Note: There are 2 options for you to burn ISO image: default one and a new one. Here we take the default ISO image for example.
Step 1: Select "Default ISO Image" on the top menu. Select "CD/DVD" and specify the CD-burning drive from the pull-down list. Insert a blank CD/DVD/USB disk into the computer.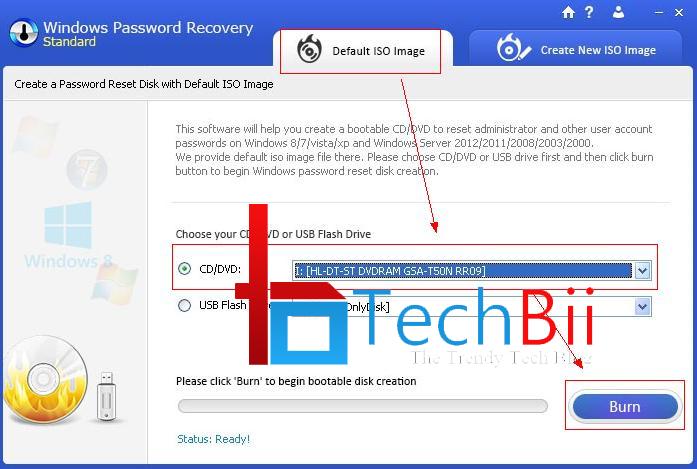 Step 2: Click "Burn" to start burning. After burning successfully completes, hit "OK" and eject CD.
Part3: Reset Windows 10 Password with Bootable CD/DVD
Step 1: Insert the newly created CD/DVD into the locked computer and reboot the computer from the password recovery CD/DVD. When the CD/DVD boots, you'll see Windows Password Recovery Standard is initialized.
Step 2: Enter the password and click the "OK" button to begin password recovery. Then select the Windows installation in which you'd like to reset the password.
Step 3: Choose the user account whose password you want to reset and click "Reset" to proceed. Then hit "Reboot" to restart your computer and log into the Windows system without any password.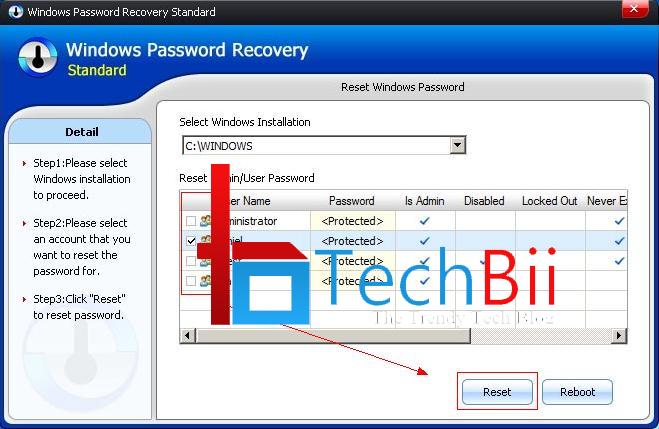 SmartKey Windows Password Recovery must be the best one to reset the HP laptop password. You are more than welcome to check out this program if you desire.