In this digital world, you need to share stunning videos in your social media profiles to keep your followers happy. Video content is the fastest way to engage your audience as it is the preferred content format. If you are still not utilizing your online video maker because of your erroneous preconceived notions, it is time to change that. Forget everything you've ever known about video maker apps!
Now, technological advancements assure that this equipment can be used even by a newbie. Developers created an easy drag and drop tool that allows you to create any type of video within minutes. Thus, you need to quash the following misconceptions about using a video maker. Now, you don't have to fear video editing because you can make professional-looking videos without breaking into a sweat.
https://www.pexels.com/photo/woman-wearing-denim-jacket-holding-camera-3626623/
You Cannot Afford to Use This Digital Tool
Most people think that video maker tools are expensive. Well, that is true in the good old days. Decades ago, only movie companies, broadcasting organizations, or production houses could afford this equipment. Back in the day, everything was very expensive, so it was impossible for ordinary people to own a video editing tool.
However, today's modern video editors come with an affordable price tag. Just choose the tier that's most acceptable for your needs. Some can even be downloaded or used online for free. All you need to do is sign up with your email address and verify the account. From there, you can begin creating your video masterpieces. Modern video editors allow you to add the following touches with a flick of the mouse:
Stunning effects
Cool transitions
Music soundtrack
Photos or images
Fonts
Animation
Background
Templates
https://www.pexels.com/photo/man-in-long-sleeve-capturing-photo-3692625/
Using This Requires Expensive Gadget Upgrades That Break the Bank
If you still believe that you need a fancy computer to use an editor, you've got it all wrong. Firstly, you possess the option to access a video maker online. Just save your chosen images and clips via the cloud. From there, you can begin tweaking the design. This assures you don't eat up your computer memory as you can share links directly from the website.
Secondly, if you opt to download your video-making software, you don't need stringent requirements at all. Most modern PCs, tablets, and smartphones can accommodate the latest app. Just make sure you have enough computer memory to launch the program. Furthermore, you must download from a reputable seller to prevent malware.
Finally, whether you use it via cloud or download, you can just use your existing gadget. There's no need to fork out additional money. Work with what you have and save on unnecessary expenses.
https://www.pexels.com/photo/cash-dollars-hands-money-271168/
You Must Study Hard to Use This Tool Effectively
In the good old days, only professionals who have studied film theory and audio-visual production can make videos. Those who handle video maker tools receive extensive training to manipulate complex editing machines. If you believe that only pros can use modern video editors, you fail to leverage this valuable tool.
Today's video maker apps do not require extra training whatsoever. In fact, it is so easy to use that even children can manipulate the tool. With pre-designed templates, you can choose the elements you want and be done in minutes. Now, you can use the images and footage on your phone and make fancy content whenever you like. Moreover, most video makers provide the following for free:
Webinars
Explainer videos
Live chat support
Extensive FAQ
How-to blog articles
https://www.pexels.com/photo/person-writing-on-notebook-4144923/
Gives You a Big Hassle and Headache
Do you think that video making will waste tons of your time? Well, indeed, back in the day, it takes months to shoot and produce a video. Even short clips take forever to make. However, thanks to modern video maker apps, you can make a video within minutes using stock footage and photos.
Thanks to the user-friendly dashboard, every feature you need is laid out seamlessly for easy use. Hence, you can create different kinds of clips without eating too much time. Best of all, you don't feel stressed out in the process.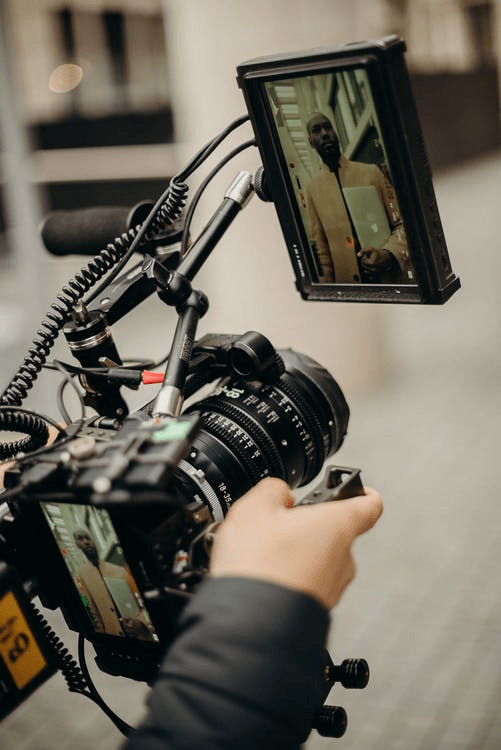 https://www.pexels.com/photo/person-holding-camera-with-lens-facing-towards-man-wearing-a-coat-3206167/
Easy Editing No Matter Where You Are
One of the advantages of modern technology is it makes your life easy. Being able to do remote work is a godsend. In the past, video editors had no choice but to go to an office to access their editing machines. However, thanks to innovation, you can edit anytime, anywhere.
With various video maker apps at your disposal, you will find one that suits your needs. For example, you can download one on your desktop for fancy projects. At the same time, you can use one virtually with your laptop or edit with your smartphone. Today, no matter where you are, you can edit a video even when you are on-the-go.