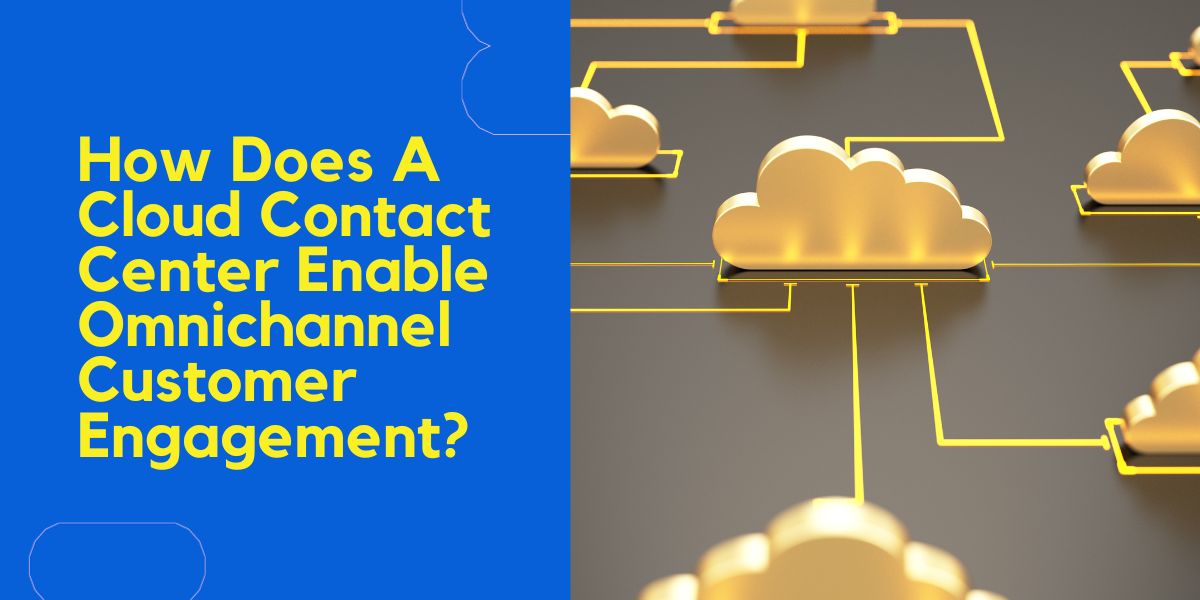 Customers can now interact with companies in more ways than ever before, from traditional methods to an ever-growing number of digital strategies. Many companies have invested in digital platforms to replace traditional engagement strategies. The idea is that tech-savvy customers prefer digital channels, decreasing the necessity for human representatives and saving costs.
Many companies now use third-party contact centers to manage client interactions because they know that great customer service is essential to corporate success. Businesses that focus on giving great customer experiences want to build good relationships with their customers that can withstand any crisis. Strategically implementing an omnichannel contact center allows you to take advantage of every opportunity.
Now is the best time to learn about Cloud Contact Center and use them to develop your business quickly.
Define the Cloud-Based Omnichannel Contact Center Platform:
Customers in today's fast-paced environment want immediate responses from businesses. In fact, according to research, 71% of customers desire immediate response when they engage a company. The contact center plays an important role in this.
A conventional call center, whether on-premises or virtual, is a location where brands resolve customers' telephone inquiries regarding products, services, and information and provide support.
Cloud-based contact center software enables true omnichannel support by seamlessly integrating all customer interaction channels. This allows customers to easily move between channels like social media, chat, phone calls, email, and SMS texting during their conversations with agents. The flexibility of the cloud contact center software is what facilitates this integrated omnichannel experience.
Cloud service providers host the contact centers and are accessible from any location. Thus, an excellent cloud-based contact center integrates omnichannel into a single system, allowing companies to talk to customers on numerous channels and provide relevant responses.
For example, a consumer may start an online chat to resolve an order issue. After a few minutes, they conclude that chatting with someone is a better method to express their issue. In a cloud contact center, agents can elevate chats with phone calls and reach out quickly.
Function of the Cloud Contact Center
Contact centers provide customers with the ability to independently resolve issues through the use of keyword-driven two-way SMS messaging, text messaging, or chatbot conversations. Brands give customers multiple ways to handle their requirements, letting them manage their stories and saving customer service professional time over the phone or chat.
The recognition of contact centers and omnichannel client service as an integral component of the customer experience (CX) process has transitioned them from an expense to an investment. Contact centers can make tangible modifications like raising customer term value or improving customer satisfaction.
With an omnichannel ticketing CRM, you may generate tickets mechanically for all incoming queries. It consists of numerous messaging apps like WhatsApp in addition to phone calls, messages, emails, web chat, and social media sites such as Twitter, Instagram, Facebook, and YouTube.
Cloud-based omnichannel contact center integrations offer
Call Handling, Management of Incoming Calls
Message app WhatsApp
Integration
Management of marketing campaigns
Concerning Scalability and Reporting
Executing a Strategy for an Omnichannel Contact Center
1. Assess Existing Contact Center Procedures:
To provide an omnichannel customer experience, it is only sometimes necessary to change the existing infrastructure. Understanding the advantages of moving to a cloud-based platform, such as centralized data management across channels and devices and scalable response times to client inquiries, will make an informed decision.
2. Establish Clear Objectives and Goals:
Setting objectives and tracking progression necessitates the utilization of key performance indicators (KPIs). Time-bound metrics offer a comprehensive assessment of the efficacy of the contact center.
Using cloud contact center platforms gives agents access to detailed information about customers. This makes call reporting easier, which helps them evaluate communication success and find sales channels that need more attention.
3. Choose Customer Communication Channels Carefully:
Identifying the "right channels" requires an understanding of the preferences of the target market. The omnichannel contact center strategy should define roles, reduce wait times, and channel customer feedback in a positive direction regardless of the engagement channel.
4. Channel Integration to Ensure a Consistent Experience:
It cannot be easy to ensure that customer assistance corresponds with the brand's ethos and objective while employing several channels. However, a unified contact center solution might make channel integration easier to handle this difficulty. Training is necessary for agents to effectively navigate the complex multi-channel environment and ensure the seamless delivery of consistent messages while serving customers.
5. Monitor the Performance of the Omnichannel Contact Centre:
An effective omnichannel method requires continual performance review due to rapid technological and customer preference improvements. By tracking customer feedback and collective performance, the strategy can continue to develop and modify while maintaining maximum efficiency.
The Technology for Cloud Contact Centres
Cloud Call Centre software uses cloud computing. This technology eliminates the requirement for on-premises infrastructure and enables remote access to and usage of services and resources through businesses.
The subsequent are the fundamental technologies that facilitate the functioning of cloud contact centers:
a) SaaS (Software as a Service)
SaaS providers send contact center software over the internet, so businesses don't have to install and update software on their computers.
The software can be accessed by contact center agents and managers, facilitating the establishment of remote and adaptable work arrangements.
b) IaaS (Infrastructure as a Service)
Cloud Contact Centres use IaaS infrastructure. IaaS provides networking infrastructure, servers, and storage, among other virtualized computational resources, via the Internet.
When businesses use IaaS, they don't have to buy and manage physical hardware.
c) The virtualization
A fundamental technology of cloud computing is virtualization. It lets one physical server run numerous virtual operating systems and applications.
d) ACD (Automatic Call Distribution)
Automatic call distribution (ACD) systems allocate incoming calls to the most qualified agents according to a set of rules and algorithms. This technology assures efficient call handling and aids in the optimization of resource allocation.
e) IVR (Interactive Voice Response)
IVR technology is implemented in Cloud Contact Centres with the aim of automating interactions with customers via using speech prompts, touch-tone inputs, and voice recognition.
This technology speeds up call handling and makes customers happier by letting them solve basic queries or get information without assistance from an agent.
f) Analytical Reporting and Data Processing
Cloud Contact Centres use tools for data reporting and analytics to learn more about how customers connect with them, how well agents do their duties and other operational metrics.
These tools look at call logs, customer feedback, and KPIs to find patterns, trends, and opportunities for improvement.
Factors Driving the Adoption of Omnichannel Contact Centres:
Cloud-based omnichannel contact centers have significantly transformed customer service by incorporating a wide range of tools. Businesses are progressively looking for the assistance of omnichannel contact centers in the following factors:
Agents can easily get to customer data
Easily Integrated Several Channels
Insights from Customers for Personalised Experiences
Intelligent call routing
Potential Strategies for Redefining Customer Service
With omnichannel integrations, you may integrate voice workflows with various methods of communicating so that your customers have a smooth and uniform experience across all of your platforms.
Transferring the contact information to the cloud enables you to –
Simple data management from apps across channels
Collaborate effectively with customer-facing agents and departments.
Take care of customer service calls, chats, emails, and texts with built-in PC apps
Scale up quickly to handle rapid increases in the number of calls or queries
Enhance customer experience with innovative features such as omnichannel support, self-service, and intelligent routing.
Conclusion
Customers in today's omnichannel contact centers are encouraged to take the reins on their own stories and inquiries and find answers on their own. Cloud contact centers connect customers to live customer support reps who know their brand history, delighting and satisfying them. This centralized system improved client interaction tracking and management.