Social media is one of the most powerful marketing channels today. No wonder – where else can you potentially reach over three billion people? And this number will keep growing, reaching almost five billion by 2025: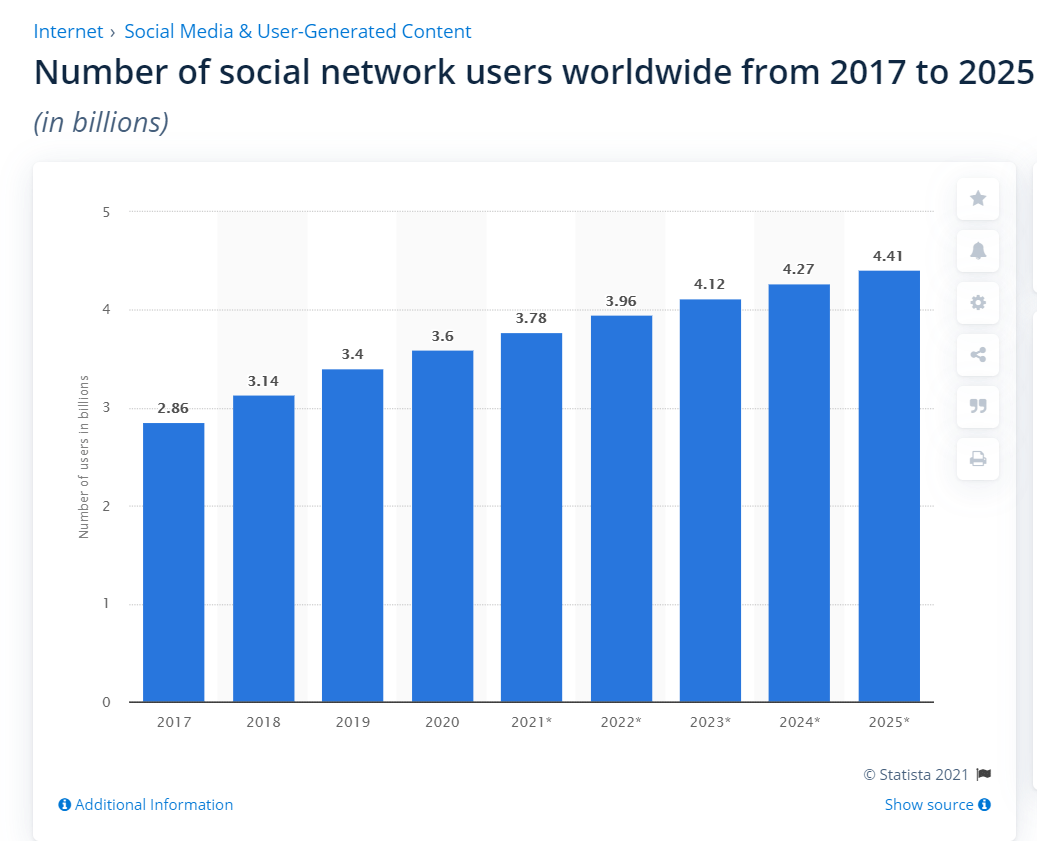 Credit: Statista
What does it take to develop a solid social media marketing strategy?
Content is undoubtedly one of the major factors that impact your popularity among social media users. But it's definitely not an easy task to develop a strong content strategy.
That's why, today, we're going to take a look at four tools that can help you write engaging content to boost your social media presence.
HubSpot
It's very common to experience idea drought when developing a content plan for social media. If you find yourself unable to reach a creative state of mind, you can use HubSpot's Blog Ideas Generator. Even though it's primarily for bloggers, this tool can still help you come up with something fresh and engaging for your upcoming post.
All you have to do is type in five nouns related to what you want your content to be about, and the tool will generate five different content ideas:
Credit: HubSpot Blog Ideas Generator
You can also get one year's worth of ideas if you subscribe to HubSpot. Along with the topics, you'll also receive helpful SEO tools and tips to optimize your content.
Portent
Similar to HubSpot, Portent helps you generate content ideas. You should start by entering your subject:
Credit: Portent
Once you click on Generate Idea, the tool will automatically come up with the topic related to your subject: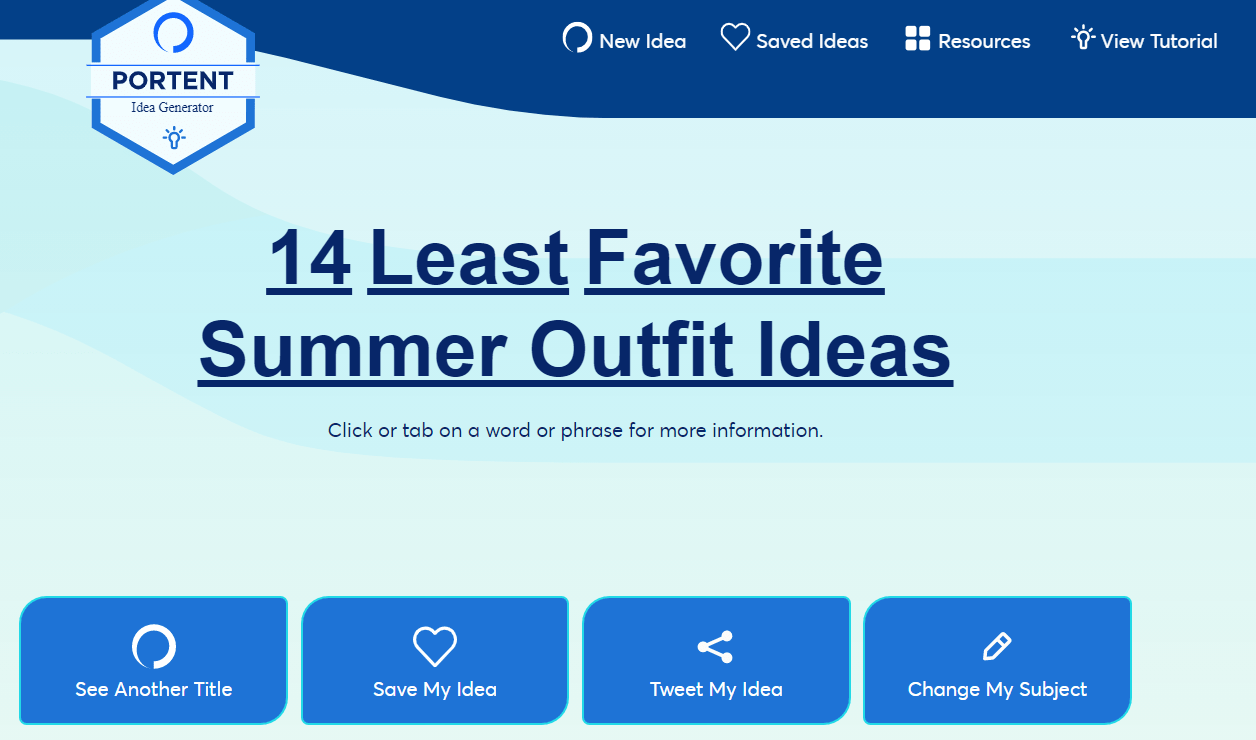 Credit: Portent
If you feel that the auto-generated content idea doesn't make sense, you can click on See Another Title and look for the one you find interesting and relevant for your audience. You can also change your subject if you don't like any of the ideas.
Preply
Many brands have a multilingual follower base, but most choose not to take advantage of it and write posts in one language only. Meanwhile, you might be missing a chance to connect with a more diverse audience and attract more potential buyers.
That's why you should give a multilingual social media content strategy a try. But what if you don't know any of the languages your audience speaks?
You can connect with a native speaker via Preply – an online language learning platform where people can master more than twenty foreign languages. All interactions with tutors happen via video call, meaning that you can reach out to a language expert at any time, any place.
Every professional on Preply has their own profile, where you can check out their experience, price, and reviews. Here's an example of the page with English tutors, among which there are many native speakers:
Credit: Preply
You can connect with some of Preply's language experts and have them help you with developing and writing content for your multilingual audience.
Postoplan
Postoplan is an automated social media scheduling tool. It helps you find the best time to post on social media to improve the visibility of your content as well as audience engagement.
However, Postoplan also works as a content calendar, providing you with fresh content ideas for every day: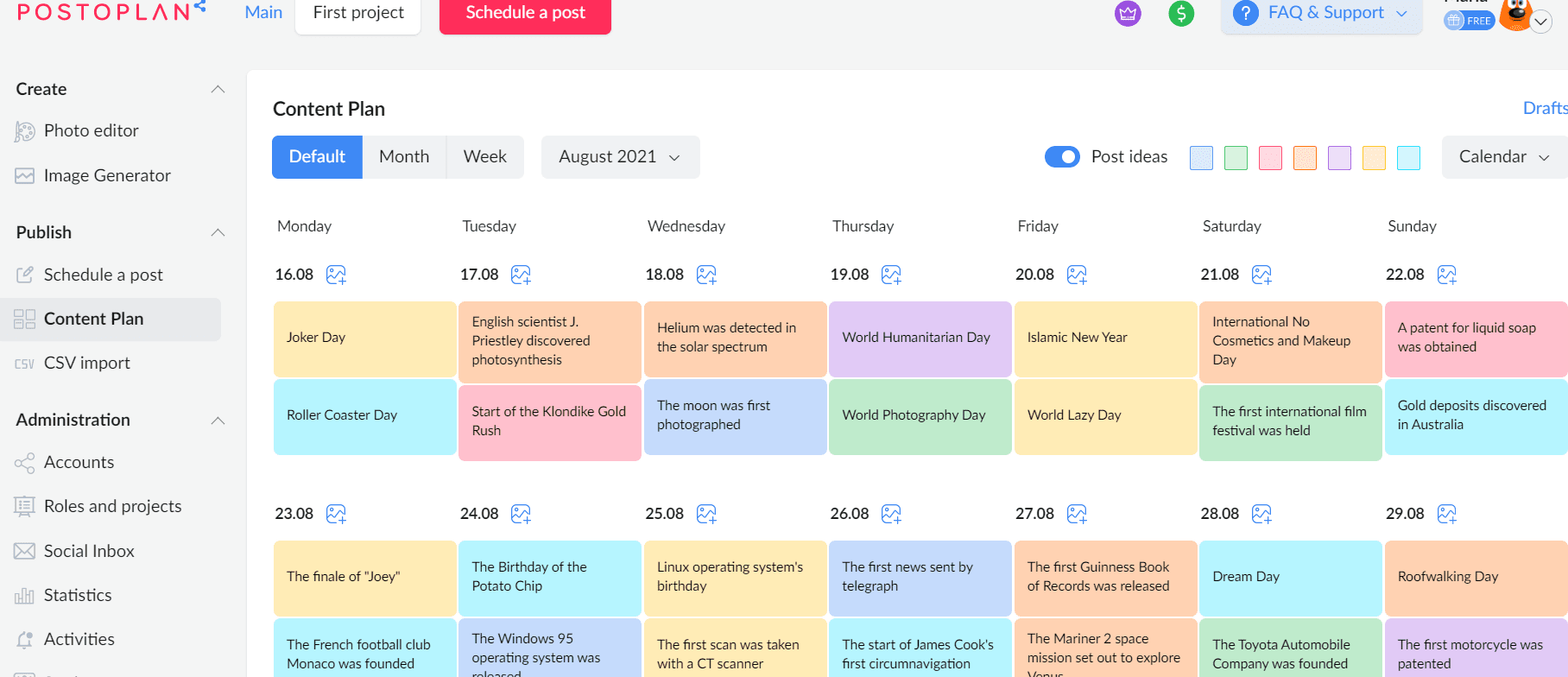 Credit: Postoplan
If you like the idea, you can proceed to the editor tool and write your content from scratch or use an already pre-written piece provided by Postoplan. There's also a library with over two thousand images to help you craft an engaging post.
Over to You
Creating a content strategy for social media is easier said than done. And, considering that you'll have to generate content ideas in bulk for your content calendar, it's easy to run out of inspiration very fast.
If you find yourself experiencing a creativity drought, you can benefit from one of the tools we shared today. HubSpot and Portent can help you generate topic ideas. All you need is to enter the keyword for the subject you're interested in. Preply is an excellent tool for those who want to give a multilingual content strategy a try to reach new audiences on social media. And Postoplan provides you with fresh content ideas for every day and allows scheduling posts automatically.
---
Ryan is a passionate blogger and writer who likes sharing his thoughts and. Now he works as a content editor and internet researcher, you can check his website here. He likes to travel and explore new countries.