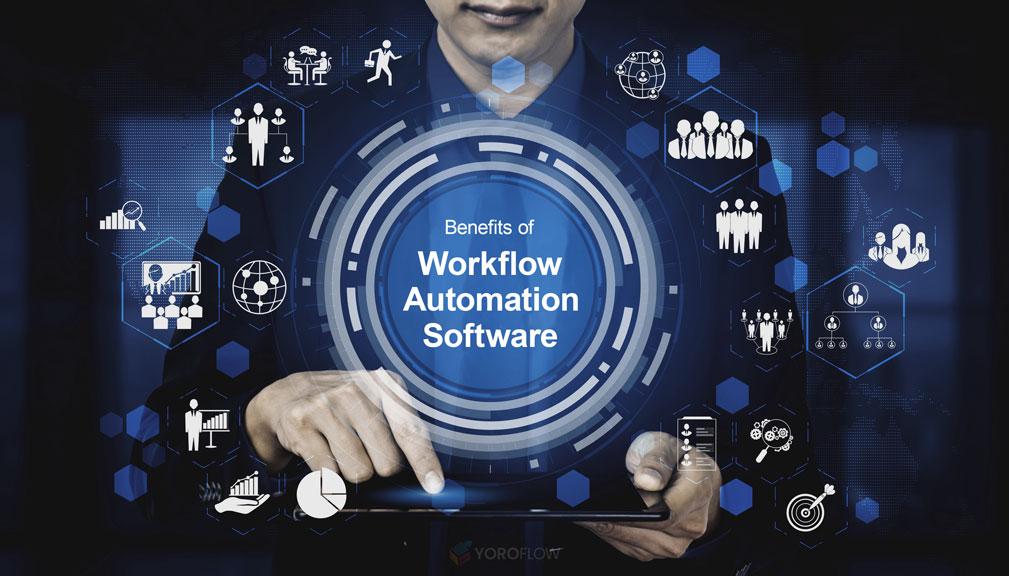 Before sharing the incredible benefits of workflow automation software for your business process, let's take a glance at what is workflow, and how it is automated. Then, we move on to why a business should automate its workflow by offering certain benefits.
A workflow consists of a set of steps that want to be carried out one by one with the right approvals at every phase from the beginning to the end.
Workflow automation software is a technology that automates each process included in the workflow by reducing a lot of human intervention needs.
7 Benefits of Workflow Automation Software
Here are the key benefits of workflow automation for businesses, after which you may choose to require to automate your workflow for approvals and where you have to look for a solution to automate it.
Boost Production
The major benefit of automated workflow is that it boosts productivity. Automation refers to computerization and mechanization, which in turn is the task related to saving time to finish the process. Time-saving is directly related to saving workers time so that they could get involved in some other productive jobs instead of doing a task with repetition of steps.
Cut Costs
When a worker gets involved in many jobs that generate huge revenue for your business in the same working time, it leads to great productivity. It means saving lots of money for the company as time and money are interrelated ever.
Error-Free Administration
Workflow automation results in error-free administration as it reduces the manual process of adding information. Automated applications do not make any blunders. The other task is triggered automatically and responsible for the job is informed of the action expected out. So, there is no chance of missing some workflow process steps in an automated workflow system.
Actionable Data
Graphical data-based reports for clear visualization are important beneficial features of workflow automation tools. With these detailed reports from automated workflow systems, enterprises can identify difficult bottlenecks easily like cost, availability, and resource allocation. The capability to take any action depends on relevant information on a timely basis is possible with workflow automation.
Better Task Management
Efficiency in task management is another benefit of no-code workflow automation software. It is also leading to good interaction. Different teams are able to connect more easily thereby developing communication due to automation. Mostly, automated workflows come with tasks showing "User-Friendly Dashboards", alerts showing "Calendars" which are clearly visible to all users with the help of workflow which is also one of the benefits of the no-code platform. It helps management to know the bottlenecks, status, and possibility for process growth quickly.
Improved Strategic Planning
Workflow automation can gather information on the tasks and resources you depend on to support your company's profitability. It helps you make smart decisions on taking on new tasks, new activities, and new customers. It gives you actionable data on your business, ensuring that you make the right decisions for the upcoming days.
Simple Search Processes
The final biggest benefit of no-code workflow automation is the ability to search by a huge range of basis for the data you require. Advanced search features make it simple to locate existing communications on a topic, including the below:
Supply chain data management
Chronological searches
Specific individual or team
Existing tasks with the same parameters
Billing and payment details
By selecting your parameters properly, you can easily access the information stored in your system. It reduces problems connected with lost documents and information within your company.
The above-mentioned benefits lead to better business efficiency due to the execution of automated workflows.
The other important step is selecting the perfect workflow automation tool for your business.
Workflow automation system that can be easily hosted in the cloud and is totally secure and safe.
Benefits of Workflow Automation Software
Automating your workflow for approvals can make a major impact on business productivity and morale within your company. This step needs an in-depth analysis of your present business processes and expert area evaluation in which you can boost efficiency by integrating workflow automation software into your business.
Running with a business that specializes in automating tasks offers you with developed specialist and a proper plan for smooth out your workflows and improving productivity throughout your company.