As an audiophile, I always wanted to listen music from various genres irrespective of the languages I already know. But in most cases, the exact music file I was looking for won't be there to download from any of the sites. Guess what? YouTube! I prefer YouTube to explore a wide variety of music on the go.
As you all know YouTube doesn't have an inbuilt option to download the videos and we usually use some third-party apps to fetch them. However, what I encountered is that most of those YouTube downloaders don't provide many options to try before downloading a video. If you've got a metered data connection and don't want to download a video exactly as it was uploaded, it would be a hectic scenario.
Wondershare AllMyTube is a true winner here. All I have mentioned is the case with the biggest online video portal YouTube. What would you do if you wanted to download your favorite video from other online video streaming sites like Dailymotion and Lynda?
AllMyTube helps you download all kinds of video files from any of the major online video streaming sites without any hassle. It can fetch the video from most of the video destinations like Facebook, Vevo, TED, etc. It supports more than ten thousand sites to download videos. Isn't that great?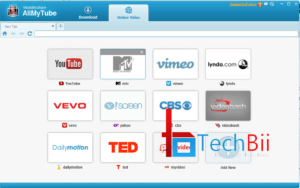 One of the coolest features I really liked in Wondershare AllMyTube is the feature to batch the downloads with channels and playlists. In this manner, I could easily categorize my videos on the go and download them easily. This feature facilitates brilliant downloading speed as well.
An online video downloader should have the option to convert the downloaded videos to the required format, or else you can't play them on your portable devices. What AllMyTube has got is an outstanding video converter. It could convert all of your downloaded videos to any of the required formats; one click ahead. There you can convert the videos with respect to the format you prefer or the device you own. It supports major mobile OS like Android, iOS, etc.
Pro Tip

: Switch on the 'Download & Convert' option in the top right portion to immediately convert the video files to transfer to your device.

Wouldn't it be nice if you could record your favorite videos from online sites? AllMyTube has got this super cool feature that lets you record the screen or capture and record the desired video online. All you have to do is install the virtual sound card by clicking the 'Record Video' option in the top left portion.
Top Features of Wondershare AllMyTube Online Free Video Downloader & Converter
Fastest online video downloader – I could easily easily download full HD videos (even supports 4K and 3D videos) from YouTube at great speed.
Convert video files to MP3 sound clips within no time – Fetch the video URL, paste it on the AllMyTube panel, and choose MP3. Done.
Schedule downloads if you're in a hurry – Once the download is completed, you can set the app to shut down the PC, sleep, or simply shut the program down.
One-click video downloader & converter – Even a non-technical stakeholder can download any videos online for free and convert them to the desired format (or specifically for your device) within a matter of seconds.
Wireless transfer of files – You heard me right. AllMyTube online video downloader can send the downloaded videos to your mobile phones without a USB cable. Download the Wondershare app and then scan the QR code. TaDa!!!
Play Download (and convert) videos from the AllMyTube app itself – AllMyTube comes with a preloaded video player with an intuitive user interface that can render the video seamlessly. No need to call your default player.
Compatibility with browsers – It supports all of the industry-leading web browsers such as Chrome, Firefox, Opera, IE, etc
Why I Recommend Wondershare AllMyTube Over Other Applications
Though I have used many online free video downloaders and converters in the past, what differentiates AllMyTube from others is its magnificent features. Downloader, converter, scheduler, video player, media transfer -Wondershare has done an excellent job of compiling altogether in a single application.