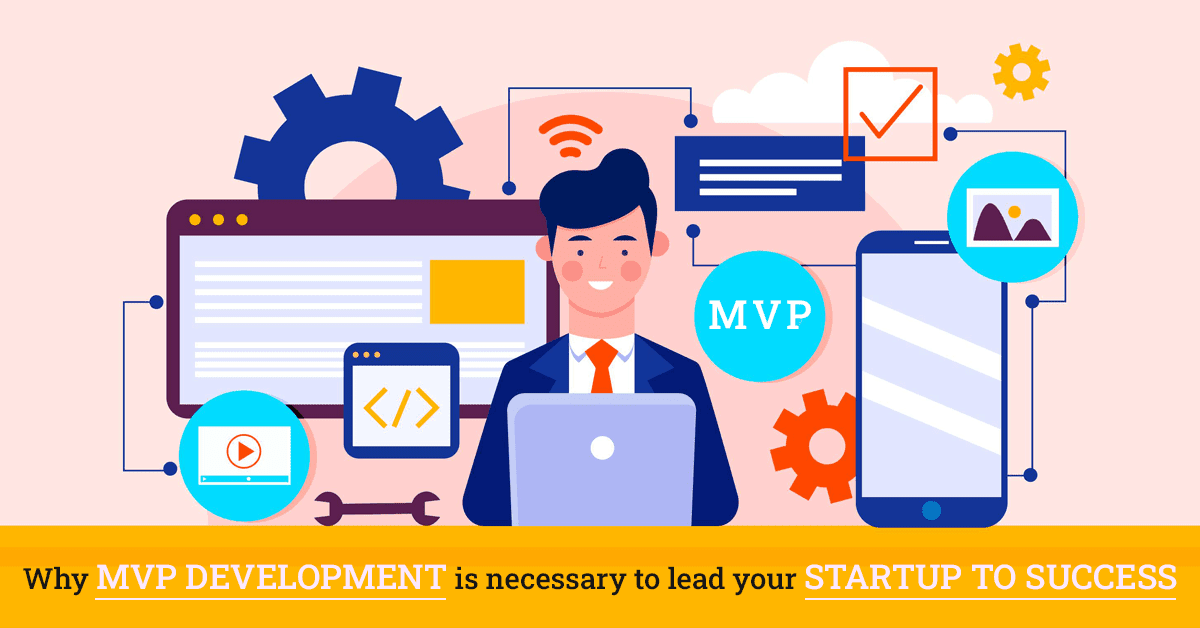 The launch and development of a startup might seem to be a simple job, but it truly isn't! The process is quite complex and mundane, requiring a great deal of time, investment, and effort. Not only will you need a foolproof business plan, in-depth experience, and product quality, but also a comprehensive action plan that takes you a step closer to success.
Be it a first-time entrepreneur or an experienced one with a rich portfolio, opting for MVP development for startups is surely a great idea. You will need an MVP (Minimum Viable Product) in order to carry out trials on your proposed business ideas, thereby enabling you to cut down on your development costs significantly. After all, investing in fully established product development with only limited knowledge or expertise is like walking on a path full of sharp edges and flaws.
As per the insights provided by CB Insights, one of the top reasons why 35 percent of startups fail is the mere lack of market need.
So, however, it is not possible to make everything come out right, entrepreneurs can still work towards building an MVP for their business projects to minimize the risks and prevent failures.
Before jumping onto knowing the importance of MVP development for startups, let us first throw some light on what MVP actually is by giving you a brief overview.
What is an MVP?
A minimum viable product or MVP is an innovative idea conceptualized in 2011 by The Lean Startup by Eric Ries, transforming the entire outlook for startup firms. The key intent was to collate all the crucial and valid information about the potential or existing customers with minimum effort.
Simply put, an MVP is the first version of a product to be launched equipped with the basic features and functionalities. It is the perfect software solution allowing startup firms to collect their users' data, assess and analyze their responses to products before the launch, deep dive into the product issues and disadvantages, and undertake improvement work based on the feedback provided by the users. Everything is done well in advance before the firm finally invests in full-fledged product development.
To be precise, an MVP development is a fast, secure, and cost-efficient solution that helps startup firms in:
Building a visually-enticing design complemented with the core features and functionalities for augmented attention from customers
Testing and conducting in-depth research for your initial hypothesis as well as your product
Solving problems of customers based on the responses and feedback received
Based on the principle of 'Build—Measure—Learn', the MVP development approach is all you need to develop a product digitally, test it on your existing users, and register their responses through various sources such as emails, surveys, polls, forums, reviews, and comments. Going ahead, you can identify their distinct needs and make changes in your product development plans accordingly. This approach is best suited for startups that intend to address the pain points of customers and take the necessary steps to make the product launch a grand success.
Why is MVP needed?
A business is bound to be successful when the market demands are met and people are willing to pay. So, it is imperative to identify this product-market fit. With the lack of product-market fit being one of the prominent reasons for startup failure, it is quite clear that building an MVP for your startup business is an inevitable part that mustn't be skipped. MVP development should be the first and foremost step while developing a product development plan in order to ensure that you are creating a valuable product for your customers.
The original hypothesis might look appealing on paper, but it might not be worth the effort if your customers don't approve of it. MVP is a fast and secure way to pivot your business idea to meet the unique needs of your customers without having to fret over the failure of your product. To top it all, you get to keep the product development costs to a minimum without increasing the risk of product failure. Kickstart your growth journey by hiring a mobile app development company or hire dedicated mobile app developer that renders useful insights so as to control how the product is received by prospective customers and minimize the risks thereof.
Now, let us glance over some of the prominent benefits of MVP for startup firms intending to convert their business idea into an incredible, functional reality.
7 Key benefits of MVP for startup firms
After getting to know what MVP actually is and why it is worth starting your startup journey with, here are some of the key advantages of the MVP approach that we have outlined for you:
7 Prominent Advantages Of MVP For Startups
Easy and hassle-free product launch process
Garnering the attention of investors
Time-saving
Cost-effectiveness
Attending to customer interests
Little to no risks involved
Get insights from your prospective customers
1. Easy and hassle-free product launch process
Since an MVP or a minimum viable product would need only a limited set of functionalities, professionals rendering MVP development services will help you accelerate the development process a lot more than you expect. This way, you get to launch the product way ahead of a similar product entering the market. In fact, with a swift launch process, startup firms can actually make their marketing strategies foolproof and scale their business to success.
2. Garnering the attention of investors
Before providing a startup firm with the financial aid it needs, investors are keen to know about the success rate of your product development plan. And that's when the importance of MVP for startups comes to light. When your investors get to know that your prospective customers have given a green signal to the product to be launched in the near future, they'll surely approve of the plan and show interest in investing in your startup. MVP is definitely a good start for a successful product launch.
3. Time-saving
Since there are only basic features and functionalities involved in developing a minimum viable product, it will not take much time. The specialists taking care of the MVP development process will be able to accomplish the job within a short time frame, saving your valuable time.
4. Cost-effectiveness
With minimal time and effort, MVP development professionals can assist you in incorporating additional features and implementing changes with great ease and efficacy. And by adopting this approach, you can consequently cut down the product development costs significantly.
5. Attending to customer interests
The feedback you receive from the users will help you frame a tactful product development plan that coaxes them to become your first customers when you launch your product. Your intent shouldn't be to make money, but to generate the interest of your early adopters by proposing a unique and compelling product value to them. In order to accomplish this, you must decide on the functionalities you need to incorporate in MVP to make your customers willing to pay for your product. You must focus on illustrating the distinctive features of your product so that it becomes easier for your potential buying audience to choose your product.
6. Little to no risks involved
With MVP development in place, startup firms can minimize the risk involved in materializing a flawed business idea by diving deeper into it and implementing the changes required to make it a sureshot success. MVP development facilitates in getting valuable insights, reducing the risks and costs to a bare minimum.
7. Get insights from your prospective customers
With a fast, secure, and reliable MVP development service delivery, you can dive deeper into the needs and preferences of your potential customers. Even the most progressive analytical skills won't be enough to retrieve accurate user data. However, with honest feedback from your target audience, you will get a better idea about the features that you can provide in addition to the existing ones.
How can experts help in MVP development?
When you choose to outsource MVP development services, the experts will help you in a number of ways. Some of the key aspects experts can assist you in include:
Giving your startup business a great start by garnering the attention of potential investors
Simplifying the product development cycles and segregating the entire process into different milestones to easily accomplish the end goals
Executing the launch and promotion for only a specific market segment to ensure a successful product launch
Ensuring a smooth and hassle-free penetration into the market
Putting the vision into action to receive feedback from early customers before the final product is actually launched into the market
Accelerating the process of product development and launch with in-depth research and testing
Wrapping Up
Undoubtedly, MVP is a great solution to authenticate your business idea pertaining to product development, especially during the early phases of your startup business. Opt for a professional MVP app development company to not only grow your customer base, but also ensure that your products are attuned to their distinct needs.
Go ahead and adopt a foolproof MVP approach to product building to transform your business ideas to functional reality, thereby scaling and growing your business to the next level.