In a world where our smartphones are extensions of ourselves, the data they hold is invaluable. Among the myriad of apps we use daily, WhatsApp stands out as a treasure trove of memories, business communications, and daily interactions. So, when the time comes to switch from an Android to an iPhone, the thought of leaving behind those cherished chats can be daunting.
But fret not! This guide will delve deep into the process of transferring your WhatsApp data seamlessly. For those in search of a one-stop solution, iToolab WatsGo – WhatsApp Transfer, Backup & Restore is a game-changer.
The Great Migration: Why Transfer WhatsApp from Android to iPhone?
WhatsApp isn't just another app; for many, it's a digital diary. Here's why transfer WhatsApp from Android to iPhone is more than just a technical necessity:
Preserving Memories: From shared family photos to voice notes from loved ones, WhatsApp is a repository of moments we cherish.
Business Needs: Professionals often use WhatsApp for business communications. Leaving behind important messages isn't an option.
Continuity: Starting fresh on a new device is great, but having familiar chats can make the transition smoother.
iToolab WatsGo: Features
Seamless Transfers with a Click: Whether you're using the standard WhatsApp or its Business counterpart, iToolab ensures a one-click transfer between Android and iOS. No fuss, no hassle.
GBWhatsApp Conversions Made Easy: If you're a GBWhatsApp user, iToolab has got you covered. Easily transition your data to standard WhatsApp or even within GBWhatsApp variants.
Comprehensive Data Handling: From your heartfelt messages to the videos that made you laugh, from images that captured moments to essential contacts – iToolab ensures every piece of data finds its new home.
Google Drive Integrations and Beyond: While downloading and restoring WhatsApp backups from Google Drive to your iPhone or Android is a breeze with iToolab, it doesn't stop there. You can also backup your WhatsApp data directly to your computer, bypassing the need for Google Drive, iTunes, or iCloud.
Preview and Restore at Will: Ever wanted to take a sneak peek into your backups? iToolab allows you to preview and restore from both WhatsApp and iTunes backups whenever you wish.
Staying Ahead of the Curve: In the ever-evolving tech landscape, iToolab ensures it's always up-to-date. With full compatibility for Android 13 and iOS 16, it's future-ready.
With such a suite of features, iToolab WatsGo isn't just a tool; it's a comprehensive solution for all your WhatsApp management needs.
A Step-by-Step Guide to Using iToolab WatsGo
For those who love details, here's an in-depth tutorial on using iToolab WatsGo:
1. Download iToolab WatsGo and install it on your computer. The user-friendly interface will greet you, making the process intuitive.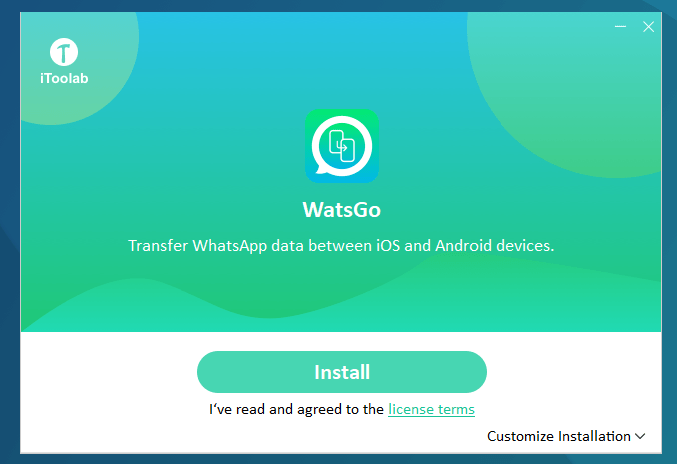 2. Once it's installed and launched, you will be greeted with its interface, showing multiple options besides WhatsApp Transfer, like 'WhatsApp Backup', 'WhatsApp Restore', and 'Restore WhatsApp Backup from Google Drive'.
3. Depending on the option you choose, you will be asked to connect your device to the PC. Use a reliable USB cable and connect it to the system.
4. The software will guide you with on-screen prompts. It's as simple as following the steps and watching the magic happen.
5. Voila! Once done, a notification will pop up. Your chats have now migrated!

Pro Tip: If you use WhatsApp Business or GBWhatsApp, you can choose the option accordingly on the left pane.
And if you're puzzled about how to restore WhatsApp backup from Google Drive to iPhone, iToolab has solutions for that too.
iToolab WatsGo vs. Alternatives: A Comparison
The digital realm offers multiple methods for data transfer. But how does iToolab WatsGo stack up?
Speed & Efficiency: While cloud backups or email transfers can be lengthy and complex, iToolab offers a direct, faster route.
Universal Compatibility: From the latest iPhone models to older Android versions, iToolab covers a broad spectrum.
Safety First: In an age of data breaches, iToolab prioritizes user data, ensuring end-to-end encryption and security.
Other Transfer Methods: A Brief Look
While iToolab is efficient, it's worth understanding other methods too:
Cloud Backups:
Platforms like Google Drive allow WhatsApp backups. However, compatibility issues arise when switching between Android and iPhone.
Email Chat:
WhatsApp lets you email individual chats to yourself. But this method is tedious if you have numerous chats.
Third-party Apps:
Several apps promise seamless transfers. However not all deliver on their promises, and some might compromise data security.
Conclusion: Embracing Change with Ease
Change is the only constant, they say. And in the tech world, this couldn't be truer. Switching devices is exciting, but it's essential to ensure our digital memories make the journey with us. Transferring WhatsApp from Android to iPhone might seem like a mountainous task, but with tools like iToolab WatsGo, it's a walk in the park. So, as you unbox your shiny new iPhone, rest easy knowing your cherished WhatsApp chats are just a few clicks away from joining you.