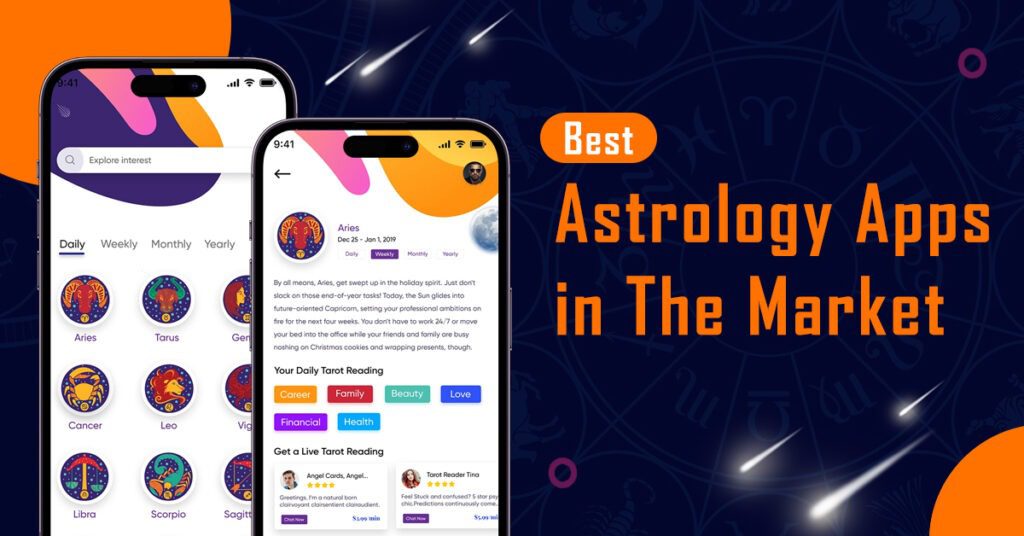 Astrology, a subject with ancient origins, has fascinated civilizations throughout history, including Babylonia, Mesopotamia, Eurasia, and Egypt. Its rich history includes being taught in prestigious universities worldwide, highlighting its significance as a pursued discipline. In the Indian subcontinent, astrology finds its earliest mention in the 3rd millennium BCE, with references in Vedic literature.
Today, astrology continues to thrive and adapt, with the global Astrology Market projected to reach $22.8 billion by 2031. As a startup entrepreneur or a business owner, investing in astrology apps presents a promising opportunity by offering users a convenient way to incorporate planetary insights into various aspects of their lives, such as finances, relationships, and personal enjoyment. Let us explore the best astrology apps available in the market along with their features and benefits.
Best astrology apps in the market
When it comes to astrology apps, the market is flooded with options, making it challenging to select the right one. For entrepreneurs and business owners venturing into this market, understanding the costs of astrology app development, factors and existing competition becomes crucial. Fortunately, there are popular apps that have paved the way, offering hope and opportunities in this field. To help you make an informed decision, we have curated a list of the best astrology and horoscope apps available for both Android and iOS platforms.
Daily Horoscope
The Daily Horoscope app provides daily horoscope information and features convenient daily reminder options to ensure you stay updated on astrological trends. With a wide range of offerings, including sun signs, Chinese year signs, and druid horoscopes, the app caters to various interests.
Users can explore their destiny with weekly, monthly, and yearly horoscopes, neatly presented for easy consumption. In addition, the compatibility section covers important aspects of life, such as family, friendships, business and relationships. This aids in customizing user experience by activating daily notifications and adjusting the font and color settings to their liking.
Time passages
Time Passages is an astrology app offering comprehensive insights into birth charts, planetary signs, and real-time transit updates. It gives detailed descriptions of the planetary positions through prioritized listings. This app goes beyond mere horoscopes, providing beginner-friendly education on how planetary movements influence behavior. App users can uncover the astrological profiles of their loved ones, exploring their signs, charts, planets, and daily horoscopes.
TimePassages excels in unraveling the complexities of various planetary configurations, empowering users to interpret charts accurately. Additionally, it caters to both novice and experienced astrologers through an extensive glossary and in-depth explanations. With this application, users can map birth charts effortlessly as well as expand their knowledge, and unlock the mysteries of astrology.
Nebula
Nebula is one of the top trending astrology apps available today offers guidance on the personal life and relationships, highlighting the day's focus and suggesting ways to navigate them. It offers a wide range of horoscope-related content to satisfy astrology enthusiasts. Moreover, it allows users to dive into birth chart analysis and discover a wealth of information on zodiac signs, including compatibility checks based on zodiac signs or birthdates.
Nebula goes beyond horoscopes, granting access to personalized calendars covering health, fitness, beauty, home, and travel. The app shows accurate predictions by exploring the power of moon phases and palm reading. It stands out by associating with trained professionals who undergo thorough screening, ensuring reliable insights. The Zodiac Relationship feature comes along with a deep understanding of their relationship with their partner or spouse through user activities based on the zodiac signs.
Astrology zone
Astrology Zone is an astrology app renowned for its accurate and easily understandable readings. Created by renowned astrologer Susan Miller, this app provides in-depth reports on daily expectations based on zodiac signs. This app offers detailed predictions tailored to monthly expectations. It comes along with optimistic daily and monthly horoscopes, accompanied by compatibility charts. The Learn Astrology section allows users to explore the influence of planets on their personality traits and gain insights into various aspects of life, such as careers, relationships and health.
What sets Astrology Zone apart is its access to past readings, allowing users to revisit insights from the previous month. By opting for the premium version, users gain access to additional content that delves into the meaning of their horoscope, considering the involved planets and aspects. Although the app lacks a full birth chart feature, its primary focus on providing accurate horoscopes makes it a valuable tool for astrology enthusiasts.
Time nomad
Time Nomad is an iOS astrology app that specializes in accurate birth chart calculations and detailed astrological event reports. While it may appear technical to beginners, this app offers advanced features for astrology enthusiasts. Users have the option to choose between sidereal and tropical zodiacs, enabling the creation of natal and synastry charts. Dive deeper into the subject with comprehensive learning materials provided within the app.
Time Nomad allows the addition of multiple individuals, locations, companies, and world trends, providing insightful readings based on the alignment of the planetary system. Notably, this app stands out for its cost-effectiveness, offering unlimited chart creation in the free version and affordable in-app purchases. Additionally, it offers the flexibility to choose between Western (tropical) and Vedic (sidereal) astrology. It is a valuable asset for mapping birth charts and exploring different astrological approaches.
The pattern
The Pattern is an Android astrology app that offers unique insights into in-born personality traits. By providing name, gender, date, place and time of birth, it unveils users' core characteristics. The app's emotional cycle breakdown encompasses past, present, and future, highlighting when specific traits will reach their peaks throughout life. It delves deeper into personal patterns with quick and detailed compatibility analyses.
The Pattern goes beyond traditional astrology apps, incorporating social media elements. It discovers relationship compatibility not only with other app users but also with individuals outside the platform. Moreover, it connects with friends, shares journal entries and explores the dating section for potential matches based on compatibility. The app's "bond" tool takes compatibility to another level, providing eerily accurate descriptions of relationships based on birth information. Overall, it focuses on the unique patterns of its users and offers a holistic view of relationships.
Conclusion
In times of uncertainty, people seek solace and guidance, leading them to turn to astrologers for answers and insights into their lives. From financial concerns to matters of the heart, astrology apps have become a go-to resource for individuals seeking clarity and direction. To succeed in this competitive market, assembling a team of skilled professionals and developers is essential. By creating an impressive astrology app that caters to the diverse needs of horoscope enthusiasts, you can generate revenue and achieve business success in this thriving industry.