More than 53% of kids under 11 have phones in the USA. Reports claim that 65% of kids from 8- 14 have been involved in some cyberbullying, around 90% of kids from 8-16 years have been exposed to pornography, and 30% of kids reported using phones for over three hours are subject to depression.
If you are reading this article, then there is a good chance that you are tired and worried about your kids' use of phones and the internet.
Imagine having to check your kids' phones every time they use them, monitoring every app, website, video/photo, web browser history, people they are talking to, and social media activity.
It seems tiring; add tasks like keeping the phone out of their reach after a specific screen time. It is not possible, and you might miss something.
You are not alone; We have the solution you want: parental control apps. So, why not take help from an excellent parental control app?
What are Parental Control Apps?
Parental control apps are monitoring apps that help parents and guardians monitor, control, and track their children's activities on their phones.
Parental monitoring apps help you restrict access to certain apps and websites to ensure digital safety. This helps you reduce and eliminate all cyber problems and addiction.
Features of Effective Parental Control Apps
There are many good parental control apps readily available in the market. But you might need clarification about whether the particular app is effective.
Check the reviews and feedback of other users. However, the main thing to focus on is the features that match your needs. Here are some features of effective parental control apps that you might consider:
App Management
Every effective parental control app should have app management. This feature helps adults and parents manage which apps the children can use and how much time they can spend on them.
You can also check how much time the kids spend on particular apps. Finally, they can restrict access to any applications.
Screen Time Management
This feature helps parents to limit screen time on their phones and devices. Moreover, it will facilitate the kids to use the devices for the most critical tasks. Furthermore, it will prevent harmful activities like binge-watching and mindless scrolling.
Content Filtering
The content filtering feature will enable the parents to block and restrict all inappropriate photos, videos, apps, games, and websites. This feature helps prevent exposure to pornography, extremist behavior, violence, etc.
Remote Monitoring
Effective parental control apps have the feature of remote monitoring. This feature allows guardians to monitor and spy on their children's activities. You can see what they are doing in real-time.
Alert and Notification
The final feature of an effective monitoring app is alerts and notifications. The apps notify and alert you when you engage in restricted activities, games, and websites.
Moreover, it also tracks your location and gives alerts. Finally, the kids might want to delete the apps to get access. However, parents will get an alert even if the app is deleted or installed.
You are good to go if your chosen app has these essential features. However, consider selecting another application if any of the above features still need to be added.
Top 5 Apps for Parents to Monitor Their Kid's iPhone
Despite learning the essential features, it is normal to have difficulty choosing as most parental control apps have started including them.
But don't worry; we have researched for you. Almost all the apps for iPhone need premium, but some provide a 30-day free trial and can be used on more than five devices.
Here are the top 5 apps for parents to monitor their kid's iPhones that keep kid-safe online:
Fenced.ai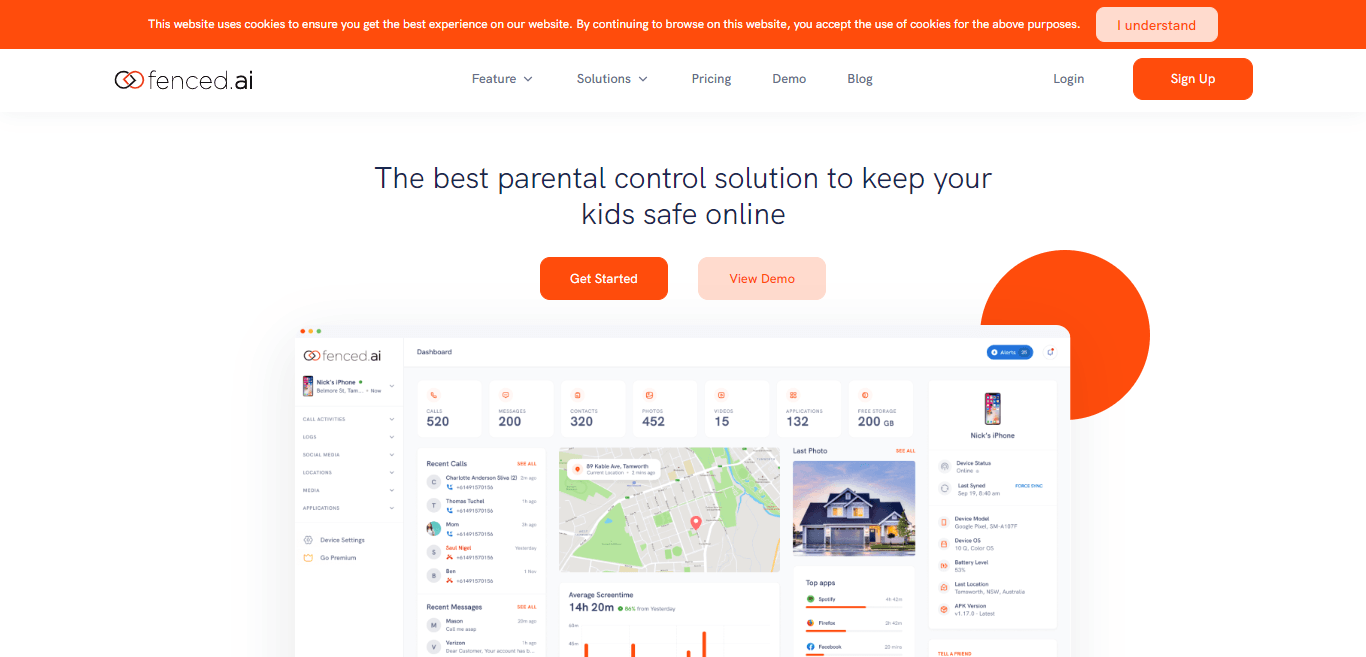 Fenced.ai is one of the best parental control apps available on Android and iOS. This app ensures the digital safety of kids. These apps can be used to monitor, track and restrict the use of the device. It can keep track of SMS, calls, and locations along with the apps and websites.
Moreover, this application sends alerts and notifications when the kids are out of the designated location. This can help in reducing and eliminating all kinds of cyber problems too.
Some of the best features of fenced.ai are:
Monitoring photos, videos, sms, and calls: fenced.ai can monitor all the media, including photos, videos, calls, and SMS.
Tracking location: One of the most important features of fenced.ai is tracking location; you can monitor the target phone's location anytime.
Monitoring social media: You can check social media activities, usage time, and other things in real-time.
Recording browser history: You can monitor the browsing history, websites visited, and time spent from recorded history.
Alert system: The app will alert the parents when the kids try to use restricted apps, or websites, go out of range, or try to delete the app.
Cons of Fenced.ai:
Premium access is required for using advanced features.
Pricing: Starting at $5.83 per month
Bark
The Bark is another parental control app that can create a digitally sound environment. The best thing about this app is that it can monitor over 30 applications, including all social media. It keeps track of all the activities and ensures safety by alerting and notifying the parents.
This app can limit access and screen time. Moreover, it is available on both Android and iOS. This app will create a digital platform where kids can learn and develop safely. There are many premium features in this app.
Some significant features of this app are:
Allow you to monitor social media activities
View screen activity
Alerts about the dangers
Track locations
Setting time limits in apps and websites
Cons of Fenced.ai:
Despite being one of the best parental control apps, bark does not record and monitor phone calls. Likewise, it does not keep track of the call logs.
Pricing: Starting at $99.99 per year
Qustodio
In the third number, we have Qustodio. This app can also be used on both Android and iOS. Manage your kids' mobile phone use and screen time. It has a content filter that can restrict and block games and websites with inappropriate content.
It also has features like web filtering and app blocking. Buy Qustodio premium, configure the settings, set a time limit, restrict inappropriate access, take a seat, and chill; the app will do the rest.
Here are some of the significant features of Qustodio:
Tracks and sends the report of the kid's mobile activity
Track location
Block inappropriate apps and websites
App filtering
Cons of Qustodio:
Users of this app can easily avoid online surveillance by installing and setting up VPN plugins.
Pricing: Starting at $138 per year
Norton Family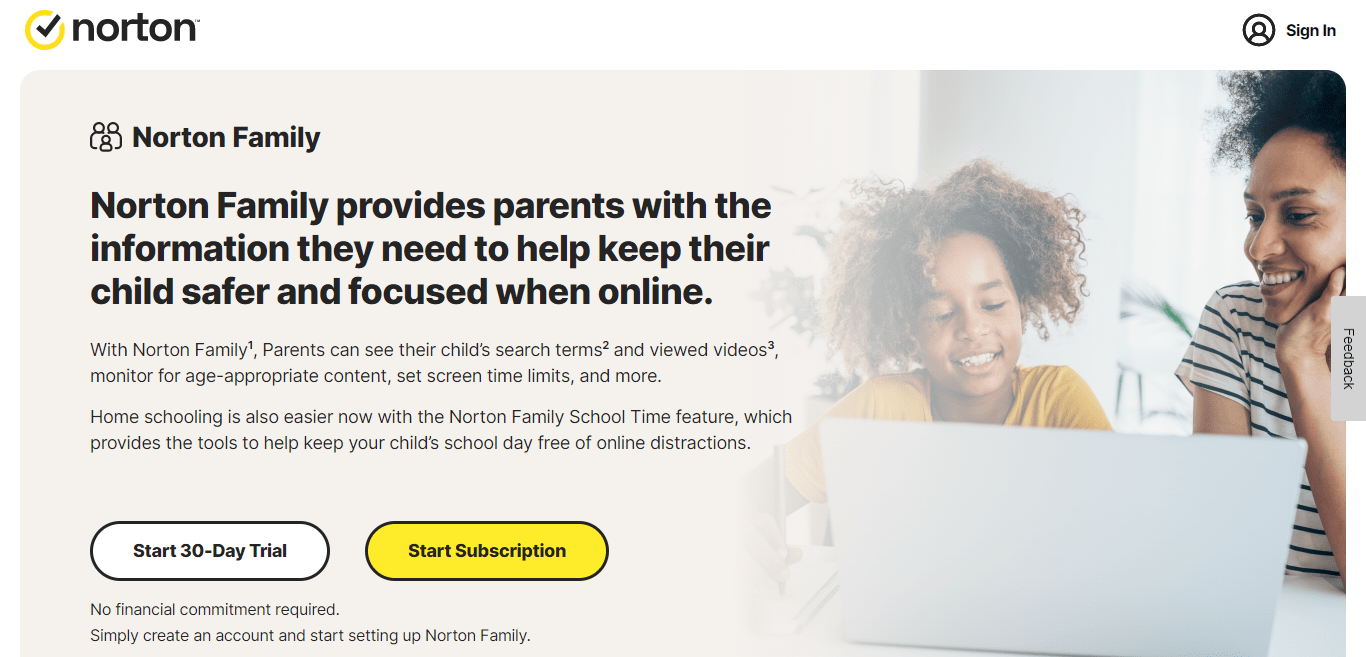 Norton Family is yet another great parental control app for iPhone. This app incorporates all the features you might want in a monitoring app. It is one of the most useful apps to keep your kids digitally safe and sound, preventing cyber issues and crimes.
Norton family can do everything from tracking social media activity to checking browser history, monitoring calls and sms, and every other activity in between. It also provides a 30-day free trial so that you can use it, be familiar with the use, and be sure that you are choosing one of the best apps.
Here are some of the best features of the Norton family:
Set screen time
Track browser history
Report activities
Alert and notification
Cons of Norton Family:
It does not have some advanced features and has only one variant, which makes it unsuitable for businesses and schools. Likewise, the free version of this app has very limited features.
Pricing: Starting at $49.99 per year
MobileSpy
Last but not least, MobileSpy is one of the best monitoring apps on Android and iOS. This app has one of the best user-friendly features, interface, and design, making it a household name in the monitoring apps industry. It monitors calls, monitors social media activities, and SMS.
Easy to set up, cheaper than most other apps, and with all the best features, what else can you ask for in a single app? Moreover, it is also one of the highest-rated spying apps.
Here are some of the best features of MobileSpy:
Monitor all social media apps and platforms
It racks all means of communication, including calls, sms, and email.
Alert and notification
Track the location
Works without root and jail root
MobileSpy can be expensive compared to other apps, considering it provides the same features.
Pricing: Starting at $99.96 per year
These are the major parental controls for iPhones. However, there are more apps like a net nanny that you might consider using.
How to set up parental control Apps on an iPhone?
First of all, iPhones have built-in parental control features. These features can easily restrict access to specific apps and websites and set screen time and privacy restrictions.
However, they need all the features like tracking locations, social media monitoring, etc. So, in case you want to use the monitoring apps, here is the step-by-step process:
Choose an App: There are many apps available on iOS. Research and select the one that has the features which match your needs.
Install and Purchase the App on your iPhone: After choosing the best app, install the app on your device and create an account. Most useful apps require premium access. If your app needs one, then purchase the premium version.
Set up: After installing and purchasing the app, set up the app by following the instructions. Select and customize the features as per your need.
Test the App: Open the app, use it, and check if all the features work as intended. If it works properly, you are ready to use the app; if not, recheck the setting and adjust it.
Use the application: Now, you are good to go. But wait, remember to talk to your kids about the app and ensure they understand it correctly.
Viola, you have set up the monitoring device on your iPhone.
Tips for Effective Parental Control
We have learned the best control apps, their benefits, and how to set these apps on your device. Here are some tips for effective parental control to allow kids to grow and learn in a digitally safe environment.
Be Clear about the Use of Apps with Kids: Talk to your child about using them and their consequences. Ensure the kids understand what they are supposed to use and are not allowed to use.
Use Multiple Layers of Protection: You are suggested to use multiple layers of protection in the device, including blockers, timers, and filters, for the best protection instead of relying on one application.
Monitor the Activity: You need more than just set up the control apps; you must monitor all of their activities daily for the effectiveness of the apps.
Educate Yourself: Be up-to-date about current trends, news, and technology. It can help in detecting and avoiding potential dangers.
Be Flexible: Adjust the apps as per the kids' needs and remember to keep some space for their growth and development. Moreover, enable the setting as age-appropriate.
Finally, if there are breaches in the rules by the kids, consider positively addressing them.
Conclusion
Summing up, it is high time parents and adults realize the dangers lurking when their children have unmonitored access to mobile devices and the internet. The kids might be exposed to online threats. So, parental monitoring apps have become inevitable for parents, guardians, and families.
Purchase a parental control app, set it up, and you won't have to worry about the kids anymore. This article has mentioned some of the best parental control apps for iPhone. Consider using one of them according to your need.