WordPress is the favorite tool for website developers because of the fact that it has so many options available for designing your website and also you don't need to be a hardcore programmer to use WordPress. With WordPress building a website has been so much easier. WordPress was initially built for blogs but as days passed by and with the invention of new plugins you can do so many things with WordPress. But there is a catch which is you can get a website similar to that of a professional website because it lacks in some areas. For instance, if you want to build another Facebook with WordPress then that will be a gruesome task for you and this is where the Peepso plugins come into existence.
Peepso is a set of social plugins that when used in your website can make your website look and work like a social website like Facebook. The difference between Peepso's social plug-in and that of another plug-in of the same category is that it is lightweight and easy to use. Peepso is a great plug-in that you get totally free of cost. Furthermore, you will not need any developer skills to make your website, a social website. Peepso is constantly updating and developers are trying their hard to make it a great social plug-in. recently Peepso has launched a feature called Video uploads. Let us take a look at some of the specialties of this feature and how it is different from others.
Video uploads feature
People are constantly updating themselves, thanks to the ever-changing technologies. What you thought was a new feature might have already become a past. You will not find any social plug-in which allows video uploads for the users. It is quite easy as well, to upload a video through Peepso video uploads. Let us take a look at how it works.
Working
Upload your video
This is the first step where you need to be very careful as it may affect the users directly. Upload your video on the specified section of your website and then add a title, description, tags, moods, etc. Upload size depends on the server's configuration and if you want to increase the upload limit just contact your hosting provider.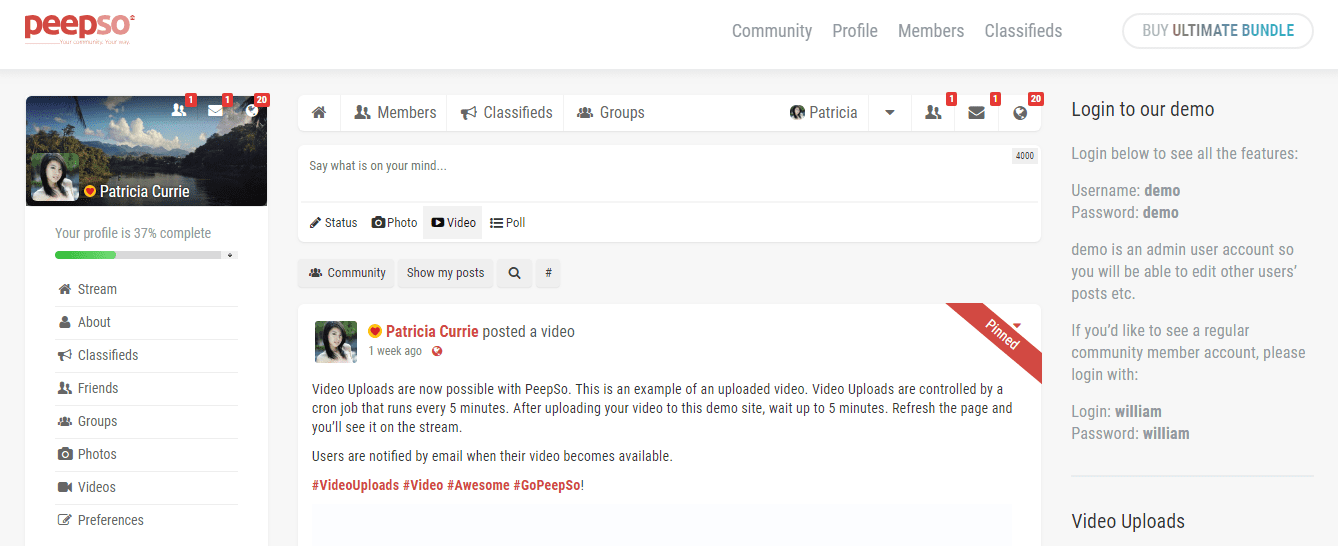 ---
---
---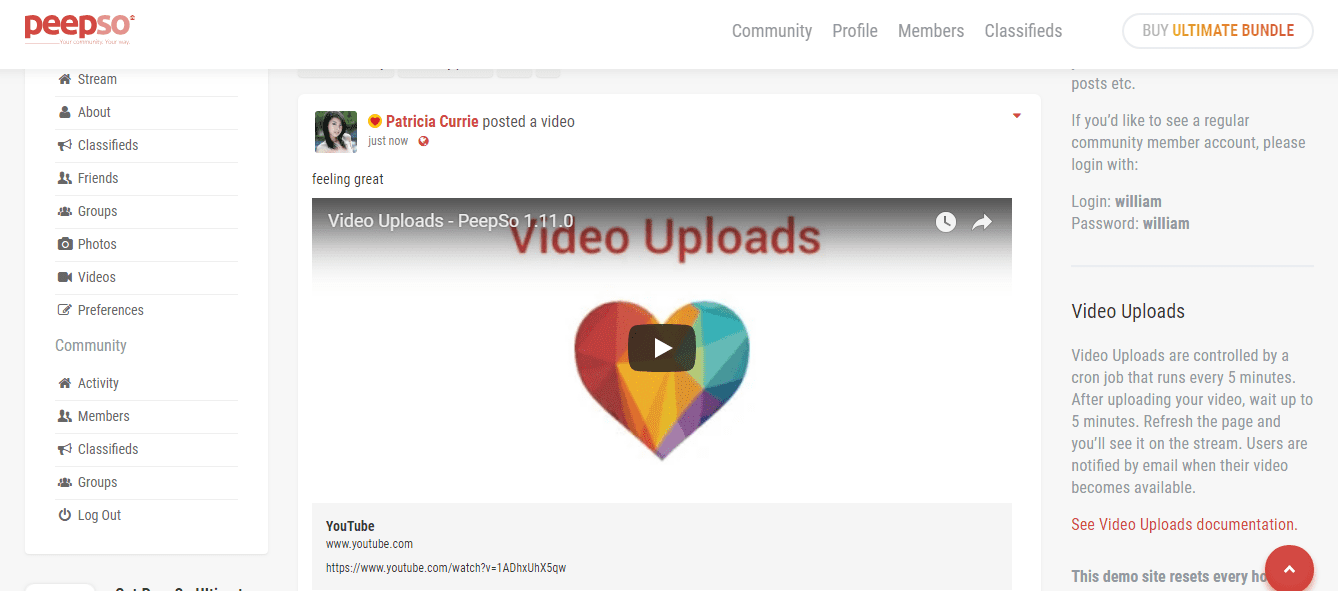 Let the cron job do its thing
Cron job is something that constantly gets crawled on your website for any updation or errors. In this case, a cron job runs every five minutes which means you have to wait for five minutes or less depending upon the server where your website has been hosted. Refresh the page and then you may stream the video from your page.
Get notifications via email for the same
Users also get a notification via their registered email on a successful update of their video. So you don't need to refresh every few seconds to check if your video has been uploaded or not.
Requirements
Dedicated server
To use video uploads you will need a dedicated server and not a shared server because conversion and video uploads will not work in a shared environment.
FFmpeg.4x
FFmpeg.4x is a video library that helps you to successfully convert the video and make it run on your website. Peepso video uploads support only ffmpeg version 4 or above and hence if your hosting does not have any, then contact their customer care executive and tell them to introduce one.
PHP exec() and shell exec()
You will also need to get confirmation whether these two commands are blocked on your server or not if this is the case then video uploads will not work. You can confirm it by contacting the customer care of your hosting provider because they generally provide you information that you need on your server.
Cron job
You will also need an external cron job which is also likely to be provided by the hosting provider which will help in video conversion.
Here is a screenshot of recommended backend settings you can apply for better performance of video uploads.
So what is the pricing of the best video-uploading plugin?
Here is the picture directly scooped from the website.