Paraphrasingtool.ai has firmly established itself as a must-have tool for writers from all walks of life. Serving as an intelligent writing aid, it empowers its users with enhanced paraphrasing abilities, enriching their texts while preserving the original meaning.
In the forthcoming review, we'll delve deeper into the features of Paraphrasingtool.ai and see what it offers for free and for what you'll need to buy its premium. Buckle up, as we journey through the intricacies of this fascinating tool.
What is Paraphrasingtool.ai?
Before we deep-dive, let's first get a snapshot of what Paraphrasingtool.ai is all about. If you're unfamiliar with this tool, consider this your introductory guide.
If you haven't yet tried using Paraphrasingtool.ai, now is a great time to do so.
Introduced recently, Paraphrasingtool.ai is an advanced online platform that excels in refining and rephrasing text content. It provides multiple paraphrasing modes and tones to choose from so that you can paraphrase content according to your writing style.
Furthermore, Paraphrasingtool.ai leverages advanced AI technology, offering a suite of powerful features that set it apart. It comes equipped to paraphrase audio, images, and speech-to-text content, adding another level of versatility to its arsenal.
Paraphrasingtool.ai is available through a web-based interface that is accessible on all popular web browsers, including Safari, Firefox, Chrome, and Edge. There's no need to download any software; you simply need to open the website and start paraphrasing.
How to Get Started with Paraphrasingtool.ai For Free?
Looking to enhance your writing experience with Paraphrasingtool.ai? Let's get started! You can access most of the fantastic features of this tool for free.
Simply follow the steps provided below to get started with Paraphrasingtool.ai.
Go to the website: https://paraphrasingtool.ai/
Once you've clicked the link, you'll arrive at this page:
Here you can directly start using the paraphrasing tool without any need for account creation or sign-up. Just paste your text in the provided area and select the mode you want to paraphrase in. It's as simple as that!
But wait, not all of its features are for free!
Here's what you get for free:
Basic paraphrasing modes
Audio, image, and speech-to-text paraphrasing
Synonym changing feature
Web browsing
If you want to avail more features and get the most out of Paraphrasingtool.ai, consider opting for the premium version. But before that, why not try out the free version and see how it transforms your writing experience?
Remember, using Paraphrasingtool.ai doesn't just improve your writing, it makes it more engaging, understandable, and unique.
Review of Paraphrasingtool.ai
Let's delve into what Paraphrasingtool.ai can do. For this case study, I've taken a short text, and I will be using both the free and premium versions of Paraphrasingtool.ai to analyze how each version paraphrases the same piece of content.
To further test the tool's abilities, I've included some content from various online sources to put the plagiarism checker of Paraphrasingtool.ai to the test. For the record, the information included in this review is for testing purposes only and I don't claim ownership of any of the referenced content.
Now, let's proceed to see how Paraphrasingtool.ai performs in real-life usage, starting with its paraphrasing abilities and then moving on to its other features, such as plagiarism checking and audio, image, and speech-to-text paraphrasing.
Through this process, we'll get a clear understanding of the tool's strengths and weaknesses and be able to offer a comprehensive review of its overall performance.
Paraphrasingtool.ai Free Version
If you're like me, you want to know what you're getting before you commit. So, I decided to take Paraphrasingtool.ai's free version for a test run, and here's my experience:
Upon landing on Paraphrasingtool.ai, I was presented with an intutive interface that makes me clear how would it work.
The paraphraser comes with up an input editor on the left and output feild on the right.
Free paraphrasing modes:
Moving to its working, the tool offers three free paraphrasing modes: Free Rewriter, Text Improver, and Near Human. Each mode is designed with a specific focus in mind. Here's the testing results for each free mode:
The 'Free Rewriter' did a decent job of rephrasing my text, keeping the original meaning intact.
'Text Improver' was intriguing; it simplified my writing style and fixed sentence structures, making my text easier to understand.
The 'Near Human' mode was quite impressive. It performed human-level rewriting, and the output was so refined that it was hard to believe it's free.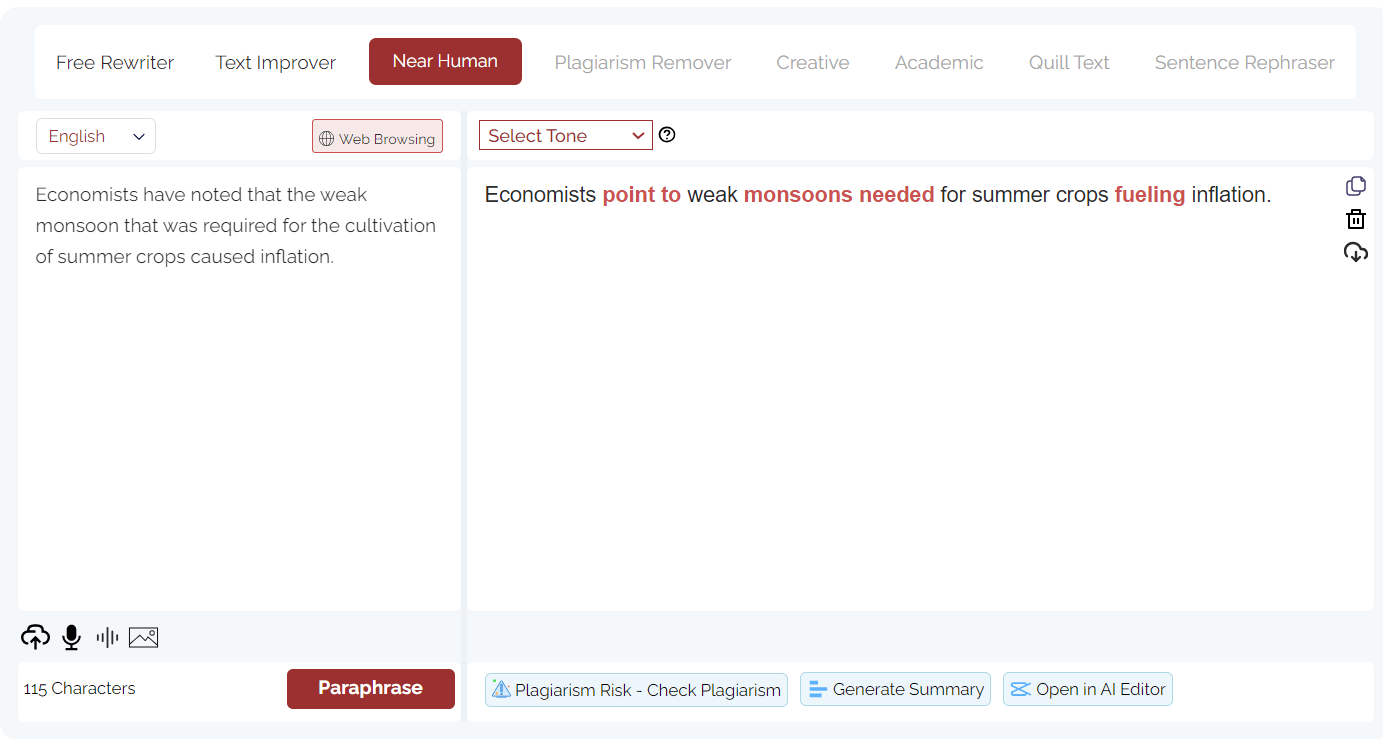 Audio, image, and speech to text paraphrasing:
One of the most notable free features I enjoyed was the audio, image, and speech-to-text paraphrasing. I simply had to upload an image or audio file, and Paraphrasingtool.ai took care of the rest, converting it into text and rephrasing it as per my chosen mode.
Sentence level paraphrasing:
Another feature that really caught my eye was the sentence rephrasing feature. Upon clicking on individual paraphrase sentence, it gives five alternate sentence options ro choose from.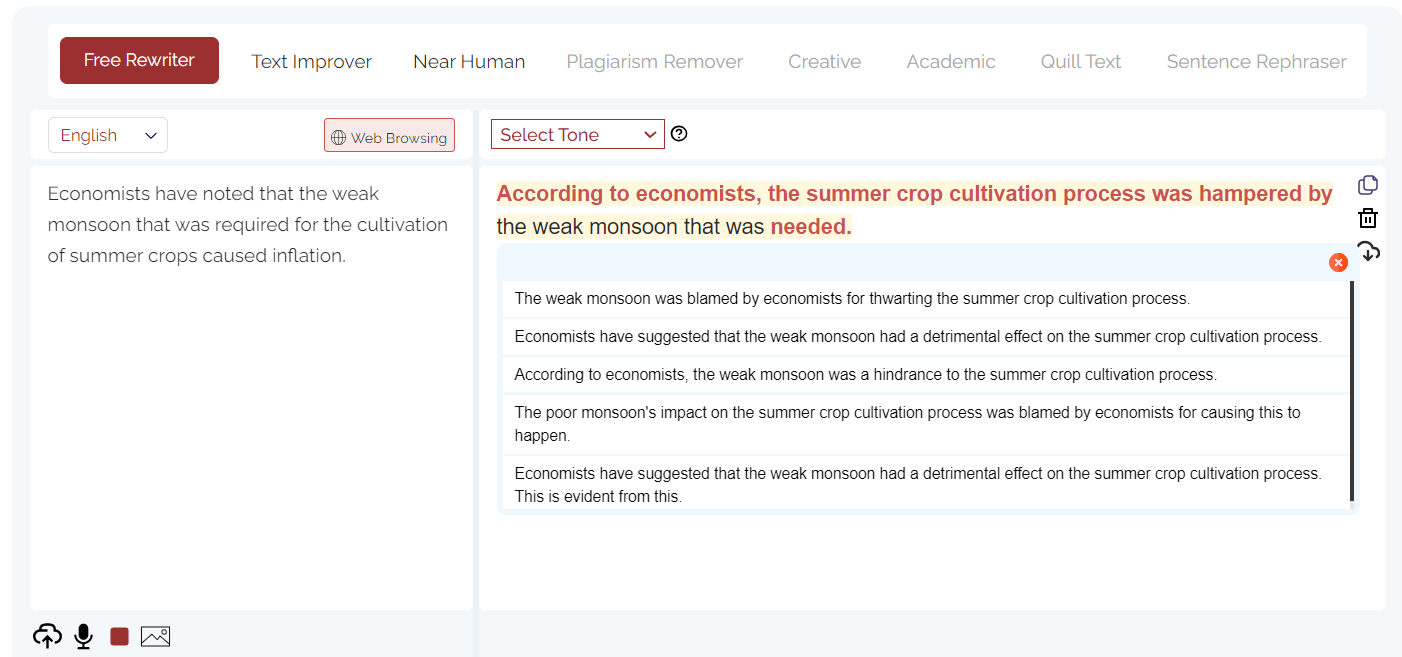 And I was able to swap them out and choose one as I pleased. This feature is immensely helpful when you want to diversify the writing in your own style.
Web browsing:
The web browsing feature was a neat addition too. It made searching for content a breeze, and I could easily find, copy and paraphrase the text right in Paraphrasingtool.ai's interface.
Unlimted paraphrasing:
The free rewriter paraphrasing mode came with an unlimited paraphrasing offer for up to 20k characters per input.
Is the Paraphrasingtool.ai Free Version Worth it?
After using the free version of Paraphrasingtool.ai, I can confidently say that it's an excellent starting point for anyone looking to improve their written texts. It's feature-rich, user-friendly, and truly versatile to give your content an instant lift so that you can avoid errors, keep the content flow streamlined and give your paraphrases a human touch.
Things you may not like about its free version are:
You need to verify your human identity before using these free modes
The user interface displays ads which might distract your attention
Paraphrasingtool.ai Premium Version
There's much more under the hood when you go Paraphrasingtool.ai's premium package. For this review, I decided to try out the 'Solo Paraphrasing Tool' which comes for only $7 a month. Pretty affordable right?
The sign-up was straightforward and in a blink, I was exploring the premium features.
At first glance, the premium interface didn't differ much from the free version.
But as I delved deeper, I discovered new exciting features.
Premium paraphrasing modes
First off, I had access to premium paraphrasing modes.
'Plagiarism Remover' astounded me with its ability to rephrase content to become super unique without changing the text context.
The 'Creative' mode' was perfect for infusing fresh ideas into my text.
The 'Academic' mode proved to be indispensable when it came to accessing a more profound scholarly writing style.
'Quill Text' made the text clear and concise instantly.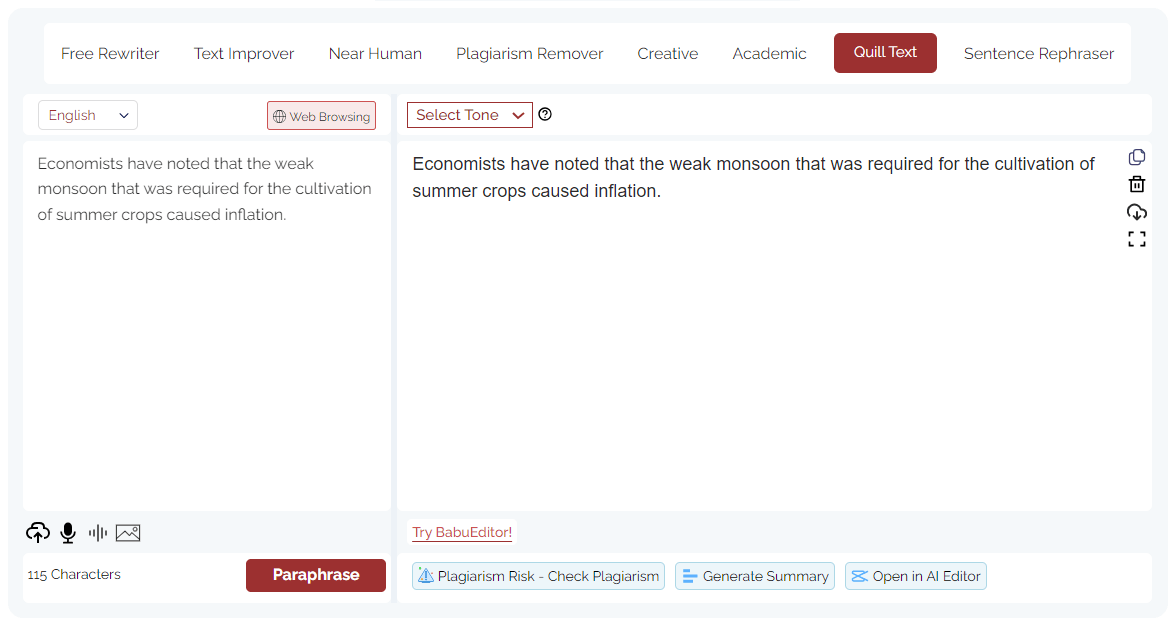 Lastly, the 'Sentence Rephraser' was a little different from other modes. You dont need to click on "paraphrase" button, but rather click on a sentence you want to rephrase. It gives five alternate sentence options to choose from.
Tone flexibilty
The 'tone flexibility' feature was a standout addition. This premium features allows you to tune the tone of your paraphrased content to fit various contexts. The tool offers the following paraphrasing tones:
Casual: Tweaking the tone of your paraphrased content to match different situations.
Professional: Adjusting the tone for utmost professionalism.
Formal: Empowering your paraphrased content to suit formal settings.
Witty: For injecting wit and humor into your writing
In my experience, the premium version of Paraphrasingtool.ai is a powerhouse. If you're a writer who needs to paraphrase content regularly, the premium features offer immense value for your investment.
Comparison of Free and Premium Versions
On comparing the free and premium versions, here's what I found:
Offered by both:
Paraphrasing modes: Free rewriter, Text improver, and Near human
Multiple input formats: Text, Audio, Speech to text, and Images files
Unlimited free rewrites under free rewriter mode
Synonym changing feature
Sentence level paraphrasing
Direct Web Browsing
Offered by premium solo paraphrasing tool:
Access to all paraphrasing modes
Unlimited paraphrasing for up to 20k characters
The tone changing feature for the spun content
Concluding Thoughts: Is Paraphrasingtool.ai Worth it?
As you've explored throughout this review, Paraphrasingtool.ai is a tool that can change the way you handle content.
Its free version is, to put it mildly, impressive. It's rare to find a tool that offers so many advanced features at no cost. From free paraphrasing modes to sentence-level paraphrasing, audio, image, and speech-to-text paraphrasing, it almost feels like Paraphrasingtool.ai has pulled out all the stops with their free version. The only minor downside could be the need to verify your human identity before using these free modes and the presence of ads. But considering the array of features it provides, it's a small price to pay.
When you step up to the premium version, you get everything from the free version plus a lot more. With added paraphrasing modes and the tone flexibility feature, your writing can reach new heights. For just $7 a month, the Solo Paraphrasing Tool provides an incredible value.
In the final analysis, whether you choose the free version or decide to go premium, Paraphrasingtool.ai offers a powerful and versatile toolset for your writing needs.