Are you frustrated? Refresh your mind by listening to your favorite songs with the ultimate music player app like BoomPlay. The app gives you a smooth experience of playing trending songs for free. Search for the songs that you like, discover the latest albums, look for the songs of your favorite artist, and everything you will get with the BoomPlay app. With over 85M songs, the BoomPlay app allows you to list the songs offline, which means you can also download the songs. Boomplay download has become significantly more accessible for everyone, so what are you waiting for? Check out the BoomPlay app today.
Stay tuned with us to learn about similar apps like BoomPlay.
Music Player
Here you go with the most downloaded music player app, Music Player. A free music player app comes with the most powerful equalizer. Music Player app enables the option for you to set your theme, change the background color, and many more exciting features. Not only audio, but you will get an easy option to watch music videos too. Save your most loved songs by creating a folder inside the app and groove over it anytime and everywhere. Quick search makes it easier for you to look for your songs, albums, artists, and so on. So create a playlist today and enjoy the free Music Player App today!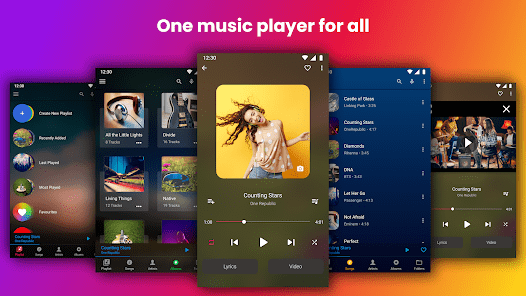 Simple Music Player
It is an excellent Music player app that comes without any ads. Listen to any music free and that too without ads. The simple music player app is built for you so that you can listen to your music anytime without any hassle. One good thing a simple music player app provides is you don't need the internet for it, which means you can enjoy the music offline. It also comes with a battery-saving feature, so never worry about how it will save your device battery too. Easy to make and manage your favorite music list and listen whenever you need. Easy-to-use application with powerful features.
Audiomack: Music Downloader
Play and download any songs with your fingertips with the ultimate music streaming and downloading the app, i.e., Audiomack App. This is also a free app you can download easily and listen to MP3 songs offline. Trending songs inside your screen; yes, whenever new songs come up, you can listen with Audiomack App. If you want to get a smooth experience of listening to music, then Audiomack is the best option for you.
MP3Juice: Mp3 Music Downloader
Do you know you can play songs without login-in? Yes, with MP3Juice, you will get easy access to 45M tracks; that sounds good, right? Enjoy the collection of songs with MP3Juice anytime without paying anything. Download unlimited songs with MP3Juice today. Along with MP3 songs, you can download lyrics too. Check out the app now!
Final Words
There are many music player apps available in the market. Just check out which one you like, download, and enjoy music offline and online.