IObit Screen Recorder is a free-to-use screen recording software for Windows PC users. It is designed for regular PC users that let you record the screen in different ways. The software also allows you to add your sound from the built-in speakers. It's a perfect tool for those who create online tutorials.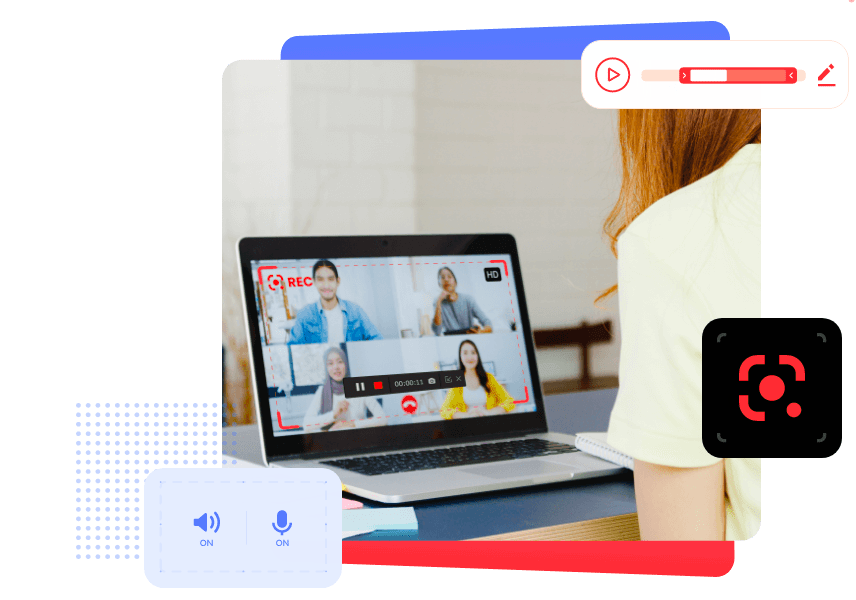 What makes this screen recorder software a unique choice for Windows users it gives you full flexibility to record your screen. You can either record a full screen or a region that you select from this tool. Moreover, the tool is compatible with speakers and a microphone.
With this online screen recorder tool, you can record online webinars, video tutorials, and more using this tool.
Being an advanced video recording software, it comes with a variety of features that make it the best video recording software for Windows users. It is loaded with a ton of features that makes it easier for users to record tutorials, presentations, and more. It's an ideal choice for YouTubers who can create tutorials using this tool to demonstrate something.
If you are curious to know more about this software, then follow the list of its features given below. The following list of its features will give you all the information about this software.
Key Features:
The software is designed for everyone. It serves as an easy-to-use interface that lets anyone use it to record the screen from their respective Windows PC system. With easy access to its features, anyone can try out the built-in features and functions for a smooth recording of the screen.
Flexible Screen Recording
Unlike other screen recording software, this tool allows you to select the region from the screen that you want to record instead of choosing the full-screen. You can try out different features of the tool while recording a screen to make it look more professional.
This freeware comes with a built-in audio recorder. It lets you record a screen with the audio using the built-in audio recorder. You don't need to upload the audio manually. It also supports built-in speakers and microphones.
Supports Multiple Outputs
What's unique about this software is it supports 12 output formats. You can get your screen recording video downloaded in the preferred format. You can change the video output format from the Settings menu of the software.
Just go to the menu and select the Settings option. Click the Output option and then select your preferred format from here. You can also choose the folder to save the downloaded recordings from this software. The software supports popular video formats such as MP4, AVI, MOV, FLV, GIF, TS, MKV, etc.
The software also lets you take screenshots while recording a video. It works like a smartphone. The screen capturing feature is a good option to add some screenshots to your tutorial video. It helps you in editing your video well.
You can also add different effects to display the cursor. The mouse click effects let you add different effects and animations to show the mouse and the clicks while recording a video.
The software also features a basic video editor that lets you edit the recorded video with the basic editing tools.
With the given video editor tool, you can cut, crop, trim recorded screen videos efficiently.
Offers Stable Video Recording
The software is designed to run smoothly on high-configured PC systems. It adopts GPU acceleration of the system that provides a smooth screen recording experience.
The freeware doesn't add any type of watermark on the screen that you record from your Windows PC. There is no limit to recording a screen, you can even record the entire movie or show using this software with good quality audio and in full HD resolution.
How does IObit Screen Recorder Work on your Windows PC?
IObit Screen Recorder software serves as an easy-to-use interface that lets you start recording the entire screen or the region of the screen in three simple steps. Let's get on to the step-by-step instructions to understand the basic functionality of this popular screen recording software.
Step 1: Installing the Software
The first thing you need to do is installing this freeware on your Windows system. Just go to the official website and click the Download button to download the setup file. Follow the basic installation instructions to install it on your Windows PC.
Step 2: Launch IObit Screen Recorder
Go to the Desktop, double click on the icon of this software. The clean dashboard will be presented to you in front of your screen.
Step 3: Customization
Now, you can customize the screen recording as per your requirements. The dashboard gives you all the options to select your preferences while recording a screen.
You can select the full-screen option to record the entire screen of your computer. Or you can select a region or a part of the screen by selecting the drop-down menu.
Besides this, you can also disable or enable the built-in Speaker, Mic, and Mouse click option. For adding effects to your mouse click, you can select the Mouse option and can customize it.
Moreover, you can choose the video output format, screen resolution, frame rate, quality, and more from the same page. This way you can customize your screen recording.
Step 4: Start Recording
Once everything is set, you can click the Rec button to start the recording of your screen. You can play or pause the screen recording with the built-in controller that you will be presented on your screen.
Step 5: Quick Upload
The software offers two different sections for videos and screenshots. You can explore the recorded videos from the Videos section and Screenshots from the Screenshots section.
You can delete, play and upload videos on different platforms. The software supports quick upload options to major platforms such as YouTube, Vimeo, Instagram, Facebook, Google Drive, Dropbox, etc.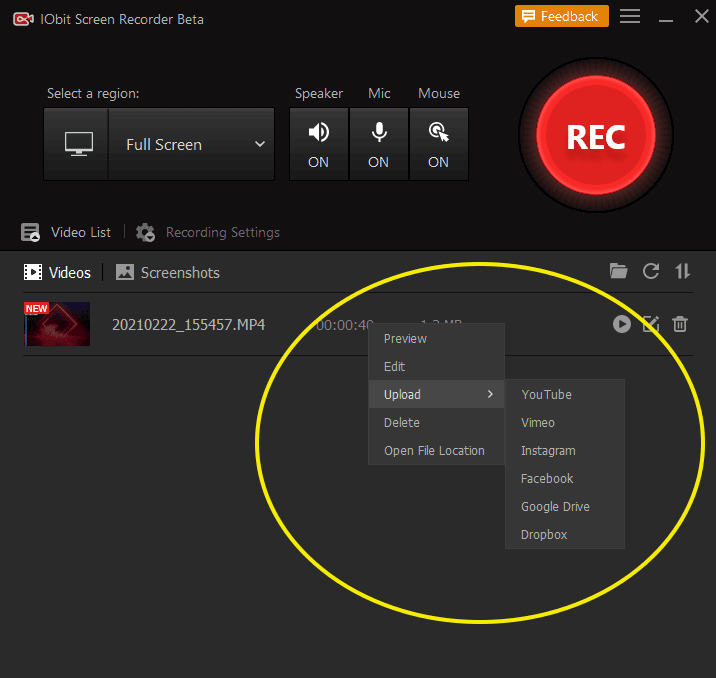 Conclusion:
IObit Screen Recorder is an ideal software for both casual users and professional users who have to create tutorial videos. The best thing about this screen recorder is it is available for free. It is compatible with all types of Windows PCs.
With tons of features and functions and ease of recording full screen or partial screen, this software gives you full flexibility. Moreover, you can customize your screen recording as per your needs right from the Dashboard.
It's a perfect solution to eliminate the need for multiple software to record the screen video and audio. The built-in video editor and then upload option fulfill all your needs. Go ahead and give this software a try now!