Instagram is a popular social network that was launched as a photo-sharing platform. It's currently the most used Social Network with over a billion daily users. Instagram has become the best choice for Digital Marketers to marketize their clients' products on the platform. To gain a good number of followers to boost your Instagram post, here's your personal Instagram Assistant, Ingramer.
What is Ingramer?
Ingramer is nothing but an Instagram automation tool that is designed to give you real-time followers on Instagram. This advanced auto-bot helps Instagram users in many ways as it is packed with a number of useful features or we can say, tools that let you gain real Instagram followers, likes, comments, etc.
You don't need to limit yourself if you make use of Instagram as your primary platform for promoting products. You can simply opt for Ingramer to grow your Instagram Community rapidly. This is one of the best Instagram Automation tools available on the market for a variety of reasons.
While Ingrammer does all these awesome things, a great alternative would also be
Instadp
. Basically, what this website can do for you is offer you these three tools:
Viewing the Instagram profile picture at full size
Downloading multiple images and videos from an Instagram post
Download Instagram reels
The first tool might be useful if you get a 'weird' follow request and you can't really tell who the person is based on the small image on the profile. So, what you can do is, put that username on the "View Instagram full size" tool and you'll get pretty much a good idea of who's trying to follow you.
The second tool gets really useful if you see that your favorite celebrity posted a couple of images together, and you kind of want to keep them on your phone. Now, screenshotting them is one way, but a) the quality is pretty bad and b) you get the Instagram index number over the image. Plus, you can't really save the video, unless you screen record. The best way is to use the "Download Instagram images and videos" tool. All you have to do is add the link in the input section and the tool will generate a download link under each image and video.
The third tool is really useful because there is no way to download reels unless you screen-record them. With screen recording, you get the whole screen in the video, including the seconds, the 'reel' icon, etc. What you can do is add the link to the input section and click on the button. Soon, after getting the reel, you'll get a download link with the reel preview as well, and you're good to go.
How does this platform work?
Ingramer is an automation tool that needs no manual tasks to be done. This automation tool works itself and gives you the best of the environment to grow your community like never before.
Ingramer is a third-party tool that needs access to your Instagram account. The first thing you need to do to get started with this platform is, go to Ingramer's official webpage where you will be asked to sign up for this platform. You have to first register yourself to the platform to use its services.
Go to the Signup page, enter the required details, and create your Ingramer account. The process takes a couple of minutes and you will have your own Ingramer account.
Once you sign up, you will be asked to enter your Instagram login credentials. This is mandatory as this platform requires your account's access to give you real followers, likes, comments, etc. on your posts and profile.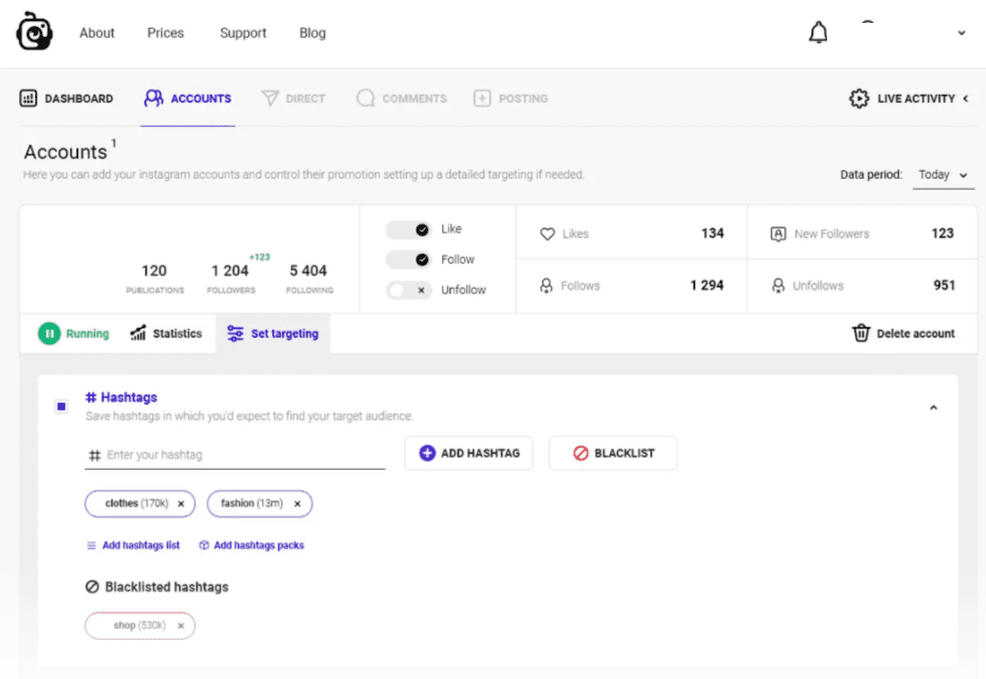 The platform will present you with your personal Ingramer profile with all the details. You can start your first campaign by using the available tools on the platform. You will see the growth of your followers and whatever you have selected in real time with proper graphs. You can view your previous campaigns by visiting your profile in the upper right corner.
The ingramer tool is designed with special algorithms which keep your account secure. Your account will not get banned even after using this automation tool. It is a 100% secured platform and you will not have to face any troubles after using it for Instagram likes, followers, comments on posts, etc.
Here, we have listed down all the useful features or tools of this platform. Go through the list of its features to know more about this platform and its functionality.
Ingramer: Key Features
Auto Likes
Ingramer's most effective feature is Auto Likes. As the name suggests, this feature lets you give and get real Instagram likes on your profile or posts. When you receive real Instagram likes, more real people will start following your profile. So basically, you will also get a number of followers by using this Auto Likes feature.
Auto Follow/ Unfollow
If you want to grow your profile's followers, you can make use of this feature. If you find that there are many unwanted followers on your profile, you can use the Unfollow feature. This feature will automatically follow or unfollow profiles from your existing account.
You will also be presented with a list of profiles to follow or unfollow. You just need to select the right option from the dashboard of your account.
Comments
This feature gives you comments from real Instagram users in no time. You will get continuous comments on your post when you use this feature.
Scheduled Posting
This feature lets you schedule your future posts. You can simply make use of this feature to post on your Instagram Feed automatically. You don't need to manually post things, just set it up with Scheduled posting and you will be good to go with it.
Direct Messages
If you really want to promote something from your Instagram profile, then this feature will help you out. Direct Messages lets you send direct messages to your followers in bulk. You just need to compose a message and add recipients' profile names to the box to send the message in bulk.
Extra Power tools
Additionally, the platform has plenty of other advanced tools that are there to monetize your Instagram profile. You can check the growth on your profile or review the details of the selected campaigns using these built-in tools.
Ingramer: Pros
Works automatically for you
Lets you set up things as per your requirements
Follows Instagram's policy
Final Words:
Ingramer is an advanced Instagram Auto-bot that is designed for marketers and promoters to promote their profiles or products effectively. This is undoubtedly the best automation tool that works just fine under Instagram's Policy. It's a good tool to help you with your basic requirements on the Instagram platform.