People nowadays update their personal lives on social media on a daily basis. They are sharing with other people what's happening with them through posts and daily stories. Sometimes, you want to take a look at what's going on in people's lives, what are their thoughts, what are their feelings,.. without them knowing. That tendency is more common than you think. We are all curious about things, but don't want to be noticed every now and then. It's completely relatable. It's up to you whether to share your privacy. There are tools that allow you to watch, even download Instagram stories anonymously without an account.
Applications
In this article, I will suggest my top 2 websites that let you watch people's stories and download them for free. I have tried a lot of different applications, and these are by far the best. The two websites are:
These 2 applications have the same operating mechanism, yet so simple but still very effective. In specific, all you need to do are these 3 easy steps:
Step 1: Open the website on your browser.
You can have access to these websites through any device (phone, tablet, PC,…). They support both iOS and Android operating systems so you should have no difficulties in checking them out.
Step 2: Enter the username of anyone you want to stalk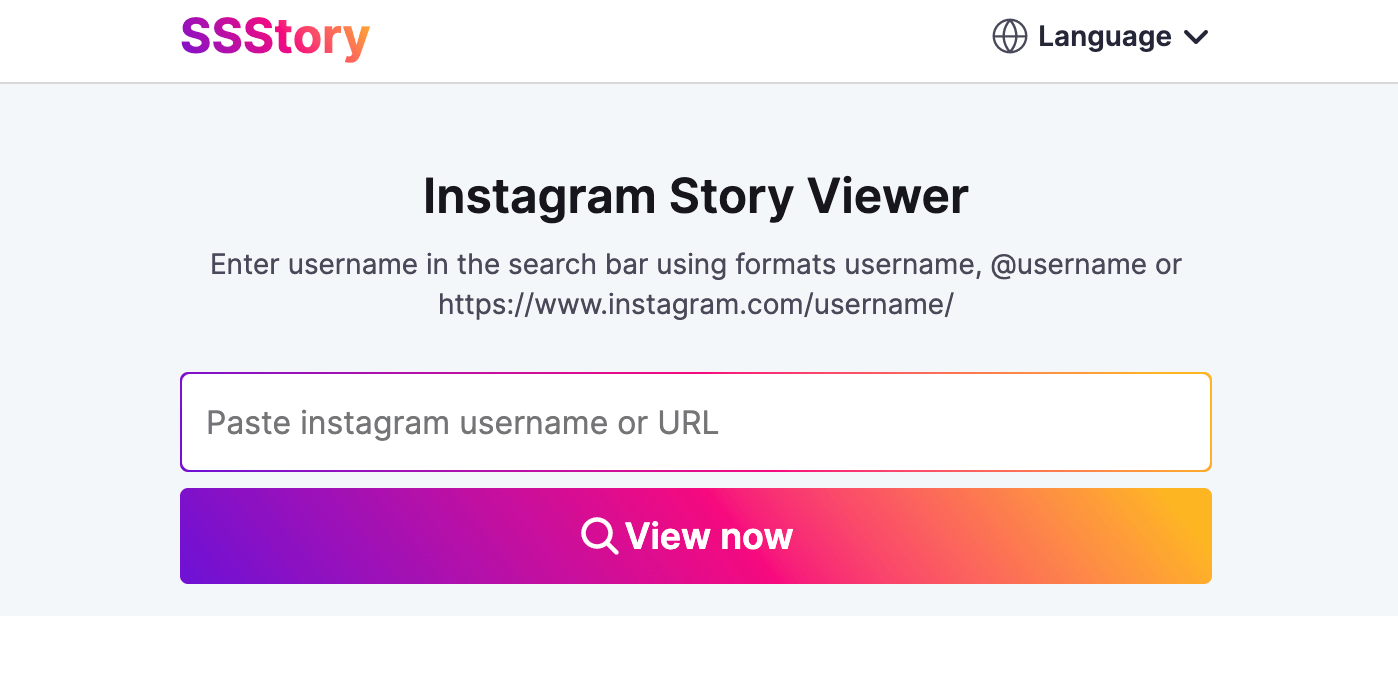 SSStory's website interface
Snapinsta's website interface
Step 3: Click the Search button and wait for contents to appear
All the original posts and stories will be available in both websites, just like the normal Instagram app. These applications also allow you to download images and videos in high quality anonymously.
If you are still worried about your experience on these websites, we are here to answer some of your most common questions.
Is it completely anonymous?
As hard as it is to believe, we had come up with websites that provide the exact services that you needed. All these kinds of sites just delicately make use of the source code on Instagram's web version. Therefore, it is completely separated from your Instagram accounts. Moreover, you can also view stories from people that you don't follow.
If you are still in doubt, you can test it out yourself with your own account. Enter your username in the websites as instructed and check if there are any strange accounts that watched your stories.
Do these sites offer high quality content download?
The answer is YES! It is nice to know that they offer extra features beside viewing stories anonymously. You can download images and videos directly to your photo album by one click – something that the normal Instagram app does not offer. Normally, you would just take a screenshot of what you see on the screen, but this method often decreases the quality of image significantly. Direct download always provides better quality content.
Can I view stories of private accounts?
While you can view and download stories of public Instagram accounts without being traced, it does not apply with private accounts. Instagram has a way to protect those accounts from tools like Snapinsta and SSStory. Therefore, viewing stories and downloading them is not available for private profiles.
In conclusion, these websites have their advantages and disadvantages. But overall, they still do an excellent job in providing the necessary information you need. Make sure you check them out and leave some feedback on your experience.