Instagram is a standout photo-sharing app. At least 1.07 billion people think so!
But, it does have its weak areas.
Most Instagrammers complain about how challenging it is to repost on IG, especially without installing a third-party app like Repost or InstaRepost.
Sounds familiar, right?
I don't blame you. Considering that your mobile phone is most likely cluttered with apps of all kinds, it's understandable that you'd prefer not to install one more app, even if it allows you to repost on IG.
At the same time, sharing engaging content (not necessarily, yours) is unavoidable if you want to get new Instagram followers.
But, fret not.
I have you covered in this post. I'm going to share two fuss-free ways to repost on IG. Check these out below.
How to Repost on IG (Images + Videos) Without an App
Before you start learning about the reposting process, there's one thing you need to note.
Instagram's terms of use require users to obtain written permission from the original posters whose content they plan to repost on IG. It's an effort by the IG team to maintain transparency and accountability on the platform.
Reposting permissions can be obtained via DM or comments. And, it never hurts to accredit the original posters by tagging them in reposted content. So, follow these protocols and you should be fine.
With that out of the way, let's start with the topic at hand—how to repost on IG without installing any app.
There are two ways to accomplish this task.
Method 1: Take Screenshots (Useful Only for Reposting Images)
I'm sure you're using many cool Instagram marketing tools, but most of them don't offer much help when you want to repost on IG.
What's the solution?
You can take screenshots of images that you'd like to repost on IG. Simply edit the screenshots and save them in your gallery. Then, go ahead and embed them in your posts like regular images, credit the original poster, and publish.
Simple, right?
The best part about this reposting method is that it requires no additional apps. But, there's also a downside to it. It doesn't work with videos, even if you screen record them.
Let's go through the reposting steps in detail.
Select a picture you'd like to repost on IG. Take a screenshot of it using your phone.
To take screenshots, Android users can press the Sleep button and the Volume Down button together, until the screen flashes. The iOS users can press the Lock and Home buttons simultaneously. The screenshot is saved to your phone gallery automatically.
If you're on a desktop, use a snipping tool like Nimbus or Djing to take screenshots, and save them manually in the "Photos" folder.
To create a timeline and new post, click on the "+" button in the bottom-center of your Instagram screen.
You should see the screenshot right at the top of your photo Library. Select it and edit it as needed.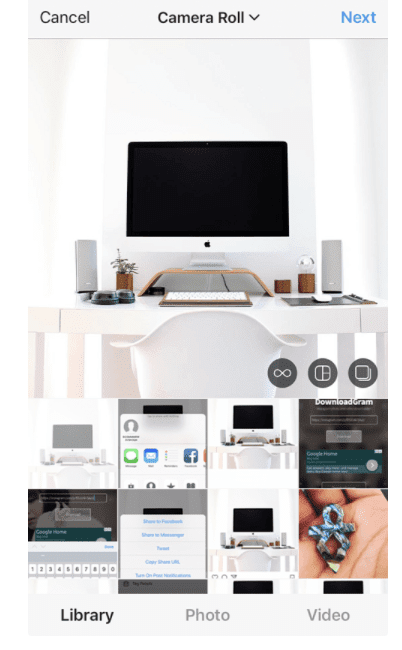 You may need to crop and resize the image to trim the extraneous elements captured in the screenshot. Add filters and effects just like you do while posting regular pictures.
Don't forget to add a citation by typing "@ + [username of the original poster]." Following these etiquettes can help boost your social media marketing to a large extent.
When you're done writing the post caption, add tags, hashtags, and locations (if needed), and you're ready to repost on IG. Press the "Share" button. This is how the reposted image will appear on your profile:
Additionally, you can check your Instagram insights by leveraging an IG analytics tool. It will help you get an idea of the real-time performance of your account.
Method 2: Using Messenger (For Reposting Images + Videos)
If you're active on social media (Facebook, in particular), there's a good chance that you already own the Messenger app. You can use it to repost images and videos on IG to retarget your ads.
Here's how:
Select a picture or video that you want to repost to IG from your account. Click on the ellipsis (three dots) in the top right corner of the post which has the video/image.
From the menu that appears, select "Copy Share URL." The post's URL will be copied to the clipboard.
Go to the Messenger App on your phone or computer.
Just like you can search for contacts in Messenger, you can also find bots, like the Repost Bot that you can use to repost on IG.
Type "Repost" in Messenger's Search bar, and select "Repost Bot" from the search suggestions.
When the Repost Bot opens, long press on the screen until the "PASTE" option appears. Click on it and the Instagram link you copied earlier gets pasted there automatically.
The post's thumbnail will appear below (with caption) with a "DOWNLOAD" button. Click on the button to save the image/video in your phone/computer gallery.
If you want to repost to IG with the same caption as the original post, long press on the caption and select "Copy Text" from the menu that appears. The caption is then copied to your clipboard.
Once the image/video is downloaded, you can edit those, as needed, before you repost on IG. There are many video editing tools that allow you to cut and splice videos. You can even add custom music or annotate your videos. Similarly, you can edit the images as well.
Once your image/video is ready to repost on IG, go to Instagram and create a new post as you always do. Select the downloaded image/video from your gallery.
Add location, tags, and hashtags as needed in the caption. The original poster's username automatically gets added to your new post.
If you've copied the caption, long press on the "Write a caption" section and click on "PASTE" to paste the copied caption.
When you're done editing the post, click on "Share" and wait while it shows "Finishing up."
It's that simple to repost to IG without using any apps! So, repost as much as you like and grow your Instagram account and followers.
Ready to Repost on IG Like a Pro?
Now that you've learned how to repost on IG like a pro, you can share great content from your friends and contacts, and boost your account.
Do you need more tips and how-tos about Instagram marketing? Drop your requests in the comments below. I'll get back to you with the answers soon.
---
Author Bio – Gaurav Sharma
Gaurav Sharma is the founder and CEO of Attrock, a results-driven digital marketing company. Grew an agency from 5-figure to 7-figure revenue in just two years | 10X leads | 2.8X conversions | 300K organic monthly traffic. He also contributes to top publications like HuffPost, Adweek, Business 2 Community, TechCrunch, and more.