Look, It will be always fantastic if you can cast your smaller screen to a larger one. If you have to share something with a group of people, (consider while conducting classes or any other discussions with a comparatively higher number of people, so that we can easily share ideas related to the topic on bigger screens from our small devices), this feature will be a life savior.
If you know how to cast an Android screen to a PC, the scope is not only limited to a 15-inch display but by indirect means, it can do a lot more. That's why the topic of how to cast Android screen to PC got more value.
There are many free/paid third-party casting apps available on the internet, one can just download and use them with more features. Or you can use a trusted Microsoft Store App called "CONNECT" (But limited to Windows 10) with limited features instead of third-party apps. We will discuss 5 methods to mirror your screen. Select the best that you feel better, it's entirely up to you.
let's begin!
How to Cast Android Screen to PC Using Connect [Only Possible On Windows 10]
As we discussed earlier In order to cast your screen by this method, you don't have to use any third-party applications. CONNECT is totally free, But the main disadvantage is, that it is not capable of controlling, and will just serve as a mirror. Because of full-screen support, it is awesome for watching movies! let's follow the steps It is as simple as picking a flower from a garden.
Step -1
Search to find the Connect App on your PC. If you don't have it, then as usual go to Microsoft store and download it.
Step -2
Open the app, and you will get the message "YourPC_Name is ready for you to connect wirelessly" as shown below.
Step-3
So now the PC is ready, Let's take your phone and find a cast screen/smart view option according to your manufacturer. Usually, it can be accessed from the notification bar itself. In case you don't find it, then Goto settings > Display settings > Cast screen. Then enable wireless display. Your phone will now search for nearby devices. When your PC is found, then simply click on it. All done!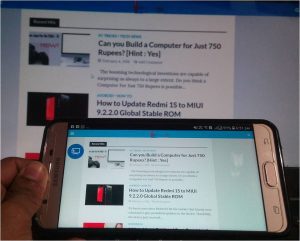 How to Cast Android Screen to PC Using Vysor [Method-2]
Vysor is a better app for both screencasting and controlling. It is free to download, but you have to pay to enable full features. In the free version, you will get only the ability to cast and control. In order to avail of other features like High-quality mirroring, Full-screen support, Wireless connectivity, Vysor share, Drag and drop files, and access to all future features you have to go pro which costs $2.50/m, $10/yr, $40/for lifelong. This can be used by downloading the Vysor Chrome app on your PC and the Vysor app on your Android. Okay, Let's understand step by step.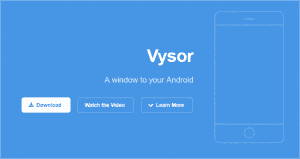 Step-1
Goto Vysor's official website and download the Vysor Chrome App/ Windows App. Download from the official website  Then follow the instructions and install it on your PC.
Step-2
Take your Android device and install the Vysor App from the Google Play Store.
Step-3
All necessary things are done! Now take a USB cable and connect your phone to your computer by opening the Vysor App on one of your devices. If you are a pro user then simply connect it wirelessly. Start enjoying Vysor wisely with wider features & support no matter if you are a pro user or a free user.
How to Cast Android Screen to PC Using Mobizen [Method-3]
Probably the next preference will be Mobizen. The name is so popular for screen recording. Most likely it is famous for screencasting too. It can be connected by different methods such as over a WiFi network, Via USB cable, and even through mobile data (So that we can even control a device from each and every corner of the world by using another device). Following are the steps to use Mobizen.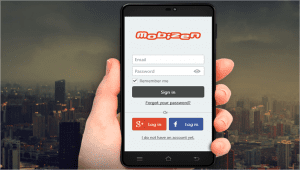 Step-1
First Just visit Mobizen's Official Website and create an account. Now you will be asked to enter 6 digits OTP. Don't worry! We do have steps right? 😉 Let's move to the second step.
Step-2
Access the Google Play Store from your phone, and Install It!
Step-3
There you have to enter the credentials and sign in to your account. There you will see a 6-digit OTP. Type it correctly on PC. That's it… Over!
Even in the free version you can drag and drop files(used to transfer files b/w PC and Mobile) and also you don't have to install any software on your PC, thus saving your system space.
How to Cast Android Screen to PC Using TeamViewer [Method-4]
Another way that lets you mirror your Android screen to a PC. I found it is one of the easiest methods among different methods. This method is similar to the Mobizen method. First, you have to create an account and then sign in using both of your devices same time. Absolutely free of cost. Let's see step by step procedure to use the same.

Step-1
Download TeamViewer Host on your mini device from Google Play Store sign up by giving the required information about you, like exactly what we did on Mobizen!
Step-2
Then come back to your computer, and go to their official site Sign in to TeamViewer Management Console
Step-3
On the website, you can see a connect option and your device, Just click on connect! This will launch an app… Everything is done wisely. Enjoy!
Cast Your Android Screen Using Apowermirror [Method-5]
A cool method that will let you cast your screen and control your Android device from a PC. This method requires a suite application on the computer. Apowermirror is free to download but to enable more features users must pay.
By using the free version one will get the following features: one can control Android by using a mouse and keyboard, can be used to take screenshots, supports screen record, and users can able to sync app data, It supports not only Android but iOS too and also can be installed in both Windows and Mac. If a user opts commercial version then he will get two more features: Remove watermarks and one can use the application for commercial purposes. Okay, let's see…

Step-1
Install Apowermirror – Mirror & Control App from the Play Store on your phone.
Step-2
Download and install Apowermirror PC Suit on your computer from the official website.
Step-3
After downloading the apps, connect your phone to your PC by a USB cable and follow the on-screen instructions one by one. Don't forget to enable USB Debugging from the developer option.
If you are unable to see the developer option, then you have to follow these steps: Goto Settings> About Phone> Build number / Settings> About Phone> System Information> Build number (for Samsung) Now you have to tap seven times on that build number fastly. If you did it correctly then you will get a message like "You Are Now A Developer" and the developer option will appear in settings.
Done! Start using Apowermirror!
Conclusion
In this article, we have discussed the top 5 methods on how to cast Android screens to PCs that I found more useful. You can choose and use any of the methods according to your taste. I will recommend, CONNECT (Trusted App) if you are using Windows 10 and you don't want to control your phone from a PC, It is 100% perfect and works according to the real meaning of screencasting/mirroring. If you want to do both casting & control, then I recommend Mobizen or Apowermirror.