Stellar Repair for Outlook, by Stellar®, is a highly eminent PST file repair software known for its massive success rate in recovering PST files hassle-free. With this software, users can not just repair their corrupt or severely damaged Outlook PST files, but also reclaim their important information like emails, calendars, notes, etc–without any data erosion.
As you add your email account (with POP3 protocol) in Microsoft Outlook, it creates a Personal Storage Table or PST to collect all your mail items in one place. These items include everything such as your calendar, contacts, and notes along with your important email content.
PST is also the commonest file format as to import data to Office 365/Microsoft 365 or Exchange mailbox. People also document their email excerpts in a PST format for additional protection. This also helps to maintain mailbox storage to a minimum.
All this seems fair, but here is a thing that bothers the most. The PST file is highly sensitive and can be susceptible to corruption for several reasons.
A large-size file intrusion by malware unsuitable add-ons.
An unexpected system crash
Force stop of outlook program or improper exit.
Other hardware or software issues
These are a few of the many reasons why a PST file may go bad.
Cases in which you need to repair your Outlook Data File(.pst)
The file xxx.pst could not be accessed.
Outlook is slow or unresponsive.
The file xxxx.pst is not a personal folder file.
Errors have been detected in the file xxxx.pst.
Stellar Repair for Outlook vs ScanPST
Normally, Microsoft renders a free ScanPST.exe or Inbox Repair Tool along with MS Outlook to mend distorted or corrupt PST files. It works fairly nice but brings a few limitations with itself.
These limitations cannot prevent these files from loss of data and might put you at a great loss.
Tools like ScanPST are primarily recommended for a PST file with a size below 2GB. This means, the upper limit is set, and if you use the tool on a larger PST file, the tool gets jammed while repairing and the whole process comes to a standstill. This can even lead to a file crash which could be fatal for your valuable PST file.
A minor corruption file corruption can easily be handled by ScanPST, but if a PST file is exceptionally corrupt; the tool can remove some information or content of the file, which can lead to permanent data loss, and you shall never be able to recover your valuable data. This is indeed a serious issue.
But with tools like Stellar Repair for Outlook, even large size highly corrupt or even password-protected Outlook PST files can be restored without much software jargon.
Outlook retrieves all your mail items into a fresh PST file. If you need, you could also transfer these recovered mail items into a pre-existing Outlook file Office 365, and even a Live Exchange account.
This is why we found the Seller Repair for Outlook software highly and immensely useful. Let's check out its features, brief overview and how to use it.
A brief overview of Stellar Repair for Outlook
Its primary function is to repair and mend severely corrupted or impaired Outlook PST files and store them in a safe location–which can also be chosen by you of course! It makes new PST files to extract your emails, attachments, contacts, notes, journals, and much more from a file that cannot be accessed anymore.
The software even works on password-protected PST files and is successful at rendering such files with 100% integrity.
These breakthrough features of Repair will be highly appreciated by users, for they can save them from a huge mess. By using it, you can split a large PST file into smaller PST-based Files, based on the size of the file or its data range.
You can also compact a PST file that has a smaller size. Thus helps the file to ditch corruption. As a result, do not only save your file from damage but also efficiently manage your storage and save a lot of space.
User Interface
The user interface of Stellar Repair for outlook is highly adaptable to all those who seek to render their PST file harmless. This user-friendly interface works on a similar interface as the MS Outlook app, making it even more convenient for an average user to restore and repair mail items.
And not just this, your file can be regenerated into multiple formats such as MSG, EML, HTML, and even PDF.
As mentioned earlier you can import a PST file directly into your office 365 account or live exchange mailbox through Stellar Repair for Outlook Technician version. Every single email can be exported without any error. The best part about this is that the files can be as large as 50 GB in size. Yes, you read it correctly. With seller repair for Outlook, even this is possible.
The software simply auto-locates your PST file that's connected to your configured email profile on Outlook, for its repair.
Or you can even manually select the desired PST files which need to be repaired. And lastly, in case you are not sure that your system has a PST file in it, there is a provision for the 'Find' option that can help you locate these hidden PST files.
The software analyzes these corrupt or damaged PST files in detail and lists down all the mail items in a table-like chart with lots of branches. This makes it very easy for the user to locate their lost important mail items and get a hold of them.
All the mail items are displayed in detail containing their entire email body, text contact list, hyperlinks, calendars, and even journals. You are even able to restore the mail items that you previously deleted. They will be highlighted with red color on your screen so that you can easily have a look at them.
All of the scan information thus obtained, can be locked into a DAT file, so that you can start data extraction from where you left off, in case you get busy for some reason.
How to use Stellar Repair for Outlook?
Download the software Stellar Repair for Outlook. After installation is complete, start running it by clicking on the 'Select Outlook Data File Option' in the home tab. Now browse the PST file you aim for, or select one from the pop-up window.
If you know the location of your PST file, select manually or the software will list down details of all the available PSTs in your system. Simply Tap on the 'Repair Button', and your repair process shall begin at that very moment.
Stellar Repair will start scanning the corrupt PST file extensively. How long the file will take to scan shall entirely depend on the size of the PST file and the level of its corruption.
Once the scanning process is completed, it lists down every single outlook email that has been retrieved, in the left plane. To check the items you may click the folders.
Select the items and their desired folder to save the items and finish the process by clicking on 'Save Repaired File'.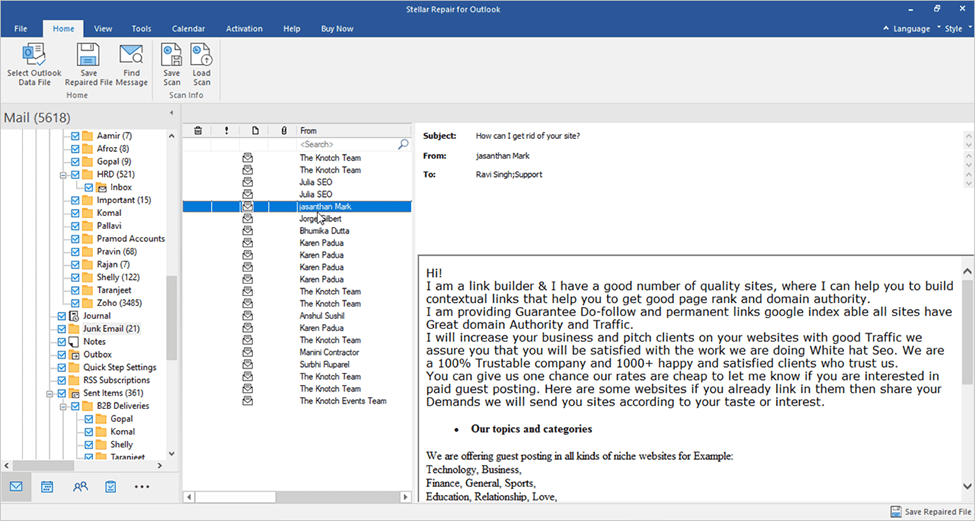 The software provides you with the opportunity to customize your file format. Click on the browser option to choose a destination folder and then click on OK to save this mailbox data. A customization message will pop up to confirm that the PST file is successfully stored in the location you have chosen.
Price
Another positive point is that the software is available free of cost. Manufacturers also provide a demo version for you to check and preview mail items from numerous repaired PST files. As mentioned, after scanning you can save the information you obtain and load PST files later whenever you have time. But, you shall be needing an active license to activate the software so that you can save the data. Check the buy page for the list of subscription plans to gain a license at the earliest.
Final Verdict.
We have thoroughly tested Stellar Repair for Outlook to look for any single error that diminishes its claim and fortunately, we believe that the tool is highly competent for windows to repair faulty PST files. All of this is done, and not even a part of the content structure is lost in the process. This makes Stellar Repair for Outlook, highly fruitful to save all your desired data without the fear of loss.