The advanced and distinctive features of Office 365 compel users to migrate from Exchange, an On-Premise server, to the cloud-based service provider. But for that, you need to follow the Exchange to Office 365 migration checklist.
People who utilize Office 365 benefit from a more user-friendly interface, enhanced security features, real-time syncing, and lower pricing.
Regardless of how many advantages Office 365 offers, moving is not as simple as it appears. It takes a significant amount of knowledge, time, and assistance.
If you are unfamiliar with the process and the intricacies involved, you may have a difficult time.
As a result, this article discusses the pre and post-migration checklist that should be followed while migrating the data. This will keep your data safe and secure preparing the user for the shift.
What is Included in Exchange to Office 365 Migration Checklist?
There are two types of checklists, the pre-migration checklist, then comes the migration process, and the post-migration checklist.
The entire process is explained step-by-step here.
Step 1 – Pre Migration Checklist
Ascertain that your server is in good health.
Before you begin moving to the cloud, you need to ensure that your server is in good working order. This helps you to identify any possible difficulties that might stymie your transfer. Before it can move, your hardware must still fulfill certain conditions.
Examine Your Existing Infrastructure
In this requirement of Exchange to Office 365 migration checklist, try to learn about your infrastructure's components and develop a spreadsheet that includes:
The bandwidth of the servers
Authentication Strategies for DNS and Network Architecture
Clients and Email Routing
The current version of the old platform's directory design
The number of users
Now you need to decide what information and data need to move to the cloud and what should not be moved.
Next, go to the Microsoft Online Services site and add your domain to Office/Microsoft 365. To complete this need of the Exchange to Office 365 migration checklist, you have to set up DNS entries to redirect your domain traffic to Office/Microsoft 365.
Your Servers Should Be Synchronized
Install and configure on-premises Directory synchronization servers. To provide user accounts for an Exchange hybrid setup, enable Directory synchronization. Finally, make sure that your on-premises Active Directory is up to date and ready to sync with Office/Microsoft 365.
Installing your applications and deploying the new Office/Microsoft 365 desktop is the final step in your Exchange to Office 365 migration checklist. Check to make sure everything seems to be properly configured, updated, and running smoothly.
Don't Forget the Mobile Devices
Microsoft Exchange ActiveSync lets your employees sync mobile devices with their Exchange Online mailboxes. Set up mobile devices for remote access to Office documents and email.
Prepare end users ahead of time
Before beginning the migration project, each user should have comprehensive knowledge of the migration strategy. It is important to tell the users and an important point from Exchange to Office 365 migration checklist.
Keep them in the loop and explain how the migration will be implemented, and what the implications and changes inside the organization will be as a result of this move.
Migration day, time period, and resource management are other essential factors for pre-migration checks.
The plan should be discussed among the members on a rough basis to gather ideas from different brains, and following the brainstorming, the administrator should write a good project plan for the migration that is free of inconsistencies.
Make an on-site inventory.
The next step in the pre-migration process of the Exchange to Office 365 migration checklist is to prepare the inventory for the on-premises Exchange. The following information should be available to you prior to the migration:
Names, sizes, and email addresses of user mailboxes (shared resources).
Client (browser, operating system, and Office program) versions and settings.
Configuration of the network (DNS hosts, proxy and firewall configuration, internal switches, internet connectivity, intranet sites, and available bandwidth).
Online meetings, instant messaging, integrated application systems, DNS records that have been set, and so on.
Migrate to Office 365 After Completing First Process in Exchange to Office 365 Migration Checklist?
Use the Exchange On-Premise to Office 365 Migration Tool which is the finest tool for migrating many user accounts at the same time.
This tool may be used for selective data export by activating the Date-Based filter. It allows you to choose a time frame for the software to export data from.
This program has numerous incredible features that allow you to easily transfer entire mailbox data such as emails, calendars, and contacts to Office 365 without losing any data.
Follow the steps indicated below to move further in Exchange to Office 365 migration checklist:
Step 1: After downloading the tool, launch it and enter the Source and Destination accounts.
Step 2: Select the relevant Categories and Date filters under Workload Selection.
Step 3: Enter the details in Exchange fields and hit Next.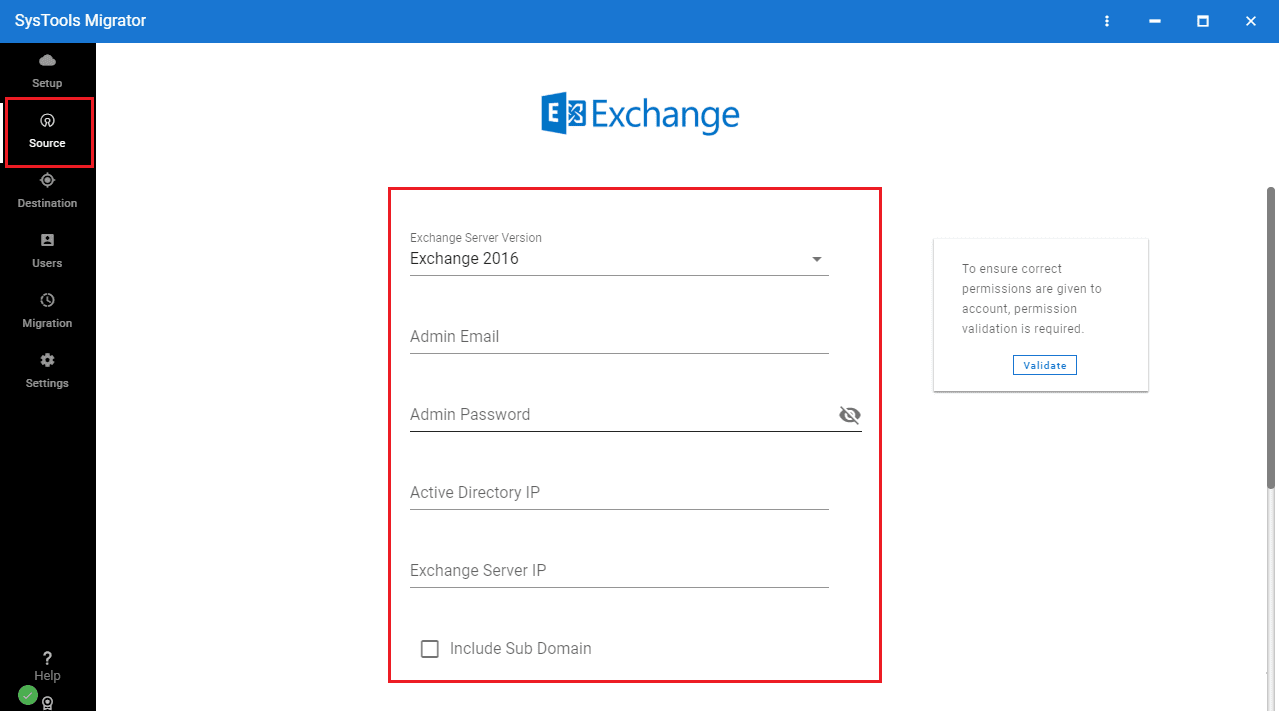 Step 4: Input your Office 365 Admin Email ID and Application ID, followed by a confirmation of your privileges.
Step 5: Choose the option to import users or get all user mailboxes from the server.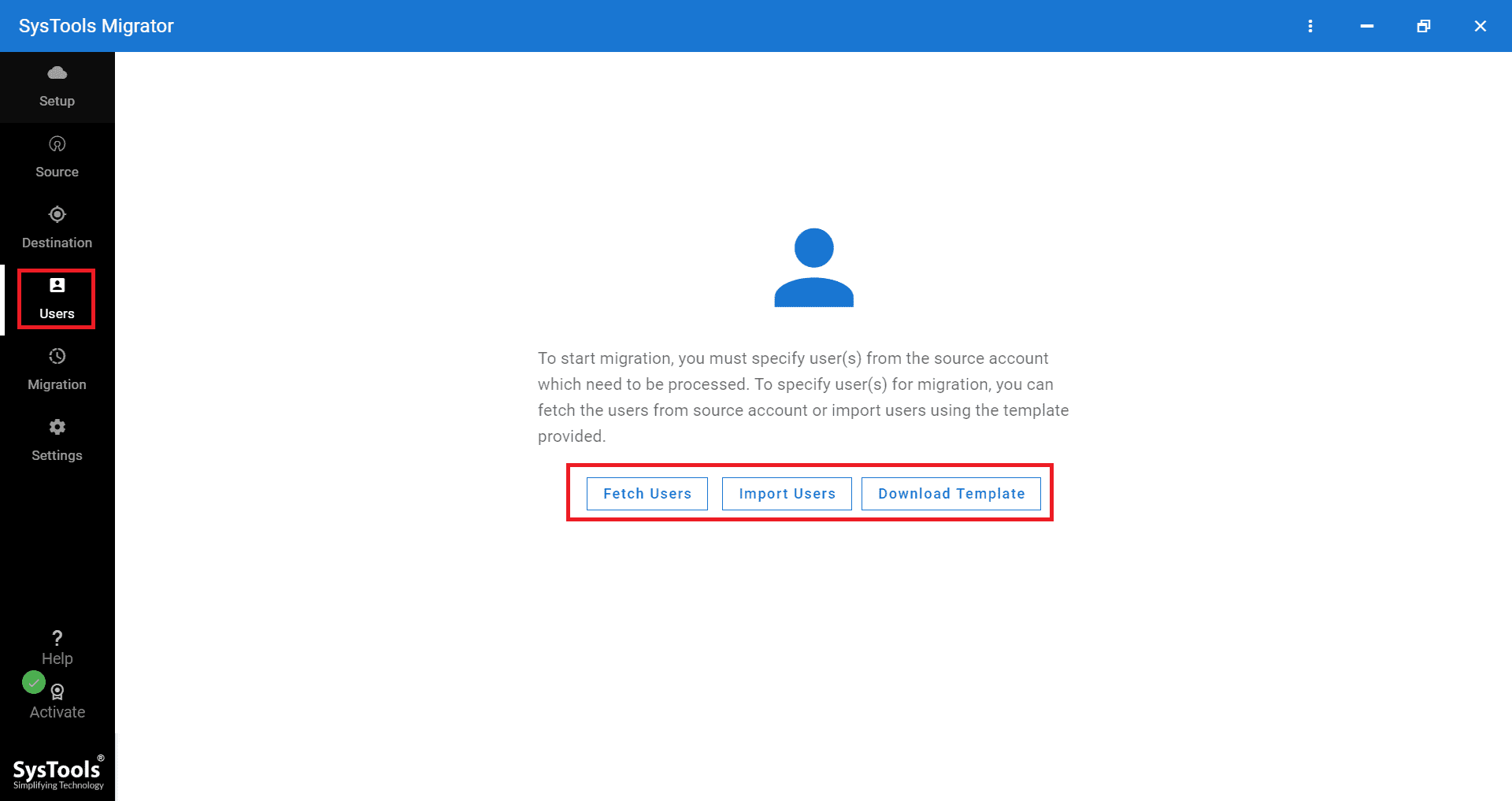 Step 6: Map the Source and Destination Mailboxes, validate them and assign them a priority.
Step 7: The second process in Exchange to Office 365 migration checklist will be completed by clicking on Start Migration. Wait until all of the mails have been successfully transferred.
Post-Migration Checklist
Cache and redirection of emails
After migrating to Office 365, customers' email accounts must be switched to Office 365. Check the Outlook profile folders again and confirm that the status for each folder is "This Folder Is Up To Date."
Assign Mailbox Licenses to Migrated Mailboxes
Mailboxes moved to an Office 365 account must be granted licenses or they will be deactivated after 30 days if no licenses are assigned. As a result of this Exchange to Office 365 migration checklist step, for long-term usage, it is best to allocate licenses to mailboxes as soon as feasible.
Create DNS Records for Autodiscover
Configuring Autodiscover DNS records in Office 365 is another critical post-migration activity. Users will be able to link their user mailboxes to Outlook email clients as well as other mobile clients as a result of this.
Dismantle the Source Environment
Once you've checked that the mailboxes have been successfully transferred to your Office 365 account, licenses have been given, and everything is operating properly, you may decommission the old on-premises Exchange Server.
In Exchange to Office 365 migration checklist, it is, however, recommended that you decommission it only when no future synchronization with the source is planned and permanent migration to the target has been completed.
Wrapping Up
Migrating from Exchange to Office 365 may be a difficult job if users are unfamiliar with the procedures. As a result, the pre and post checklist that should be followed for a seamless migration are explained in this article.
In addition, before proceeding with the post-migration checklist, the process of migrating to Office 365 is covered. The entire Exchange to Office 365 migration checklist and the process are described for the user's convenience.