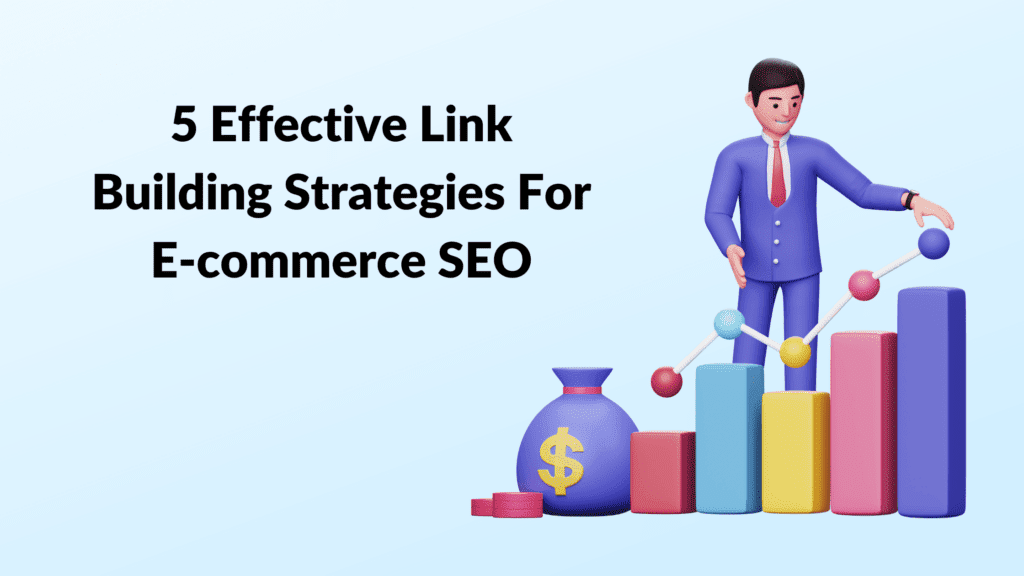 For any website, link building is a critical component of search engine optimization (SEO), but e-commerce websites require it even more. Link building in e-commerce refers to the process of obtaining backlinks, or references, to your online store from other websites. Search engines see these links as evidence that other websites value your material enough to link to it.
Good link building can boost the search engine rankings of your e-commerce website and increase traffic to your shop. It is important to note that not every link-building technique is the same. This post will look at five efficient link-building techniques for e-commerce SEO.
Before this, let us understand e-commerce SEO
Overview: E-commerce SEO
SEO for e-commerce is the process of enhancing your online store's visibility in search engine results pages (SERPs). You want to show up as high in search results as possible for the things you sell to draw in as much traffic as possible.
Paid search can bring you visitors, but SEO is considerably more affordable. It's still good to optimize for search because ad blockers and ad blindness might limit sponsored search's effectiveness.
5 Effective Link Building Strategies
Get started with the 5 link building strategies that can be beneficial for e-commerce SEO
1. Adding Appealing Visual Information With Infographics
Infographics are a visually appealing way to provide facts and figures that are simple to share and link to on other websites. Building backlinks to your online business can be accomplished by producing interesting infographics of the highest quality that are pertinent to your e-commerce sector.
To get started with infographics, choose a subject or data collection that is pertinent to your target audience and produce an infographic that is visually appealing and effectively communicates the information. Afterward, post the infographic on your e-commerce website and social media platforms. You should also contact other websites in your industry and invite them to post the infographic with a link back to your online store.
2. F.A.Q. Content Update
Do customers have inquiries regarding your products? Naturally, they do. Adding product-specific FAQs to your product pages can increase conversions.
If customers have queries you cannot address, they will look elsewhere for information and are likely to purchase from that source.
On your website, you should also provide a general FAQ section. Increased customer confidence can result in more purchases by answering simple inquiries about your website's security, shipping, and return policies.
3. Resource Pages Are Add On
Resource pages are pages on other websites that compile useful tools and resources pertaining to a particular subject or niche. Links to other websites, notably e-commerce sites with pertinent goods and services, are frequently included on resource pages.
Find resource pages in your niche pertinent to your target market to get your e-commerce website included in one of them. Next, contact the website's owner and offer to add a resource box with a link to your e-commerce site. Be sure to highlight the benefits that their readers might receive from visiting your internet store.
4. Writing Reviews For The Products
Product reviews are a potent tool to promote your products while constructing backlinks to your e-commerce website. In your niche, contact bloggers, influencers, and reviewers and give them a free product in exchange for a frank review on their website. Make sure the review contains a link back to your online store.
Product reviews assist you in building confidence and trust with potential buyers and offer useful backlinks. People are more likely to trust and buy from your online store when they see favorable product evaluations on other websites.
5. Guest Blogs Work
Guest blogging involves writing articles for other websites in your niche and including a link to your online store in your author bio or within the content. Guest blogging allows you to showcase your expertise and establish yourself as a thought leader in your industry and helps you build valuable backlinks to your website.
To start with guest blogging, identify high-quality websites in your niche that accept guest posts. Ensure that the website's audience aligns with your target market and has a good reputation. Then, pitch your idea for an article to the site's editor, highlighting your expertise and why your content would be valuable to their readers.
At The End
Link building is a crucial component of e-commerce SEO, and hiring an ecommerce SEO company is a great way to work on it. to sum up. With the help of the five techniques mentioned above, you can increase the number of high-quality backlinks pointing to your e-commerce website, raise its search engine ranks and domain authority, and eventually increase traffic and sales to your online store.