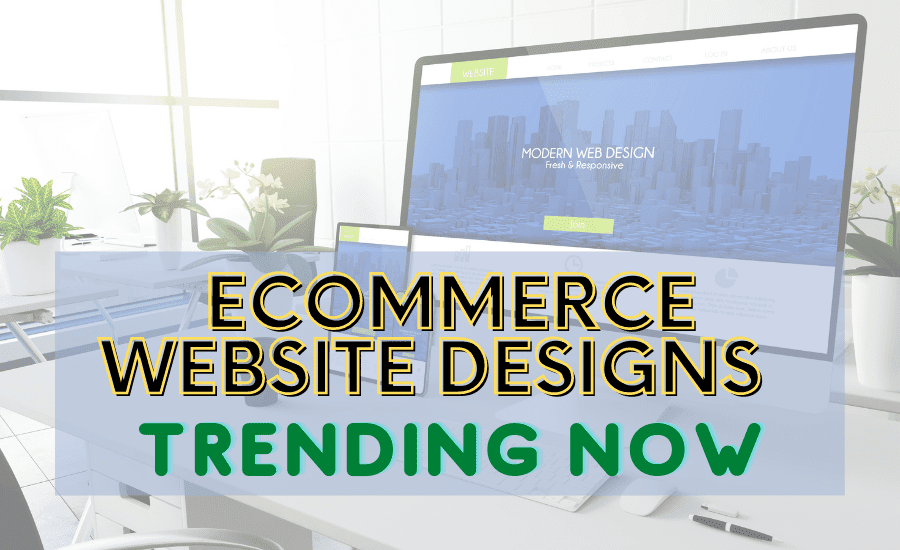 You may have encountered a handful of websites that stood out to you based on their user-friendly interface and elegant style. The same goes for websites that gave you a bad user experience. They linger with you, and they might even leave you with a bad feeling towards the brand. The latter is what most website developers try to shy away from and instead, work on the latest trends in eCommerce website designs.
You can't cut any corners while you're designing your eCommerce platform. Internet shopping is all about ease for users. If your website is clumsy, obsolete, and poorly designed, you're not going to make any profits. Your competitors are going to run laps ahead of you. So, you must make sure you're focusing on creating a website that will make you appealing and relevant to your target audience.
What eCommerce Website Design Trends You Need To Keep In Mind
As you traverse the eCommerce landscape, you must always keep yourself in the loop on the latest website design trends. Here are some that you should keep in mind these days as you build or develop your eCommerce website.
1. Social Proof
Many customers are usually guided by their emotions in decision-making. It plays a significant role in how they respond to promotion and sales activities. Using social evidence, you can show prospects and leads that you have already served and satisfied other clients.
Social proof is how you prove that people have purchased your goods or services. This sensation of being linked to a network of other satisfied consumers can be enticing. It can even direct potential buyers through their decision-making stage of the purchaser's journey.
So make sure you have your consumers share their favorable feedback or write reviews on your blog. Potential customers can believe in how genuine your company is from others.
2. Mobile First
These days, the tables have turned around in the eCommerce world. A substantial amount of online shoppers prefer to use smartphones to browse and shop. As a result, companies had to shift their focus to ensure that they make the best of this opportunity. opportunities.
Top rated web design companies have concentrated on having a responsive and scalable website. These days, one of the eCommerce website design trends is that a website had to build wherein a wide variety of mobile devices could easily use it.
This transition means that website developers will have to create eCommerce websites for mobile devices and only fit them to larger displays. So, for those who choose to use their desktops to shop, this ensures that they can see mobile-friendly features on a wide range of eCommerce website formats. These include long scrolling pages, card-like models, and finger-friendly keys.
3. User-Friendly Design
To develop a robust user interface, you want to have an appealing layout, streamlined search functionality, and mobile flexibility. The reality is, you don't have a lot of time to lead your guests into converting into sales.
If your website is sluggish to load or your customers cannot read your webpages' contents on their phone, they will abandon your website. So, you must render the experience of the customer a top priority for your eCommerce site. To create an exemplary user interface, you want to have attractive navigation, streamlined search features, and device responsiveness.
4. Chatbots
Chatbots are specifically programmed to respond to consumer requests for product lines and their uses. But they may be developed to do more. Several other chatbots are designed to offer the best consumer buying experience by helping customers make purchase decisions. They can provide consumers with quick discounts and alerts on delivery.
Currently, various eCommerce websites utilize chatbots on their websites. With the tight competition these days, it would help have a personalized consumer experience through chatbots. The advent of these digital assistants will help businesses discover new ways to satisfy their valued customers and effectively market their goods.
5. Cybersecurity
These days, criminals infiltrate high-value locations, such as eCommerce sites, to collect financial information. As such, your buyers deserve protection and you have find ways to secure your website from hackers. Many customers are now very adamant about cybersecurity, and if you don't have that little lock on your web browser, you might lose future revenue.
People want to trust you with their credit card details and other personal details, so let them have peace of mind. Invest in an SSL certificate and two-factor authentication to improve your site's security. Inform your website visitor on why you have it in place and how you appreciate their protection.
6. Interactive Visuals
Perceptions have now been high for the product pages of the eCommerce site. You can't just take a grainy shot of the goods or products. It would be best to have a 3D product configurator that displays all the elements that customers want to purchase.  For products, you can have several angles to allow consumers the option to zoom in. You can also have videos of goods or services in motion.
7. Appealing Colors
While you can also continue to use streamlined and white space on your website, there will be a change in eCommerce website design trends. Bold, vibrant colors are beginning to crop up on some websites. Tone schemes are not only for branding purposes. They will be used in layouts to engage with clients. Intelligent use of colors in an eCommerce website can help to express a message and provide a satisfactory experience.
8. Photography
It is essential to use only beautiful high-quality photographs for your brand. Stock photographs will be used less as advertisers want to market their products more effectively. In this trend, real photography is going to become a sensation in the coming days. Many businesses would start hiring professional photographers to have realistic images. Large and actual photographs can be seen on the homepage and the internal product pages.
9. Contact Us
If your web users need to check high and low to get in touch with you, you're sending the wrong message. It might seem like you don't want them to contact you, which may give them doubt or an air of suspicion.
So, your customers should easily access contact information whenever they have concerns about the items they bought on your website. Your eCommerce website should have several options on how your customers can communicate with you. It can be through phone, forms, emails, live chats, and more. The quicker they get in touch with you, the better their experience will be, and the more likely they will become loyal and returning customers.
Final Thoughts
Online shopping has become one of the most popular in the business sector. With the unexpected success of online shopping, the eCommerce website's architecture is the first thing that catches any customer's interest. Having a flat design will impede your guests' engagement, lead to an empty cart, and loss of potential sales conversion. On the other hand, a functional and seamless website design will earn the confidence of any customer.
A robust web design gives you a distinct identity and helps to remember your brand. Using the latest design trends on the eCommerce website would make you look professional, up-to-date, and appropriate. It will boost your platform's functionality and the likelihood of raking in a decent amount of sale transactions.
---
AUTHOR BIO
MARICAR MORGA
Maricar worked as a marketing professional for almost a decade and handled concerts, events, and community service-related activities. Leaving her corporate job for good to pursue her dreams, she has now ventured into the path of content writing and currently writes for Softvire Australia and Softvire New Zealand. A Harry Potter fan, she loves to watch animated series and movies during her spare time.