If you work in an industry where you must organize regular meetings with your employees, then you should rely on online meeting software. When organizing online meetings, LiveWebinar is the best option available on the web. The cloud-based webinar software packs a ton of advanced communication features to have a fruitful meeting with an individual or multiple users. Let's collect some more details about this advanced online webinar platform.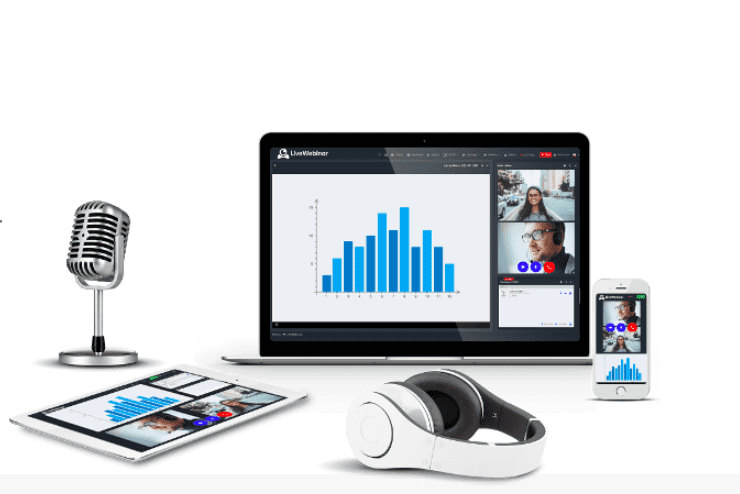 What is LiveWebinar?
LiveWebinar is a cloud-based platform that works online for users to organize online meetings, webinars, chats, screen sharing, live training and much more. Being the latest webinar software, it packs a list of innovative features.
Apart from organizing meetings, the same software allows the users to record high-definition videos which can be watched offline or can also be shared between the users.
Apart from this, many customization options are also given to the users to change the logo, video layout, video quality, etc. With easy social media integration, the software allows you to broadcast videos on Facebook, Vimeo, YouTube, Periscope, etc.
To know more about this webinar software, let's check out some of the key features of this cloud-based platform first.
Key Features:
Ease of Use
LiveWebinar serves an intuitive user interface where anyone can easily start using the software for organizing online meetings, webinars and much more. It's a one-stop platform for all types of businesses and industries with employees working in different cities, states or countries.
Multi-platform Availability
With the growing popularity of smartphones and tablets, the makers have designed this webinar software for all platforms. You can install LiveWebinar on your Mac system and Windows system, as well as use it through its web-based interface.
The same software can be installed on Android and iOS smartphones and tablets. You can log in to LiveWebinar software's portal to view the contacts and start organising meetings.
Easy Communication
The software lets users communicate in different ways, such as person-to-person video calls, multi-user video calls, screen sharing, photo sharing, layouts, e-learning and much more. With quick notifications and alerts, users will get instant notifications on their respective devices.
Highly customizable
Unlike other webinar platforms, LiveWebinar allows users to customize many things per their preferences and needs. There is an option for screen sharing, muting down video calls, a theme-changing facility, layout options, and much more.
You can create your office room by choosing a suitable layout to make it look more professional. Webinar Interface template can also be switched to your needs from the same screen by selecting an appropriate option.
Recording Feature
You can also record the entire webinar through the built-in video recording feature. The software lets you choose a suitable video layout from multiple options. Users can start and stop the recording at any time.
The downloaded recording can be viewed multiple times or shared between people. Everything will be stored over cloud storage. You will be given storage space to keep the recording videos, etc. If not needed, you can delete the recordings from the page.
Live Streaming
Live Webinar allows users to broadcast or livestream their webinar on different social networks. With easy integration, users can organize live streaming of their webinars on YouTube, Facebook, Vimeo and more.
E-Learning
Apart from communicating, the same software can be used to teach something to your clients or students by using different built-in tools. You can draw things or write down things with the shareable screen. Whatever you draw or write will be seen by the recipients.
Customer Care Service
You can get instant assistance from LiveWebinar's technical experts through LiveChat, Help Desk, Ticketing, and more. If you face any difficulties while using this software, you can contact the customer care team to resolve your queries.
How does LiveWebinar Software Work?
LiveWebinar is a simple webinar software available for multiple platforms. You can use this platform on Mac and Windows PC systems and Android and iOS mobile platforms.
What's interesting about this webinar software is you can get the free testing edition of the software. Sign up for free and start using this webinar and its premium features for a limited time.
Once you are signed up, you must log into the platform using your account's credentials. Just enter the username and password to sign in. You can select the layout, webinar topic and more before starting your first webinar.
Additionally, the simple webinar screen lets you add more users to join the webinar, or you can invite them to collaborate by using the + button. You can have full HD video calls through this platform with an easy recording option to record and store the entire webinar.
This webinar platform is a unique choice for professionals because it allows unlimited customization options to create a special webinar room on your own. You can also use it remotely using its mobile app or with its web-based portal online from anywhere on any PC system.
Built-in Video Recorder tool allows users to record full seminars or meetings in full HD resolution. The recording screen layout can also be selected from multiple options given to the users. You will be given specific storage space to record such videos and images, which you can delete periodically to free up space.
Apart from this, analytics, live feedback and many other options are there to generate reports and collect feedback which you can save for the future. Reports generated by the platform are downloadable. You can download the reports in multiple formats.
Conclusion:
LiveWebinar is the most advanced and powerful Webinar software for all PC and mobile users. The cloud-based platform runs on the web and doesn't ask you to be skilful as it serves an intuitive user interface.
It's an all-in-one video conferencing, online meeting and webinar tool pack with all the advanced features with full HD video support. Multiple customization options and a free testing version enable new users to test out the features and functions of the software for free. Go ahead and test it out now!