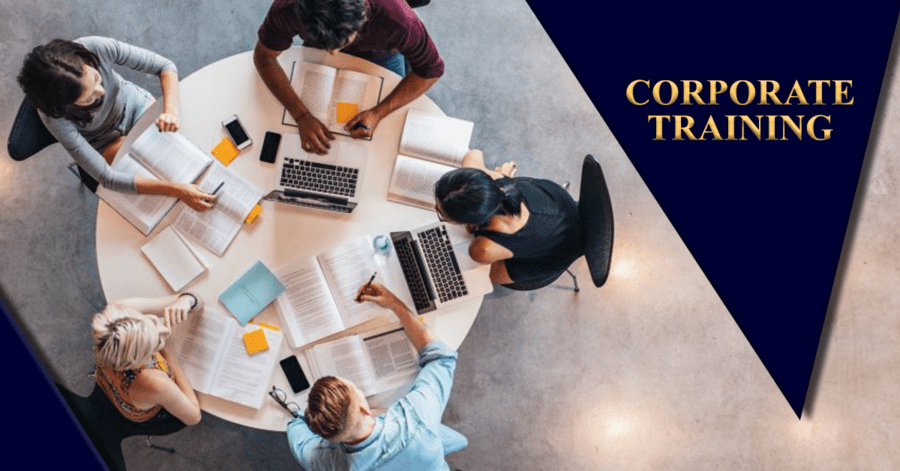 Online corporate training brings several benefits to the table. For example, the number of participants or unique training requirements does not matter in this type of training. It is because most corporate training software tools are scalable and easily customizable.
Corporate training involves reaching out to employees, customers, and partners.
Organizations today are incorporating interactive training into their learning and development strategies, moving away from the traditional model of classroom-based, instructor-led training. Interactive training has proven to be more effective in terms of delivering quality output. Watching a training video without any interaction makes the trainees mere spectators and passive learners. Whereas regular interactions and participation ensure that the users are actively involved in the learning, and helps them stay engaged.
Employees benefit from corporate training because it serves as a way to improve their job-related expertise. At the same time, they get other learning opportunities, for example, for developing leadership skills. Given such benefits, the demand for online training is rapidly increasing. Aside from enhancing the skills of employees, corporate training aims to provide career guidance with training programs such as workplace communications and creative thinking. It also builds a strong corporate culture, improves employee engagement, and boosts employees' morale.
In today's rapidly evolving business landscape, organizations face the constant challenge of keeping their workspace equipped with the latest skills and knowledge. Corporate training providers have their limitations, which has led to the growing popularity of online corporate solutions. In this post, we will explore seven compelling benefits that organizations can reap by embracing corporate eLearning solutions.
Here are seven benefits of online corporate training that you should know.
Table of Contents
1. Flexibility and accessibility:
One of the most significant advantages corporate eLearning companies provide is its flexibility and accessibility. Employees can access training materials and modules at their own convenience, eliminating the need for rigid schedules that disrupt their work routine. Whether they are in the office, at home, or on the go, learners. This ensures that even remote or globally dispersed teams can participate in the training without disruptions to their daily work responsibilities. Moreover, employees can learn at their own pace, making the learning process more effective and tailored to their individual needs.
2. Cost-effectiveness:
Online corporate training can significantly reduce training-related costs for businesses. Corporate eLearning company methods involve expenses like venue rentals, printed materials, travel and accommodation. By transitioning to online training, companies can eliminate or minimize these costs. Additionally, economies of scale are achieved with online training. As the same course content can be delivered to a large number of employees simultaneously, without incurring extra charges. As a result, companies can allocate their training budgets more efficiently and invest in other critical areas of their business.
3. Diverse learning formats:
Online corporate training offers a wide range of learning formats, catering to various learning styles and preferences. From interactive multimedia presentations to quizzes, simulations, and discussion forums, employees can engage with the content in a manner that suits their needs best. This diversity of formats enhances employee engagement and retention, making the learning experience more enjoyable and effective. Furthermore, incorporating gamification elements into the training can motivate employees to actively participate and achieve better learning outcomes.
4. Real-time progress tracking:
"In an ideal world, employees would be receiving regular feedback on their work from employers. However, time constraints mean that this is not always possible".
Effective learning management systems (LMS) used in online corporate training allow managers and supervisors to track employees' progress in real-time. This capability provides valuable insights into individual and team performance, helping identify areas where additional support may be required. Tracking progress also ensures that employees stay on track with their training goals, maximizing the return on investment for the company. Data analytics from the LMS can be used to analyze training effectiveness and make informed decisions about refining training content for future sessions.
5. Continuous learning culture:
Embracing online corporate training fosters a culture of continuous learning within the organization. Employees become more motivated to enhance their skills and knowledge that their company values their professional development. This culture of learning not only improves employees expertise and leads to greater employee satisfaction and retention. Employees who perceive growth opportunities are more likely to stay committed to their jobs and contribute positively to the organization's success.
6. Rapid development and updates:
In today's dynamic business environment staying up-to-date with industry trends and best practices is essential. Online corporate training enables companies to rapidly deploy new courses or updates to existing content. Thai flexibility ensures that employees receive the latest information, helping them stay current with industry advancements and maintain their relevance in the market. Rapid development is particularly valuable in sectors where changes occur frequently, such as technology, healthcare, and finance.
7. Global reach and consistency:
For multinational companies with diverse teams operating across different locations, maintaining consistency in training is a significant challenge. Online corporate training provides a Learning solution by delivering standardized content to all employees, regardless of their geographic location. This consistency ensures that all employees receive the same high-quality training, fostering a shared understanding of the company's values, policies, and practices. Moreover, it helps in building a cohesive corporate culture, aligning the entire workforce towards common goals.
Conclusion
In conclusion, online corporate training offers numerous benefits that empower modern businesses to cultivate a skilled and adaptable workforce. From accessibility and flexibility to cost-effectiveness and global reach, these advantages are transforming the way companies approach employee development. Embracing online corporate training not only enhances employee performance but also strengthens a company's competitive edge in an ever-changing market. By investing in the continuous learning and growth of their employees, businesses can set themselves on a path of sustained success and prosperity.
Improving the training approach helps build a productive workforce, hence organizations today are implementing effective training strategies with an aim to enhance the skills of their employees and optimize their productivity. Interactive training provides an immersive and engaging learning experience for them. It helps learners retain information and apply them at appropriate situations, and also prepares them for future roles and responsibilities by developing their interpersonal and problem-solving skills. An interactive session makes the training more fun and enjoyable compared to traditional training methods.