Let it be Google's adopted child Android or side cut fruit's iOS, data transfer has always been an issue with mobile operating systems. Apple users had to carry iTunes wherever they went to transfer files between PCs and devices. Unlike iOS, portability and file transfer-ability were always in favor of Android, yet it needed improvements in efficiency and user interface.
Table of Contents
Wondershare is one of the finest companies that makes absolutely stunning products for daily life advancements in terms of device connectivity. I have already reviewed a few of their products including TunesGo Retro. The hard work they put into developing useful apps is really commendable. One such product I recently came across is Wondershare TunesGo.
TunesGo lets you transfer your data between PC and Android/iOS devices including iPhone, iPod, iPad, etc. You might be wondering what's the need for additional data transfer software where there is iTunes (for iOS) and built-in MTP (for Android). TunesGo offers hassle-free file transfer plus useful extra features. It rather acts as a Phone Manager for mobile devices.
Wondershare TunesGo handles all of the mobile data including music and videos, photos, contacts, messages, and apps. TunesGo is bundled with an add-on file manager which can access both internal and external storage and perform all necessary operations. Some cool features that I really liked in TunesGo are
Inter-device Data Transfer
TunesGo can simultaneously work with Android and iOS devices. It transfers files from iTunes to iPhone/iPad/iPod or Android Devices, Computer to iPhone/iPad/iPod or Android Devices, and iPhone/iPad/iPod/Android Devices to iPhone/iPad/iPod/Android Devices.
Best in Class Photo Manager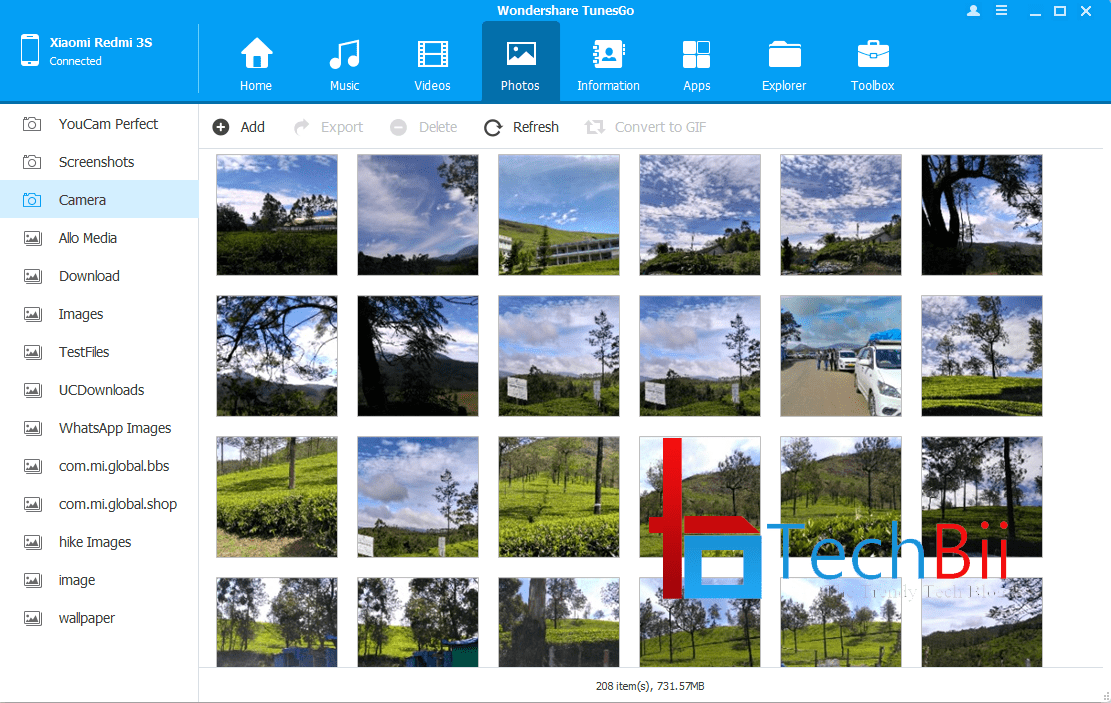 You can back up your phone's photos directly to a PC or transfer photos between Android and iOS devices within seconds. You can add, delete, preview, or edit your images on both Android and iOS devices. TunesGo's GIF maker lets you make your static images and videos into GIFs. Isn't that cool?
Message and Contacts Management
Contacts and SMS management have never been this simple. Thanks to TunesGo's outstanding phone manager. You may backup your messages and contacts to your PC or import Excel data to your phone. It offers the option to add, delete, modify, and merge contacts on a computer.
Mobile Rooter and App Manager
Hope you know what Android rooting is. It's like having superpowers in an Android phone. Wondershare TunesGo's built-in root manager lets you root your Android device in an easy one click. No questions asked! Its app manager could possibly save your precious data packs by preserving backups of application packages in APK or IPA formats. Never re-download in case you uninstalled it accidentally.
Apart from all these features, Wondershare TunesGo can fix your syncing issues with iTunes. If you ever face any sort of connection mismatch between your iOS device and iTunes, simply connect it with TunesGo and it will take care of the rest of things. I found this feature extremely useful.
Final Words
If I were to choose from a list of phone managers for efficient file transfer with add-on features, I'd definitely go for Wondershare TunesGo. In fact, I may dump iTunes forever if I had an iOS device (great Android lover 🙂 ). TunesGo is worth every penny you spend. Above all, it's from Wondershare; enough said.