We all need someone who can speak fluent English on our behalf. But when we have tools like Murf's text-to-speech, we don't need a physical person to do so. Murf's text to voice generator is an advanced voice-over maker tool designed for digital markets and enterprises to create their own speeches.
The detailed review of this
text to voice
tool will give you more information about how you can use it and what makes it the most advanced DIY voice maker tool in the market. Let's get on to the details now!
About Murf's Text-to-Speech
Murf's Text-to-Speech is an advanced voice-maker tool designed for generating realistic voiceovers from texts. The tool provides over 100 voiceover options to choose from. Being the latest tool, it also lets users add presentations and videos and combine them with the voiceover speech created on Murf's Text-to-Speech tool.
The company has already reached over 120 countries in the world with over 50,000 voiceovers made on the tool by the users. Thousands of users have signed up for this tool and they all are happily using them for creating professional speeches and for other purposes.
What makes this tool unique from other voice makeovers is that it comes with plenty of customizable options. The tool helps users add their own audios and convert them using the given AI voiceovers from the tool. The tool lets you edit the voice by creating a new block of text and generating its speech.
Who can use Murf's, Text-to-Speech Tool?
The Text-to-Speech tool is designed for all types of professionals. It is made with artificial intelligence to create a powerful ai voice. With the growing popularity of YouTubers and Vloggers, this tool is now adopted by video creators at a large scale. The Text-to-Speech Tool is ideal for the following professions.
YouTubers
Video Creators
Audiobook Creators
Gamers
Ads and Video Promotion
eLearning
Software and App Demos
IVR System Generators
Corporate Training
Podcasters and many other more
It's a must-have tool for all types of enterprises including big and small. Even individuals can use this tool to make professional-grade videos or speeches which they can use anywhere they want. The created voiceovers can be downloaded easily. The download voiceovers can be shared over different platforms by the users as per their requirements.
The tool helps users create a professional voiceover with the ability to edit them whenever needed with the simple and easy-to-use tool. The tool comes with a user-friendly interface allowing everyone to use its features and functions.
Youngsters can utilize this tool for creating engaging posts which they can post on different social networks. Posts with voiceovers can attract more users which is good for the promotion of products.
Murf's Text-to-Speech Voice Generator Features:
Professional Studioquality Voiceovers
Users can create professional voiceovers with studio-quality output. Anyone can create voiceovers from the ready-to-use voiceover by typing the texts. It doesn't require you to be a skillful person, just open the tool and spend a little time on it to create a professional voiceover. All it takes is a little time and you will have your voiceover created.
Plenty of Voiceover Options
Unlike other voiceover tools, this tool provides you with over 110 voiceovers. The voiceovers are available in over 20 different languages which you can select from the available options.
Highly Customized Tool
The tool lets you create a professional video or presentation where you can add your own voiceover created by this tool. There is a special section provided to those who want to create a professional video or presentation. They can add images, music, or video and combine them as per their requirements.
Built-in Grammar Assistant
There is an advanced AI-powered Grammar Assistant available for everyone to assist them in correcting the grammatical mistakes while creating a voiceover using the tool. It helps users create a professional speech by correcting grammatical mistakes and also providing them with the most suitable suggestions.

Free Demo for Testing
There is a free 10 mins of voiceover which is there for the new users for testing purposes. Just create a new account and sign in to your profile to test out the free voiceovers using the texts.
There are hundreds of other features and functions present on this tool that you can experience once you start getting your hands-on on it. Let's find out how we can use this tool and generate the Voiceovers in no time.
How does Murf's Text-to-Speech Tool Work?
First things first, you will have to create a new account on their official website to use this tool. Head over to their official website and click on the signup option. You can create your new account by selecting the Facebook option or Gmail Account. You can even sign up for a new account by entering your Email Address along with the Password.
Once you are logged in, you would be presented with a neat dashboard of the tool. In the middle of the dashboard, you could see a + icon when you hover over your cursor there, it will tell you the use of that particular sign. It asks you to add a new text block. Text block lets you type in the English words so that the tool can convert them into a voiceover. Click on the + sign and type in whatever you want.
After typing the sentence, click on the circle icon to generate a voiceover for it. It will take some time, you have to wait for the process to be completed.
Once the generation for the voiceover process is done, the circled icon will be converted to the play and pause button. Now, to listen to the voiceover, just click on the Play button, and you'll hear the voiceover of what you have written in the text block.

To add a secondary voiceover, just click on the same + icon and then type in your text and generate the voiceover. Follow the same steps to create multiple voiceovers that you can combine with the video or image to create a presentation.
For editing the voiceovers with the videos and images, you can check the bottom of the page. This section will help you create a professional video with the pictures, short video clips, and the voiceover that you have just created.
Now, for this particular paragraph, you have created using multiple text blocks, you can download the entire voiceover by clicking on the Download button from the upper toolbar.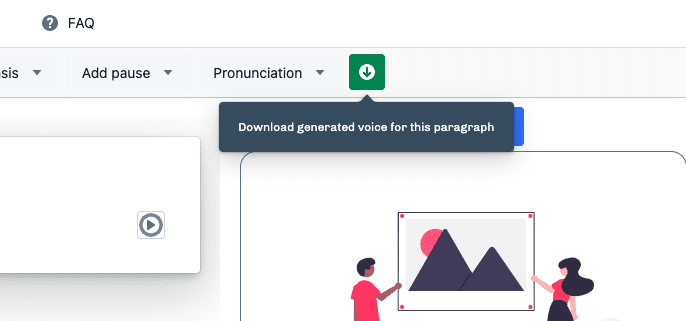 The main toolbar lets you create multiple paragraphs, change the pitch, speed, volume, emphasis, add a pause to the voiceover, etc. All these tools are quite useful for professionals to create a professional-quality voiceover.
From the given toolbar, click on the current profile to select the voiceover you want. There are over 100 voiceovers available. The voiceovers with the latest options will be displayed in this section. Choose the suitable option for creative voiceovers from this list. You can check out their demo voiceovers from the same page.
Furthermore, you can even filter up the languages. Select the dropdown menu given in the language option. The voiceovers are available in over 20 different languages from across the globe. You can select the preferred language from the given menu and start creating voiceovers in the preferred language. Isn't it amazing?
Pricing:
This text-to-voice generator has four different plans designed for all types of consumers.
Free Plan, The Basic Plan, the Pro Plan, and the Enterprise Plan. The free plan is for testing purposes and gives limited features and functions. The other three plans are premium plans designed to suit your basic needs.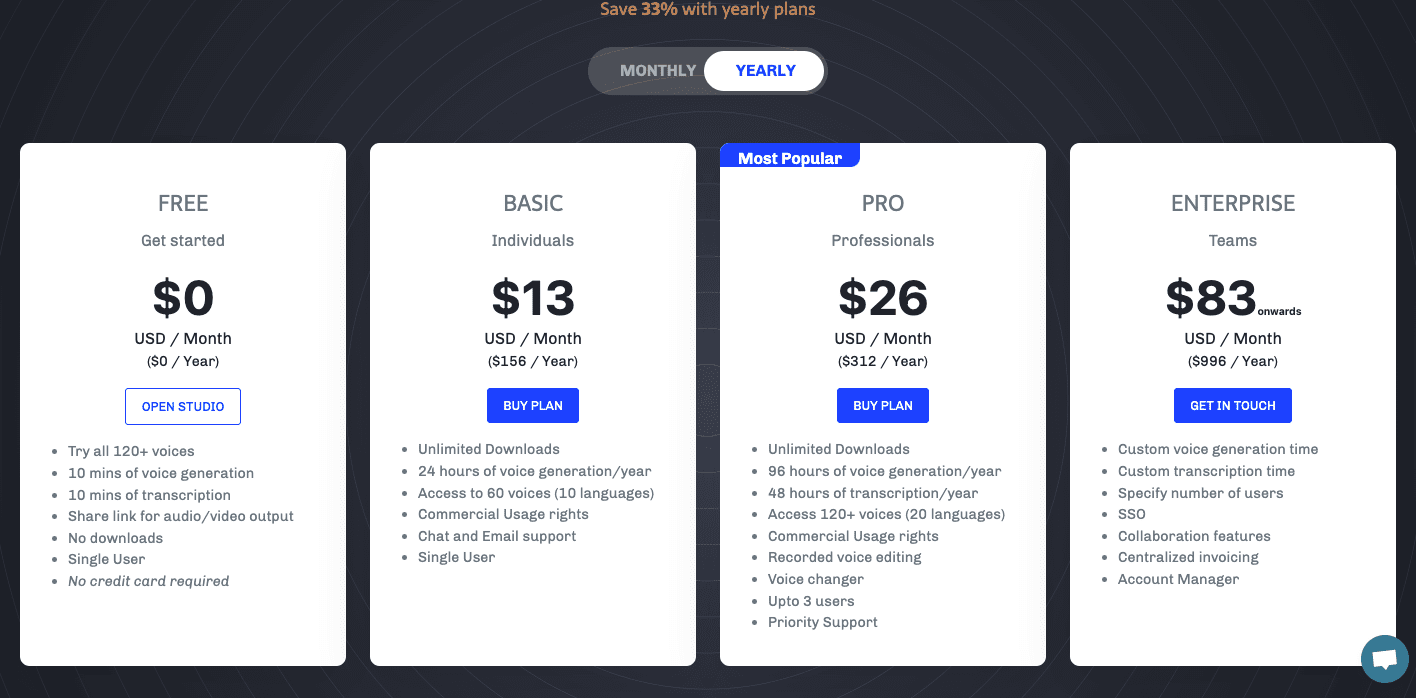 Free Plan: Free Plan costs you nothing.
Basic Plan: Basic Plan is there for casual users. It costs you $13 per month.
Pro Plan: Pro Plan is there for Professional users. It costs you 26 per month.
Enterprise Plan: Enterprise Plan is there for big enterprises with multiple userbases. The Enterprise plan costs you $83 per month.
Moreover, there is a special One Time Pack also available for those who want to use all the premium features and functions of this tool for limited period. The One Time Pack gives you 30 minutes of voiceover. This plan includes all the features of the Basic Plan. The One Time Pack costs you $9 flat for 30 minutes of voice generation.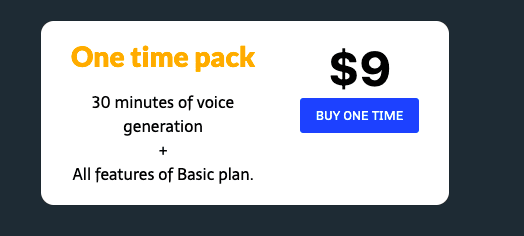 Conclusion:
Murf's Text-to-Speech is undoubtedly the best AI voiceover maker in the market with its simple user interface and advanced features. The tool is designed for all types of consumers to meet their demands. It is there for a range of industries and professionals who can create professional voiceovers in no time. It's a must-have tool for professionals working in the profession where voiceovers are frequently needed!