Enterprises face numerous challenges in safeguarding their valuable data. With the increasing threat of data breaches, hardware failures, and natural disasters, it has become imperative for businesses to invest in robust backup solutions. Enterprise backup software emerges as a vital tool that not only addresses these challenges but also offers several benefits to organizations.
The Backup Challenges Faced by Enterprises
What should an enterprise consider when choosing a backup software? There are several challenges that enterprises face when it comes to data backup.
▶ Data growth: With the huge amount of data being generated every day, managing and backing up all that data has become a major challenge for enterprises.
▶ Complex IT environments: Enterprises often have complex IT environments with a mix of legacy and modern systems, which can make backup and recovery operations more challenging.
▶ Backup window limitations: The amount of time available for backup operations is limited, and many enterprises struggle to complete their backups within the allotted timeframe.
▶ Recovery point objectives (RPOs): Enterprises need to ensure that they can recover data to a specific point in time, which can be difficult to achieve if backups are not frequent enough.
▶ Recovery time objectives (RTOs): Enterprises need to get their systems back up and running as quickly as possible after an outage, which can be challenging if backups are not optimized for fast recovery.
▶ Cost: Traditional backup solutions can be expensive, particularly when it comes to storing large amounts of data.
▶ Security: Backups must be stored securely to protect against data breaches, and this can be especially challenging in cloud-based environments.
To address these challenges, many enterprises are turning to modern backup solutions that leverage cloud technology, automation, and software learning to streamline backup and recovery operations. These solutions can help enterprises backup and recover data faster, reduce costs, and improve overall data protection.
Reliable Enterprise Backup Software – AOMEI Cyber Backup
With 12 years' experience of data backup, AOMEI Cyber Backup is a trusted and feature-rich enterprise backup solution. Its key features include:
Scalability and Performance: The software should be capable of handling growing data volumes and ensure efficient backup and recovery processes.
Security: It protects VMware / Hyper-V virtual machines and Microsoft SQL Server databases from data loss.
Ease of Use: User-friendly interfaces and intuitive controls are essential for smooth implementation and management of the backup solution.
Comprehensive Backups: AOMEI Cyber Backup offers full, incremental, and differential backup modes, providing flexibility and efficient data protection.
Centralized Management: AOMEI Cyber Backup provides centralized management capabilities, allowing administrators to monitor and control backup operations across multiple devices and locations.
Next, I will demonstrate how to backup VMware ESXi with this enterprise reliable backup software.
Note: To start VMware VM backup, it's necessary to authorize the standalone ESXi host/vCenter Server host by binding it. Once authorized, you'll be able to manage the protection of all VMs on the host without the need for an agent installed on each individual VM.
Easily to Automate VMware Backups with AOMEI Cyber Backup
Click Backup Task >> Create New Task.
Enter task name and batch select large numbers of VMs managed by vCenter Server for centralized backup.
Schedule: schedule backup as full / incremental / differential backup and specify time to run the backup.
Specify Backup Cleanup to delete old backup files automatically.
After configuring the backup task, review the information and click Start Backup.
The backup tasks that you create will be recorded and tracked individually, allowing you to easily access them later for restoration purposes, progress updates, or modifying the schedule. It's crucial to establish a reliable backup schedule that minimizes data loss and provides multiple restore points.
With this setup, you can restore the entire VM from any desired point in time. Additionally, you have the option to restore the VM to a new location by creating a cloned VM on another host.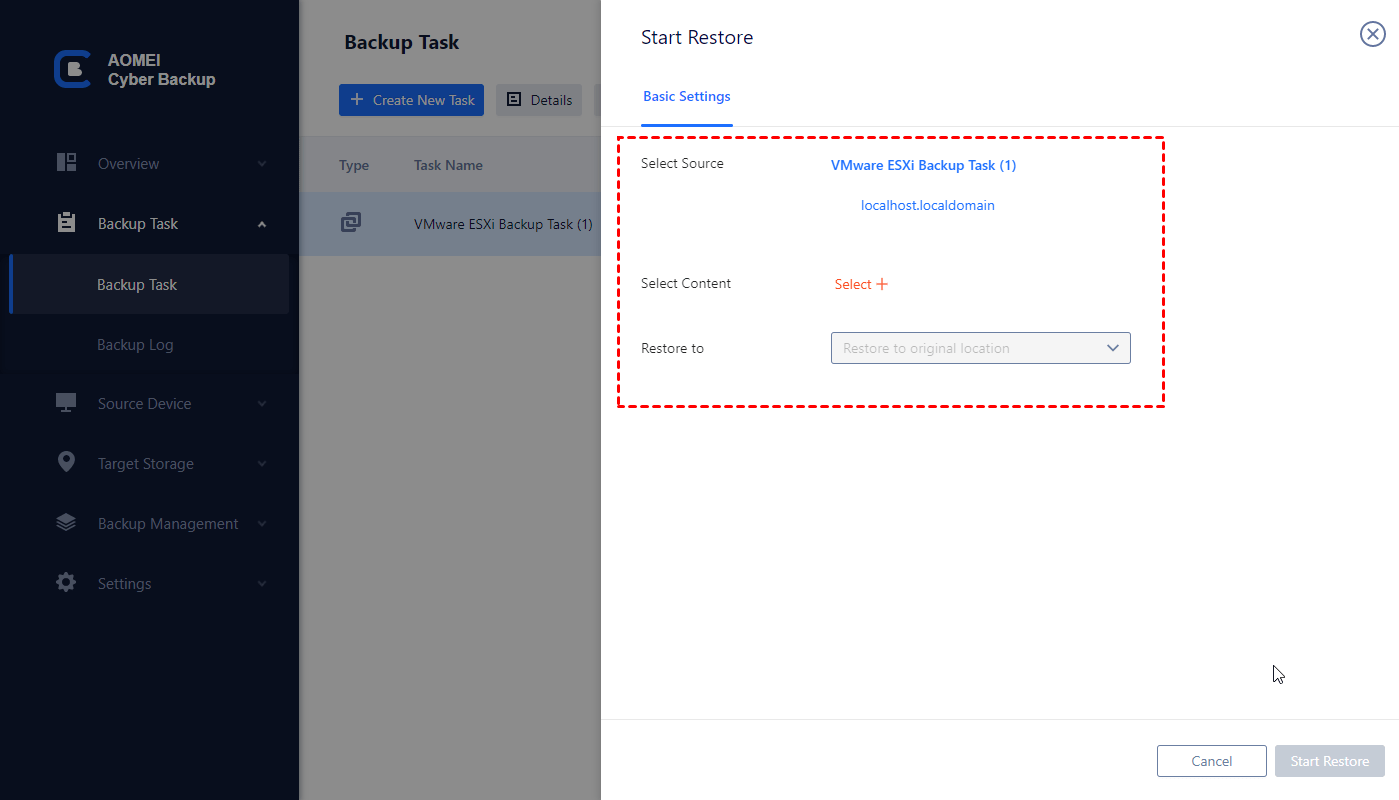 Conclusion
To ensure business continuity and mitigate the risks of data loss, it's crucial for enterprises to prioritize data backup. One effective way to address the challenges faced by businesses in data backup is by implementing reliable enterprise backup software.
When selecting backup software, it's important to consider key factors such as scalability, compatibility, security, and ease of use. By taking these factors into account, AOMEI Cyber Backup is worth a try ensuring the safety and security of your valuable data.