There has never been a better time in the Internet's history for HTTP to HTTPS Migration. A host of performance and search engine benefits await those who upgrade their website from erstwhile HTTP/2 to HTTPS.
To clear the smoke, HTTPS stands for Hyper Text Transfer Protocol Secure. It is HTTP with some security beefed up with the help of an SSL certificate.
HTTP to HTTPS Migration: What's the Need?
HTTPS migration rewards in bounties. From enhancing website load time to making your website look more trustworthy, there are several benefits some of which are explained below:
1. Helps leverage the performance of HTTP/2
HTTP/2 delivers a superior page loading speed compared to HTTP/1. In fact, KeyCDN has stated that websites running on HTTP/2 will have 2.29 times faster page loading speed.
Faster page loading speed translates into better search engine ranking, improved user experience, and of course competitive edge.
2. Improves Google search engine rankings
Google commands a lion's share of the search engine market. In fact, it is the default go-to destination for many for any online search.
Google in this Webmaster Central blog titled 'HTTPS as a ranking signal' has made it clear that it will include security as a major ranking signal for search engine results. Thus, websites with HTTPS protocol stand to gain a higher search engine ranking than those that still continue to run on HTTP.
The end result: Do the HTTP to HTTPS Migration if you want users to see your website in search results.
3. Boosts conversions
17% of customers abandon their shopping carts because of security concerns. An SSL certificate-laden web URL can dispel fears of security concerns and help online store owners sell more easily. It is also worth noting that GlobalSign in its study has found that 28.9% of users specifically look for the green address bar and padlock symbol before deciding to transact with the website.
There are still more benefits to list. The bottom line is, that you cannot skip migrating to HTTPS. Here is a quick guide that tells you the step-by-step manner to make your website HTTPS secure.
HTTP to HTTPS Migration Guide
1. Install an SSL Certificate
The first step is to buy an SSL certificate and install it on your website. Depending on the level of trust required, you can buy a Single domain, multiple domains, Wildcard, Domain Validated, Organization Validated, or Extended Validation SSL certificate.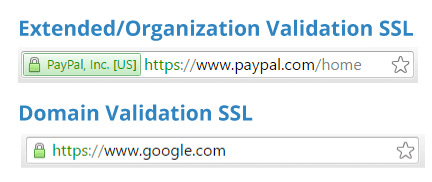 EV SSL certificate is considered the best since it is issued after elaborate checking by the Certificate Authority.
Depending on the web server you use, (Apache, NGINX, WHM, CPanel, etc.) the steps to install an SSL certificate will vary differently. In fact, the process is so elaborate that, each SSL certificate provider provides an entire tech documentation on the same.
2. Update all hard-coded links to HTTPS
Once the SSL certificate is installed, proceed to update all the hard-coded links to HTTPS. Hard-coded URLs are links that developers would have inserted for special functions that are not available with relative URLs.
Before doing this process, make sure you take a backup of your entire database so that even if something goes wrong, you have a copy to rely on. Also, run a dry run of the updated links to see if something is malfunctioning before going Live with HTTPS.
3. Add 301 redirects to new HTTPS links
301 redirects are permanent redirects that transfer the entire ranking that the previous web page had to the new page. In the case of HTTPS migration, any ranking that the HTTP page had secured will be transferred to the HTTPS page.
4. Update Robots.txt file
The robots.txt file is like an index of the entire website which tells the search engine bot where to look to crawl and index the web page. Upon HTTPS migration, the Robots.txt file should be updated to have the new link so that the web page gets maximum search engine visibility.
5. Install an SSL certificate on CDN
A CDN (Content Delivery Network) is used to accelerate the speed at which websites are loaded on user devices and screens. They are like remote servers located in close proximity to the user location.
As a result, the CDN servers must also be installed with the SSL certificate so that the security provision is completed totally.
6. Update SEO links
Once your website is updated to HTTPS, all the SEO links and profiles linked to the previous HTTP version must be updated to link to the HTTPS version. You also have to create a totally new Google Search Console. Update your webmaster tools and resubmit the sitemap index.
7. Add a new link to disavow the file
Disavow is a process used to remove any negative links attached to your website or guest posts. Once your website is migrated to HTTPS, do not forget to update the new link to disavow the file submitted to Google so that the search bot knows which link to consider and which one to avoid for ranking.
8. Update Google Analytics Profile
Google's Analytic Profile also needs to change once you have migrated to HTTPS. To do that, head to Admin -> Settings and change the Default URL choice to HTTPS. Save the process and you are done.
That brings us to the end of how to migrate from HTTP to HTTPS. The steps are explained in a shallow manner without getting deep into the nitty gritty or the panel settings. Depending on the SSL certificate you are choosing and the web server you use, the process will change slightly.
HTTP to HTTPS Migration is Now Complete
HTTP to HTTPS Migration will change your web presence completely. You will appear as a safe website to customers as well as become updated with Google and other CMS plans to make the web a safe place for every user.