Have you ever encountered a situation where you lost your valuable photos? Irrespective of whether you are on Windows, Mac, iOS, or Android, accidental deletion or other issues can make losing photos a possible scenario. How to recover deleted photos on Windows, mac, iOS, and Android devices? Let us check out the options in detail.
How to recover deleted photos in Windows and Mac?
There are a couple of methods available that help you find how to recover permanently deleted photos on Windows and Mac. Let us check out the best methods in this context.
Method 1: Recover deleted photos from Recycle Bin and Trash
As you are aware, any file or data that we delete from our system does not get deleted instantly. It is marked for deletion and lands in the Recycle Bin (on Windows) and Trash (on mac). Before checking any complicated and advanced steps to recover photos on Windows or mac, it would be an excellent option to check the recycle bin or trash and restore the deleted photos from there.
Windows users can find Recycle Bin on the Desktop, while Mac users can find the Trash on the Dock as one of the best image recovery options. You can select your deleted photos from here and choose to restore them.
Method 2: Recover permanently deleted Using Professional Photo Recovery Software
The next best method to recover photos is using a professional photo recovery tool. Recoverit photo recovery from Wondeshare should be your one-stop solution for most scenarios where a photo can be deleted or lost. An expert in recovering deleted photos, videos, and varied content, it is available on both Windows and mac. The ability to work with a wide range of storage devices such as HDD, SSD, cameras, USB Drives, SD cards, and more makes it a compelling option.
How to recover deleted photos using Recoverit?
Step 1. Download and install Recoverit on your PC or Mac
Launch Recoverit and select a location that you want to scan for the deleted photos. You can select either external or internal drives.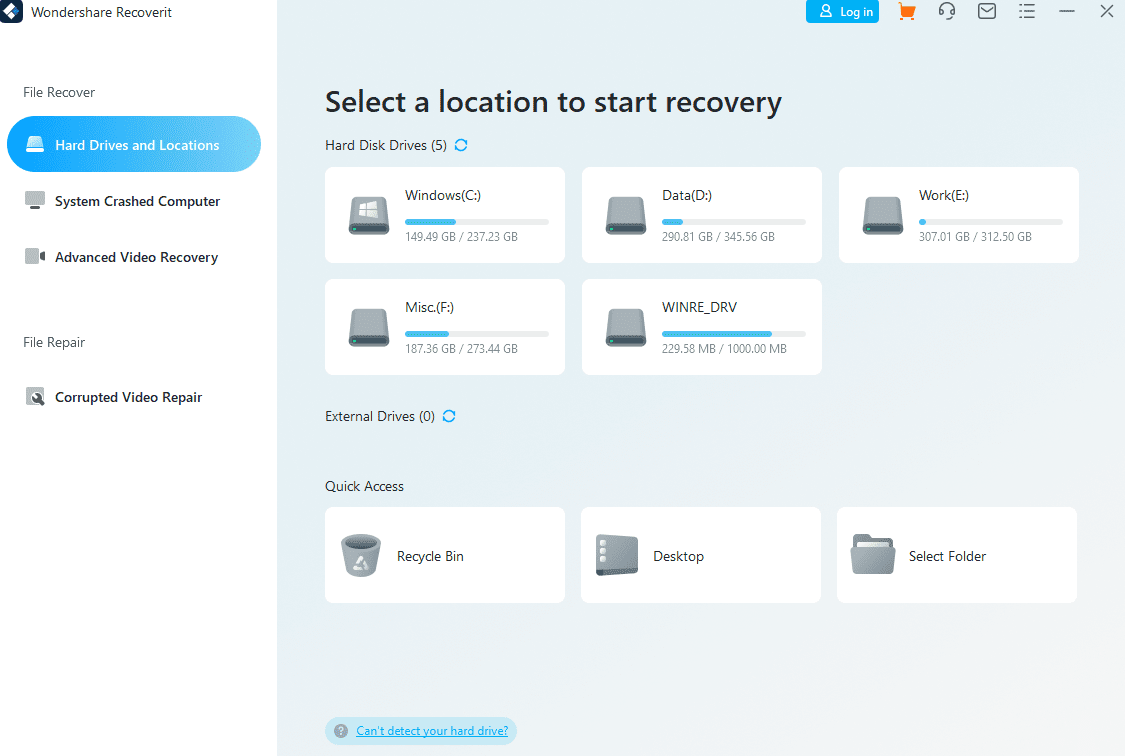 Step 2. Scan for the deleted photos
The scan time would depend on the deleted content and the size of the drive chosen. Please be patient and wait till the software completes the scan. If you know the exact location of the deleted files, you can narrow down your search by selecting the appropriate option. You can choose the File Location or File Type, or filter by keywords to quickly locate the lost data you want to recover.
Step 3. Preview the photos before recovering
You can preview all the recoverable photos and then choose the exact one to recover. Click on Recover to recover the photos from the preview window.
You can also select multiple files and then click on recover.
Some of the prime features that you would find with the tool would include:
Support for multiple data loss scenarios – The tool supports more than 500 different photo loss scenarios. A few scenarios that you can recover the photos would include lost partition data recovery, formatted device recovery, deleted files recovery, crashed system recovery, and damaged hard disk recovery.
Support for massive storage devices – Recoverit supports a considerably good number of storage devices. Over 2000 devices are supported include cameras, memory cards, computers and laptops, external hard drives, and USB flash drives, to name a few.
Handles almost every file type and format –Recoverit can work with a wider list of files and file formats. You can check out the audio, video, and image formats for an enviable collection of options that you would want to recover your lost data.
A comprehensive scanning – Tool can scrub the entire internal and external storage space and recover practically everything you can think of. This is your number one solution if you are checking out how to get back deleted pictures.
How to recover deleted photos on iPhone?
While there may be several options to help you recover deleted photos on an iPhone, you can also use a built-in feature if you have not cleared the recycle bin on your iPhone. Or restore the deleted photos from iClouds. You may recover your files by following the steps here below –
Open Photos app on your device and go to the Albums tab
Tap on the Recently deleted album
Tap on Select
Tap on the photo or video you want to recover or tap on Recover all.
How to recover deleted photos in Android?
Google Photos should be the best option to recover your deleted photos on Android. You may follow the steps here below –
Log in to your Google account on Google Photos on your PC
Go to Trash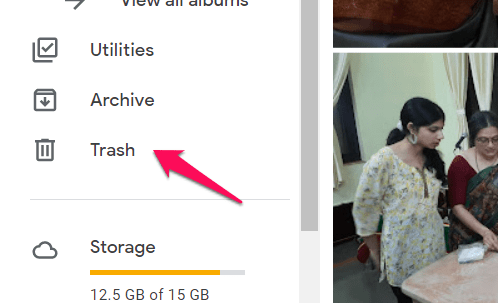 Select the photos that you want to recover.
Tap on Restore.
That should do it, and your deleted photos will be restored to their original location.
The Closing Thoughts
Losing your photos from Windows, Mac, iOS, and Android can definitely be a very terrible situation. If you have ever come across anything like that, you can opt for the best techniques that help you find out how to recover photos with no hassles whatsoever.
While you can check out a wide range of tools for the purpose, we recommend using Recoverit as it doubles up as one of the most professional tools ever for all your data recovery needs in various scenarios and devices.