How to Create a Sports WordPress Website for Any Sport based on your needs, it's a challenge, but don't worry, we will help you in this case in a very easy way. Create a webpage dedicated to your sport. WordPress, the most popular website-creation tool in the world, is more than capable of handling the needs of a sports website.
Whether you want a website to boost sports branding for your whole sports league or simply one for your individual club, there are a lot of resources available to assist you to get up and running in a short amount of time.
Take maxifoot as an example; if you want to build a similarly solid website, this post will assist you, this post will show you how to do it.
There are a number of solutions available to help you get up and running in a surprisingly short amount of time, whether you want to construct a website for a single club to display your matches, roster, and more, or a website for your whole sports league.
In this post, I will present a few pointers that will make it simpler for you to use WordPress in order to construct a website linked to sports:
A Guide to Creating a Website for Your Sports Team Using WordPress
In order to create a sports website that really works, you will need the following components:
Registration of domain names and hosting of websites.
The WordPress software that is installed on your host.
A part of the game that is in charge of directing the gameplay's core characteristics (matches, rosters, statistics, etc.).
Construct an eye-catching website using a theme that not only presents the aforementioned information in an arranged and flexible way but also looks great.
Simply put everything together by following these instructions…
Hosting and Domain
First things first, choose a hosting service for your website and install WordPress.Before going on to the plugins and themes that we discuss further down, you will first need a reliable structure on which to construct the website for your sports club. What exactly does it involve, though?
Providing a web hosting address
Utilization of the WordPress platform
Because of the following reasons, we always advise new companies to host their websites and register their domains with SiteGround:
Because WordPress is pre-installed on the server, getting started is really simple.
Your website will load very quickly, especially considering the cost.
In the event that you have any difficulties, the company's customer support is top-notch.
In order to get started, all you need to do is sign up for a SiteGround account and choose a WordPress hosting plan. After that, you will be guided step-by-step through the process of installing WordPress through the installation wizard that the company provides.
As a second step, set up the SportsPress plugin
There are a few other sports plugins available for WordPress, but SportsPress is by far the most popular option at this time (you can see it on all three of the examples of sports websites above).
It is quite an accomplishment for this freemium plugin to have a rating of 4.9 stars and more than 270 votes when compared to the ratings and votes for other WordPress plugins.
SportsPress gives you access to all of the capabilities you need to manage your sports team's website, but it won't make your site seem "beautiful" on its own. To get that look, you'll need to pick a theme that is compatible with SportsPress, which will be covered in the next section. What can you do to improve your website's UI efficiently? Check it out too.
You have control over the following with the free version of SportsPress:
Matches/games The members of the team (both future matches and the results of past matches)
Information pertaining to the members of the team
Reflections on events from previous years
More than that by a significant margin
The "equations" that are used to produce statistics and standings may be either user-defined or pre-defined.
If you plan to take your site (or the site of a league) seriously, you will want the advanced features that come with SportsPress Pro. The free version is sufficient for a simple sports team website, but if you plan to take your site (or the site of a league) seriously, you will want to upgrade to SportsPress Pro. In point of fact, I was unable to locate a single demo that did not use the premium (paid) version of the software.
Step 3: Select a Sports Theme That Is Compatible With SportsPress.
Here are a few examples of the many different kinds of sports websites that use the WordPress content management system. The essential steps involved in constructing a sturdy foundation for a WordPress sports team website.
The following is a selection of WordPress themes and plugins that may assist you in getting your website up and running fast while still providing you with all of the capabilities that you want. Here are 3 things you can do to make your homepage more effective as well.
Let's get started so you can go back out on the ice, court, or wherever it is that you play your game. A few of the themes that we discussed are as follows:
Premier
Premier is the official theme for SportsPress, and it can be customised to work with any sport. The inclusion of a countdown timer to the next match is a thoughtful addition that will undoubtedly pique the interest of the audience.
Premier Theme
Big Slam
I've just shown you the website for the Vietnam Basketball Association, which has the Big Slam motif running throughout it. It was developed by GoodLayers, a well-known ThemeForest designer, and it is compatible with the SportsPress add-on.
Big Sam theme
Alchemists
Dan Fisher's Alchemists theme is one of the most innovative designs that are available right now. The player profile pages that are illustrated in the previous paragraph are my favorite part of this design. Those scoreboards are very amazing to look at.
Alchemists theme
Splash
Splash is a WordPress theme that was developed specifically for use by sports clubs, namely those who are active in the sports of basketball, baseball, football, and soccer. In addition to that, it provides a personalised walkthrough for each task so that you can get started right away.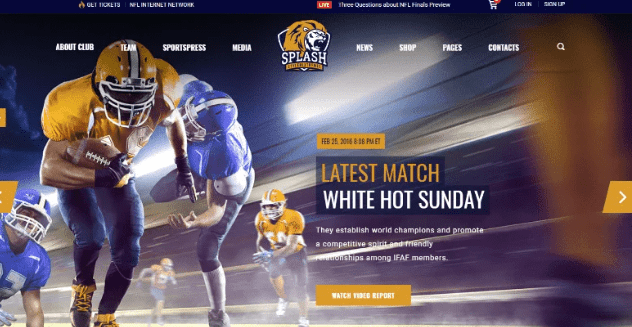 Splash theme
Insightful recommendations for developing the world's most visited sports website ever
You can swiftly develop a fully working website for your sports club or league using WordPress, SportsPress, and a theme that is compatible with SportsPress. This website will have all of the features and information that your supporters will want to use in order to keep up with the activity.