One of the best things about working from home is that you have the freedom to create your own workspace. Unlike working in an office, you can control, manage, and improve the environment of your work area. Many are asking how it is possible to create a comfortable and functional space that can make them more productive when working at home instead of at the office.
If you are unsure how to go about it, no worries. This article summarizes nine (9) easy ways to work efficiently and comfortably at home.
1. Mind Your Work Requirements
Before choosing the spot for your workspace, consider the kind of work you will be doing. Think of the storage space and materials necessary to do your work efficiently. For instance, if you are a graphic designer, you will need a computer and a phone, and enough space for papers, plugs, and cords. A monitor calibrator and a high-res monitor, as well as a printer, may also be necessary.
Before choosing a new printer for your home office, define your tasks in advance, which will help you compare the printers on the market and find the best fit for your work. For instance, if you need only to print documents, desktop laser printers will be a great choice. However, if the work requires not only printing but also scanning and copying documents, you can opt for multifunctional office printers, which will reduce the cost and save space. These printers will replace several pieces of equipment, and the owner needs to learn only one set of instructions for the machine.
2. Prioritize Eye-Friendly Lighting
According to https://boxroomoffice.com/, if you want to make a better workspace, you have to install proper lighting to reduce eye strain when working. For better lighting, pick a sunny spot near your window. However, if you want to supplement overhead lighting, you can use a table lamp or a floor lamp to have a well-lit desk.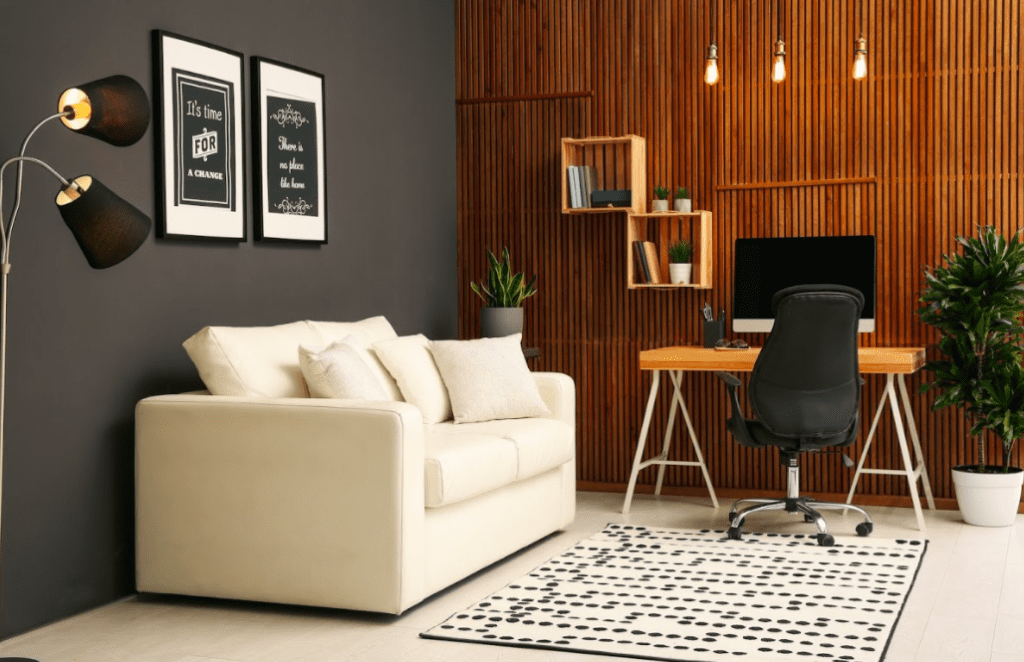 If your workspace makes your eyes feel tired, it is a sign that you need to examine your lighting. The best solution for this is to adjust the position of your current lighting or add another source of light.
3. Consider View And Ventilation
Your workspace should have proper air circulation. If your workspace is in your room, make sure there is sufficient ventilation. If possible, install a good-quality air conditioner to cool down your workspace area. Aside from air circulation, you must have an expansive view to relax strained eyes. A workspace near a window can make a difference. However, if you're the type of person that requires more focus, you can use plain décor in your surroundings.
4. Get Rid Of The Clutter
A workspace may be created with one office chair cushion and one desk only. However, required hardware such as a computer, a large monitor, printer, and the like should be accessible to you but not to pets or children. Pens, papers, and the like should be within easy reach. If possible, do not put unnecessary objects on your desk. A zen-simplicity to your work environment can reduce stress, anxiety, and encourage focus and performance.
5. Separate The Work Space
Demarcate your workspace to clearly identify a place for work focus from rooms with other purposes such as living rooms and bedrooms. This will help you focus more and be productive in your work. If you can soundproof your workspace, you can better focus so that other sounds and activities cannot draw your attention.
Your workspace doesn't have to be very big as long as it's enough for you to put a chair and a table. Even a corner can become your workplace provided there is electricity, internet, and the necessary utilities you need to be comfortable while working.
6. Make It Ergonomic
If working from home is something that you're not used to, you might not have an ergonomic chair on hand. However, you can still find workable alternatives. For instance, use a table and chair that matches your height, arm length, and leg length so that you can work on your laptop or computer without suffering from eye strain, back pain, neck pain, mouse shoulder, or carpal tunnel syndrome.
A chair can be modified for back support and arm support. A piece of soft foam, a folded blanket, or a draped cushion can also add a layer of comfort. If you have designed a very conducive work environment, get ready with treatments for long work periods. You might be si focused on work that you will need pain and stress relievers such as ointments, balms, or a handheld electric massager.
7. Add A Little Color
A floor or desk plant is a good way to add color to your home workspace and to ensure comfort while working. Plants add a breath of fresh air and create visual variety when your eyes want a break from the screen. Depending on your preferences, you can always opt for fresh flowers. However, you can also try something that does not demand much care and maintenance such as a succulent or a hardy type of indoor plant.
8. Try And Add A Good Scent
For a touch of luxurious comfort in your workspace, a good scent can be a dramatic indulgence that is not possible in your office. Aside from adding a pleasant smell, essential oils have proven health effects that can help you get the job done. For instance, peppermint can provide an energy boost while essential rosemary oil can improve your focus. If you are prone to anxiety, a sweet orange scent can help.
Takeaways
All in all, creating a comfortable space to help you work efficiently at home is easy. The only things you have to mind are your hardware, software, utilities, atmosphere, and ergonomics. With a comfortable workspace, working at home can be the new normal that offers more pleasure and efficiency than working at the office.