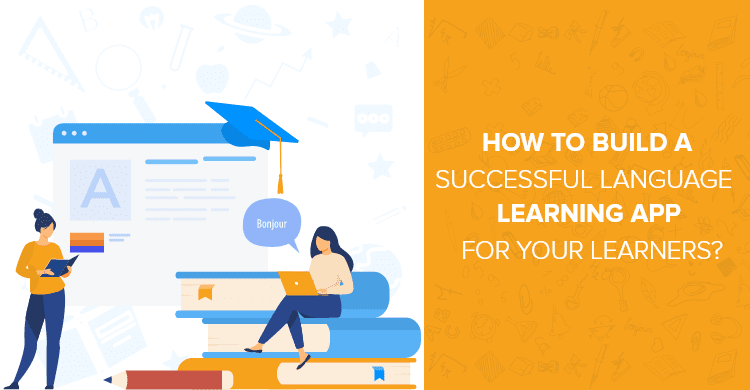 The Rise In The Demand Of Online Language Learning Apps:
There are a lot of reasons why people choose to learn a new language. While some wish to learn it to advance in their career, some wish to create a deeper bond with a culture that they wish to be a part of. While some wish to have the ability to connect with others, many have the passion to become polyglot. But whatever the reason, learning a new language or having a second language is an asset that most people wish to possess.
Previously, the process of learning a language was demanding and expensive, and thus, professionals who had to learn a new language invested in it. But, with the advent of e-learning platforms, learning a new language has become an affordable and convenient process and thus, the popularity of language learning apps has been increasing with each passing day. So much so that, according to a new market research report, the world online language learning market is expected to grow at an annual rate of 18.7% from 2020 to 2027 and reach a staggering $21.2 billion by 2027! (Source)
The Factors Leading To The Luminous Future Of Learning Apps:
The driving factors of this exponential growth in the online language e-learning market are globalization, COVID-19 impact, the rise of online business, trends of personalization and localization, and others. So, the market has a lot of potentials and for those who wish to make a fortune, they can definitely consider this e-learning education app development as an option! But, how can you ensure that your language learning mobile app will be a success? While the courses and language selection will depend upon your target market and target audience, there are certain features and traits of a Mobile App that can help you make your app relatable and profitable!
To help you make your language learning app successful, we have listed down a few of those features below:
7 Essential Features To Make Your Language Learning App Relatable And Profitable: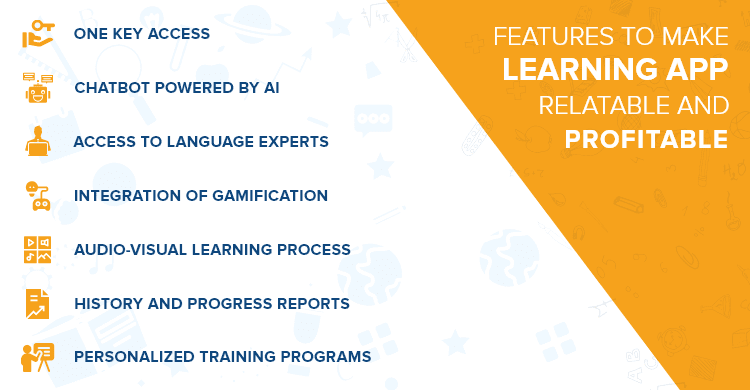 1. Audio-Visual Learning Process (Immersive Learning Techniques):
One of the biggest reasons e-learning applications are growing in the market is their capability of providing 2D and 3D visual learning experiences. Also, with the advent of technologies such as Virtual Reality and Augmented Reality, apps can now provide an immersive learning experience and that is the reason many conventional education institutes are also transitioning from the traditional chalk and blackboard learning to online learning platforms. So, if you wish to attract more users to your app, you must empower them with immersive learning processes.
2. Integration Of Gamification:
People tend to have better engagement with an e-learning program when gamification models are integrated into the application. While developing your language-learning mobile application, ensure that your app has essential gamification models such as words learned, tests and certifications, global and friends leader board, competitions, and other such things.
3. Chatbot Powered By AI:
Language learning is all about having fluency and language proficiency. To help people have a conversation and for a better learning experience, you can introduce a Chatbot that can help learners have a better experience. You can ask the Chatbot developers to empower it with the cognitive skills of AI and thus, deliver personalized conversations and suggestions to your users!
4. One Key Access:
Whether the button is to translate certain words in their preferred language or about storing and recording certain words and conversation for future access, give users the one key access or AI assistance button to create better reliability on the application and it will increase the active users on the application by an exponential rate!
5. History And Progress Reports:
Just like gamification, progress reports and charts can motivate users and boost their morale. You can either create your own progression levels or you can allow your users to set their own goals and work on them. Create the levels based on your target audience and also create certifications and accolades to encourage the users to strive and learn more with your application.
6. Personalized Training Programs:
While most of your users would want to learn a language from the scratch, there would be some who wish to work on their language proficiency and fluency. Also, each user will have their own pace and purpose of learning a language and it is essential that your app can cope with such things by providing personalized training programs. Right from the introduction of learning levels to grouping and segmenting users based on their progress, you can create a personalized user journey that can ensure a satisfactory and delightful user experience.
7. Access To Language Experts:
Users must have access to expert individuals and their learning hacks for easy and quick language learning. To ensure that your users have access to language experts, you can invite such individuals to provide live lectures and lessons and you can also ask them to create some exclusive content for your app and you can provide them to your users as video lessons.
The Goal Is To Create A Reliable, Relatable And Personalized Language Learning App:
No matter who your target audience is or whether your language learning app is developed for a specific niche or an open market, with the above-mentioned development approaches and features, you can make your relatable and reliable with personalized experiences.
---
Author Bio:
Pranjal Mehta is a technology strategist, and the Founder and Managing Director of Zealous System, which provides innovative and cutting-edge technology models and services to businesses. He has fierce passion for technology, which is why he is deeply committed to delivering solutions to the key problems faced by Startups as well as Enterprises.