Gearing up to reach the 1000 milestone on Instagram? If that is your goal, I am sure you are trying everything possible to reach that benchmark. If you have a few hundred followers now, you must have seen that the numbers go up only to come down in a day or two. Frustrating right?
Well, there is some good news and some bad news. The bad news is that the process of reaching 1,000 followers will not be easy. The good news is that I will give you some strong tips to help you reach 1,000 followers.
Instagram, a mobile app that was launched as a photo-sharing platform is rocking the business world currently. So, if you are looking to reach your 1000 followers on Instagram, then you must shift to an Instagram Business account. you can get access to real followers on sites like follower24.
One of the key benefits of doing this is that you will be able to add website links to your Instagram stories. This plays a great benefit for a business. As reported by Locowise, 75 percent of users take some action such as visiting the website after reading such posts.
Coming back to your goal of follower-increase, here are six tips that you can look into:
1. Effective Content Marketing Strategy:
In order to get real IG followers on Instagram, you have to find out a way to engage with them. For this purpose, you require a strong content marketing strategy. There are various options you can look into.
You can make your content people-centric. Believe it or not, photos with faces can get 38 percent more engagement than other posts. A similar strategy was tried by Northern.co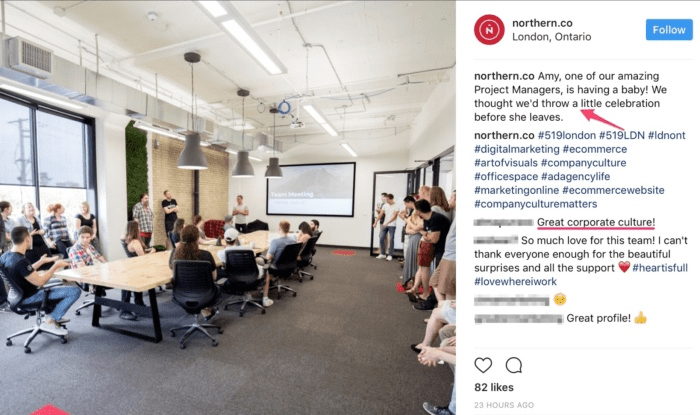 Source: Northern.Co (Instagram)
Employee-curated content is yet another type that you can try. Hubspot is doing some great work with it.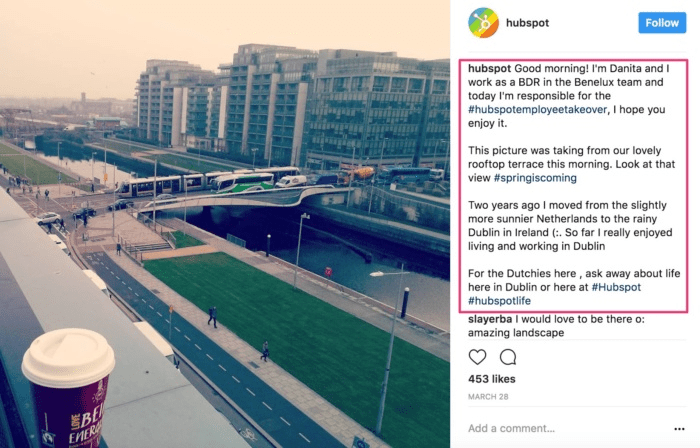 Source: HubspotLife (Instagram Official)
2. Optimize Your Profile For Visibility:
Potential followers will only land on your profile once they find it, and to help them find you, it is important to optimize your profile.
In that light, pick out a searchable name. Even if you are marketing for a brand, attach your name to it so that it becomes easy for people to spot you.
In the next step select a premium-quality avatar so that people can spot you easily. Your brand logo can be ideal for this case. Adding keywords in your bio can also help your followers discover you without much hassle.
Source: Instagram
3. A Suitable Profile Design To Draw Maximum Attention:
Instagram is a platform where to draw maximum attention, one has to be really on point, crisp, and smart. Instagram is no place for loose ends.
Your pictures, description, posts, website link, and name all matter. People will look into it before even surfing through your profile. So to get more followers, make sure you are portraying a very crisp account.
4. Post Engaging Photo Content:
The more stunning photos you put on Instagram, the more followers you will earn. It is a simple deal.
Here are a few tips that you can look into while dealing with photos on Instagram:
Keep the brand elements similar across all platforms including Instagram. This will help your followers recognize you instantly.
Make use of different shapes and patterns to come up with a unique layout.
Go for a single color palette.
Make use of a dominant filter.
5. Make Use of Multiple Hashtags In Your Post:
Source: Namedroppers
Hashtags are the lifelines that run Instagram. Thus you have to be very careful while using them. Do not just pile in a bunch of unrelated hashtags and hope for the best. You have to put in a bit of research.
It is a good practice to check the hashtags your competitors are using and then use the same to make your post visible. Additionally, look into the volume of the hashtags. In order words, how many times have they been used? You need to find a sweet spot for this technique to work. Thus it's advisable to avoid hashtags with a search volume over 100,000.
6. Work With A Posting Schedule:
To get followers on Instagram you need to post regularly. At least one post per day is crucial. However, do not just stick to photos. For instance, Nike posts both photos and videos and the engagement is quite high.
Source: Nike
In addition to posts, make use of the other features on Instagram. These include the stories, live videos, IGTV, and other components.
You can only grow your follower base when you are engaging with them. So do not miss a single opportunity to do that.