Today, children discover the world in many ways with the help of electronic gadgets – this can be both a useful activity and be at variance with the basic principles of upbringing due to the variety of motley information available to them. Once tracking apps for parents collect activity data on mobile devices, the undistorted information goes straight to the parents. Let's keep up with the digital parenting trends and look at the best products available.
Why Should Parents Use Tracking Apps?
They say that parents have the best interests of children at heart, but this does not mean that the child should feel under the hood because you can achieve the opposite effect. The use of hidden tracking apps is modern parents' natural response to the growing freedom of action and speech on the Internet – they allow you to be flexible so as not to overdo it with control over the child and, at the same time, be as informed as possible.
Realizing that not all Internet actors have good intentions about a vulnerable child, you can stay under the radar if no intervention is required and respond promptly to stop malicious attempts.
How Parental Tracking Apps Work: It's Simpler Than You Think
We have been dealing with different types of software for many years now. Monitoring apps for parents are the same comprehensible programs that usually require (in logical order):
checking for compatibility with the target device
purchasing a subscription
registering your account and installing the app on a target device
Due to the specifics and possible use cases, Android and iPhone tracking apps for parents are often conceived as hidden software, which means that during the installation process or in the settings, it is possible to hide the icon. To pair your child's device with your monitoring app account, you must consider the operating system of the former.
The most usual solutions are rooted and non-rooted versions for Android gadgets, where you need to put the apk file on the child's phone and unpack it; for iOS devices, you'll find jailbroken and non-jailbroken approaches, which means that the program can change the native settings of the phone or will work with iCloud backups, respectively.
10 Top Tracking Apps for Parents to Carry On with Guidance at All Times
We live in a time when not only children's demeanor in the real world requires our attention but also their online behavior. The following best iPhone tracking app for parents and Android solutions allow you to not only observe but also analyze the child's activities over time, filter the content available to them, and limit the use of certain applications and websites. Let's dive in!
uMobix – The Most Practical Cell Phone Tracking App for Tracking Kids
How to establish that the product you choose is high-performing and one of the best tracking apps for parents? After analyzing which programs children most often spend their time on, such an application will provide you with a convenient interface where you can watch it all. uMobix has been around for years already, ensuring that your needs as a concerned parent and a user are properly met. Get qualified and fast customer support straight in the online chat, and also make sure to try it out as one of the free tracking apps for parents with a free trial version.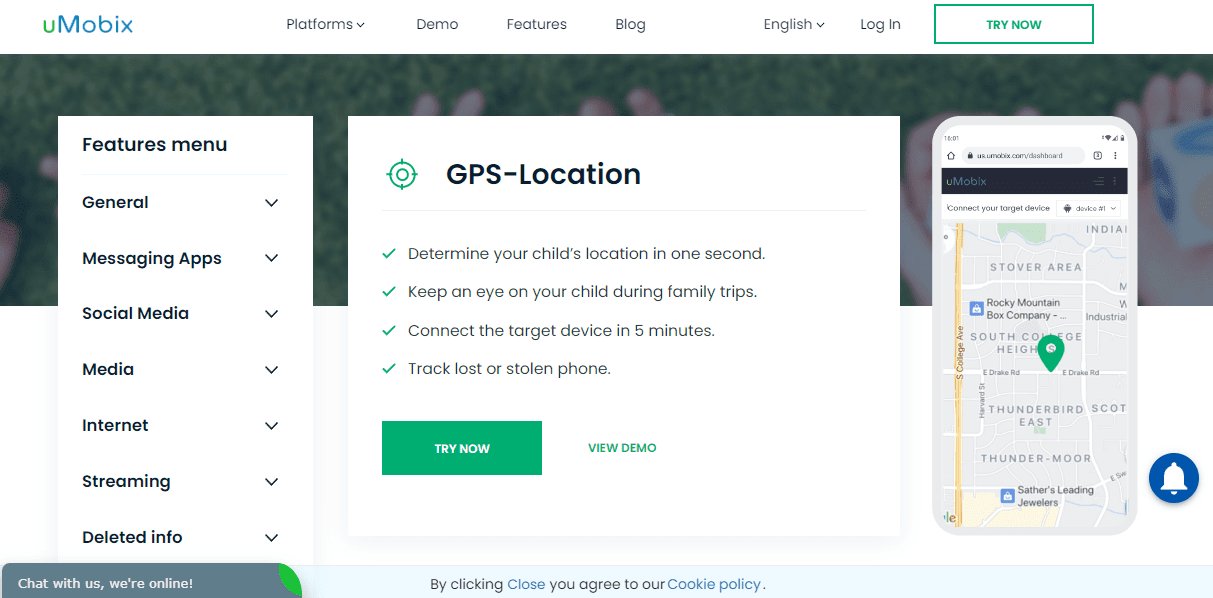 Your little one – soaking up information like a sponge – or a teenager – no doubt considering themselves quite an adult – all need support in developing an understanding of the Internet space. As their guardian, it will be easier for you to manage this process with the help of such built-in parental control features:
monitoring of all incoming and outgoing messages and calls
tools for analysis of their actions in social networks, including full access to Instagram and Facebook accounts, the most popular instant messengers, media files, and contacts
GPS tracking and immediate child location
live streaming service with voice and video input
tracking their browser activities
access to deleted logs
remote removal of applications, blocking of services
Life360 – Using Location Tracking App for Cooperative Monitoring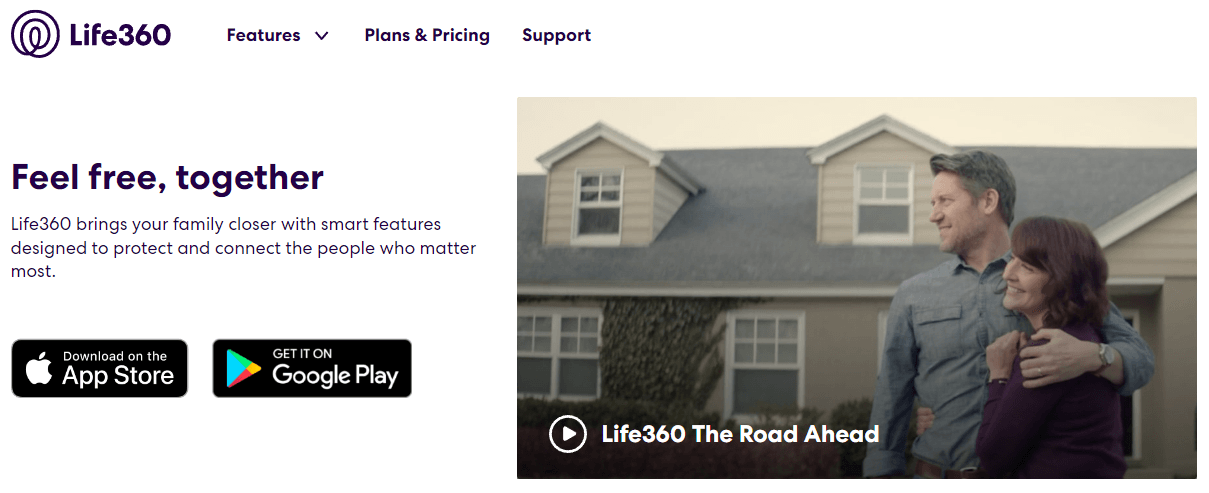 Parenting and looking after children is a long journey where you may need a compass. In the truest sense of the word – Life360 is suitable for both parents, children, and other close relatives when you want to stay interconnected and be aware of the location of any of the family circle.
Using one of the best location tracking apps for parents, you will be perfectly coordinated by creating frequent routes and adding favorite places to make your way there at any time when driving. With just one click, your child can send you an alert for help, and you will immediately see where you need to go. Also, with just one glance, it is possible to be sure your family reached their destination as planned.
Cocospy – Kids-Oriented Android & iPhone Tracking App
Having one of the tracking apps for parents in use, you get the opportunity to focus on other important things, relax, and for a moment, forget about the need to keep a hawk eye on your offspring and several children at the same time. Cocospy app works in stealth mode and leaves no trace of its work other than what you see on your user panel. You can count on the following features:
in-depth monitoring of Internet activities
get access to the history of calls and messages, contacts, including deleted ones
know what they gossip about and what they hide on Facebook, Instagram, and WhatsApp
check the keylogger entries to know everything that was written on the gadget during the day
one of the handiest GPS tracking apps
FamiSafe – Limited in Time Free Phone Tracking App
Keeping your children safe is possible if steps are taken before this situation occurs. Once you acknowledge this, a tool like FamiSafe, one of the top tracking apps for parents, will take care of the rest. If your vote is on the timely detection and elimination of suspicious content, this software does an excellent job of managing screen time and app limits remotely. It's not big news that YouTube's and TikTok's visual content is especially appealing to kids – let them have fun but also block inappropriate content when needed.
Being one of the free tracking apps for parents (a three-day free trial is available before purchasing a 1-year package), FamiSafe has a lot of tricks up its sleeve, including locations, web usage tracking, etc., but what makes it stand out from the crowd is that it has solutions for many platforms – Windows, Mac, iPhone/iPad, Android, and Kindles.
iKeyMonitor Free Tracking App for Parents – What's Included?
This is another worthy representative of tracking apps for parents that offers plans for monitoring iPhone, Android, Windows, and Mac devices. In addition, it is also from the cohort of free phone tracking apps for parents who want to try some other features in addition to the well-known Google location service free of charge.
So, the basic – and free – perks for you include access to contacts, SMS and call history, GPS locations, calendar entries, notes, and so on. To appreciate the full range of services of this application, you need to purchase a plan – there is even an option for recording phone calls, spying on social networks and instant messengers, websites, and a keylogger feature.
eyeZy Phone Monitoring Solution
When the time comes to admit that perhaps the only way out is to resort to using iPhone or Android tracking apps, parents have a lot of choices. What makes eyeZy a fair inclusion in this list is that this application has 24/7 support and contains the most necessary features. However, be careful because some of them may need a jailbreak.
The app uses a screen and keystroke recording to provide the widest possible activity coverage on the target gadget.
Verizon Smart Family – a Working Way to Spy on a Child's Phone
Those looking for a digital monitoring partner might as well consider getting more value from their Verizon subscription and creating a Verizon Smart Family account. Payment for the service varies depending on the inclusion of the location service; being one of the phone tracking apps for parents, Verizon Smart Family will help you:
monitor and restrict calls and messages from children
track their actions in browsers and applications
remotely disconnect the Internet
All in all, this product provides tangible aid in surveilling kids' web and app activity, plus tracks their precise location, and allows sending alerts.
Qustodio – Best Android App for Phone Controls
As your child surfs the internet, you need to be prepared to take action at a moment's notice. The ability to do this remotely, for example, using cell phone tracking apps for parents like Qustodio, comes with many other benefits.
By logging into your account, you will see all the insights into the child's digital life on the dashboard, including exchanged text messages, calls and contacts, among them, blocked ones. The most important moments and frequency of their social media use will also appear on the board, and in just a few clicks, you have the opportunity to set a new time limit for the child.
Parents frequently resort to parental tracking apps for iPhone or Android phones so that children feel more confident when walking alone. Thus, you will either see their location at any time or receive an SOS notification in case of danger.
pcTattletale – Convenient Monitoring Software to Keep Tabs on Employees and Family Members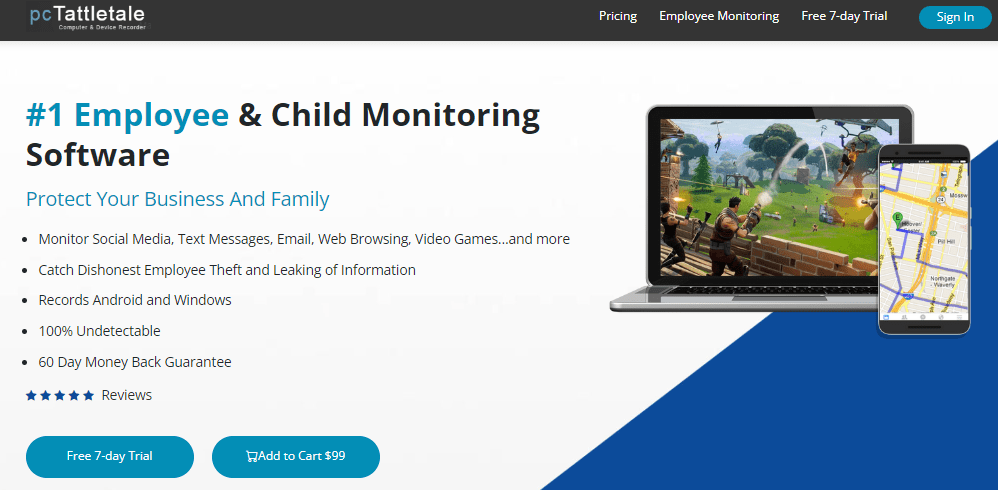 pcTattleTale belongs to the Android apps for parental tracking and is also advertised as a solution that can be integrated into workspaces to monitor the quality of work of employees on Windows.
On the one hand, this product offers a comprehensive overview of the activities on the gadget using the screen recording function; on the other hand, this presentation looks completely unstructured, unlike the previous iOS or Android tracking apps described in this review, so it's up to you to decide. In addition, the software managed to get a stain on its reputation associated with a possible leak of shared content.
Monitor Unlimited Devices with Bark
By making children a priority, Bark has developed a range of products, both online and physical, to help parents supervise and control the content kids consume.
With the help of the online product, you can:
scan what your child sees for inappropriate content
block websites and receive notifications about attempts to open them
set the time free from using the phone
many customization options, in general
Conclusion
Looking at these top 10 cell phone tracking apps for parents, you can definitely choose the one that suits you the most. To make your experience smoother, opt for products with customer support, a free trial version, and a modern design.