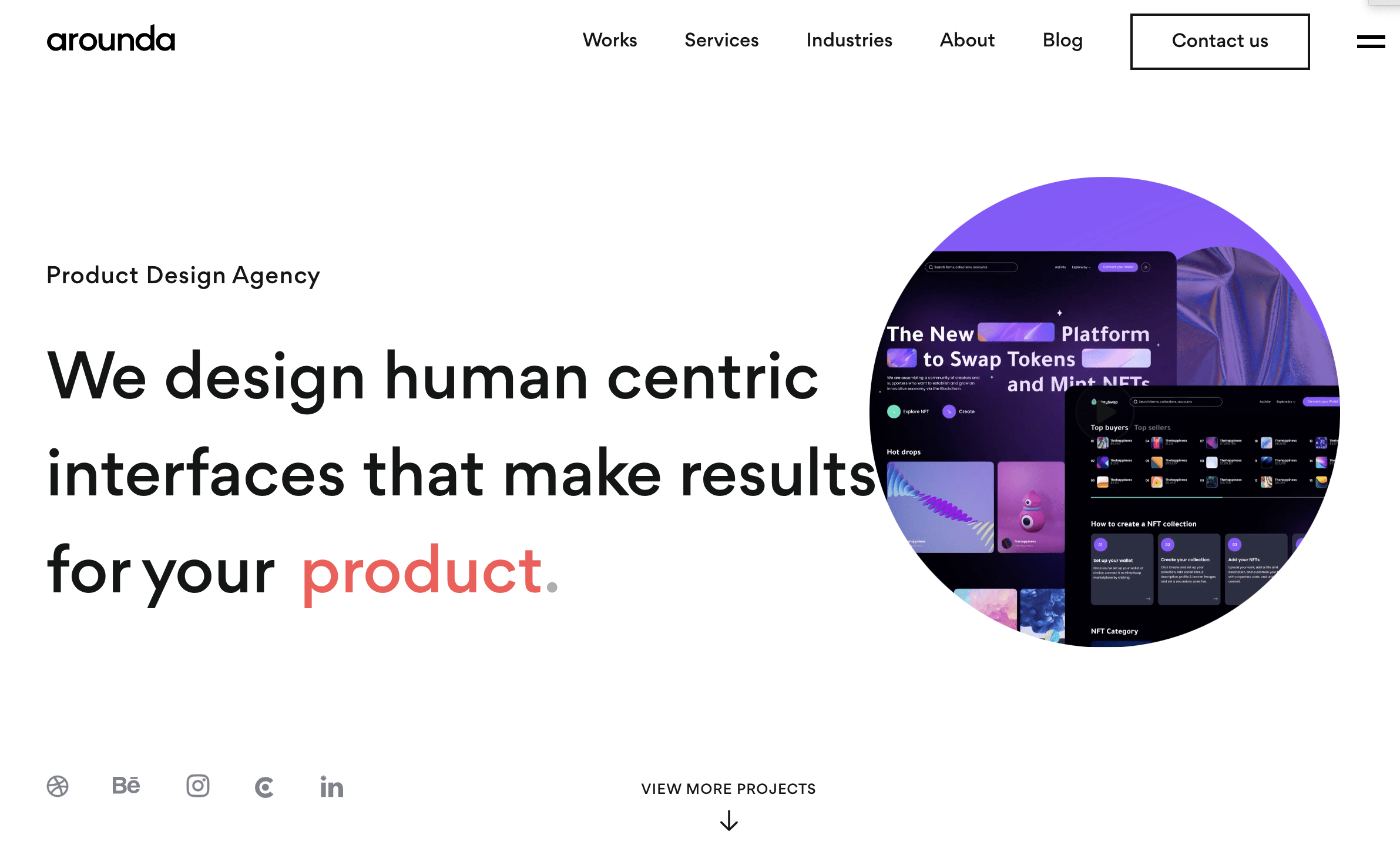 In today's rapidly altering digital world, first impressions are normally created online. Whether it is a website, mobile application, or digital product, the user experience is of utmost importance. This is where a worthwhile digital product design agency titled Arounda comes into the game. Thanks to an amazing track record and aspiration to perfection, Arounda is an ideal agency for organizations striving to craft innovative and handy digital products for users.
Arounda: Brief Facts about Web Design Agency
Arounda denotes not only a digital product design agency. It is regarded as a dynamic and forward-thinking web design agency that specializes in designing and developing digital products that excel in a packed online marketplace. Being established by a team of keen and inventive experts, Arounda has quickly become a global leader in the digital design sphere. A bunch of positive reviews from previous customers demonstrates the trustworthiness of this agency.
Proposed Web Design Services and Other Assistance
Arounda presents a broad assortment of services intended to fulfill the various needs of its customers. In particular, Arounda comprises a team that is ready to assist you with web and mobile applications, marketing websites, two-sided platforms, and landing pages. Here are some of the paramount services that differentiate Arounda from other agencies:
Strategy Services: product strategy, business analysis and research, and UX audit.
Design Services: UI/UX design, web design, and brand identity.
Development Services: web development, mobile development, and DevOps.
The best part is that the Arounda team can improve your current project or deliver you digital products crafted from scratch.
Why Select Web Design Company?
Arounda's adherence to granting superior digital product design services is obvious in every facet of their work. Let's have a look at the primary reasons why diverse organizations determine to trust Arounda with their digital design tasks:
Unrivaled Expertise: The team at Arounda comprises proficients in their respective fields. For instance, you can request assistance from UX/UI designers, developers, branding specialists, etc. Their combined knowledge and mastery have no equal in the sphere.
Customer-Oriented Approach: Arounda attaches great importance to the comprehension of the uncommon purposes and tasks of its customers. They collaborate tightly with you to guarantee that the final product corresponds ideally to your vision.
Utilization of Advanced Technology: Being aware of the latest design trends and technologies is of utmost importance for Arounda agency. The team employs the most advanced instruments, techniques, and methods to achieve high-quality results.
The Arounda agency has successfully operated with a variety of customers across diverse industries. If you want to benefit from the above-mentioned advantages, hasten to start your cooperation with an expert Arounda agency.
Summing-Up
Crafting an outstanding online presence is of decisive importance for the triumph of any business in the modern digital age. Being a reliable digital product design agency, Arounda strives to assist organizations in achieving this purpose through their user-centric designs, expertise, and customer-oriented approach. With a dedication to perfection and a good reputation, Arounda is the partner you are required to navigate the constantly transforming digital landscape.