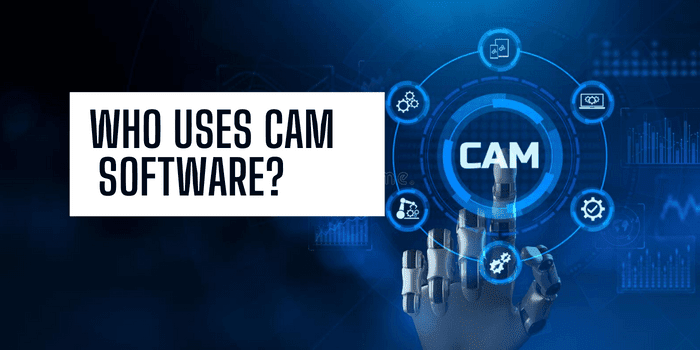 Are you curious about Computer-Aided Manufacturing (CAM) software and who uses CAM software? Look no further! In this article, we'll dive into the world of CAM and explore the various industries, businesses, and individuals that utilize its capabilities. From aerospace engineering to jewelry making, you might be surprised at just how widespread CAM software is. So sit back, relax, and get ready to discover the diverse range of people who rely on this powerful tool every day.
What Industries Is CAM Software Used For?
Computer-Aided Manufacturing (CAM) software has revolutionized the manufacturing industry by streamlining production processes and increasing efficiency. This makes many of us curious to know who uses CAM software and what industries mainly rely on it.
These programs are used in a variety of industries, ranging from aerospace to automotive and medical devices. With the rise of additive manufacturing technologies, CAM software has become an integral part of the design-to-production workflow.
One of the most significant advantages of CAM software is its ability to automate complex manufacturing processes, such as CNC machining and 3D printing. This automation helps reduce errors and improve quality control by allowing engineers to precisely define tool paths and machine parameters. Furthermore, CAM software enables manufacturers to optimize their production workflows by reducing costs associated with labor-intensive tasks.
For those looking for the best free technical drawing software that includes CAM functionality, there are many options available on the market today. Some popular choices include Fusion 360 by Autodesk, Onshape, FreeCAD, and SketchUp.
CAM software is used in a variety of industries, including
Aerospace
Automotive
Defense
Marine
Medical
Mould & Die Making
Oil & Gas
Power Generation
Semiconductors
These are the top industries where CAM programs are mainly used. So, this might clear your query about who uses CAM software. Below we have discussed the usage of this software in all these industries in detail.
Benefits Of Using CAM Software:
If you haven't considered using CAM (computer-aided manufacturing) software for your business, you may want to reconsider. CAM software can offer many benefits for businesses of all sizes, including increased productivity, efficiency, and accuracy.
CAM software is used to create computer-generated models of products or components that can be manufactured. The software can be used to create 2D or 3D models and can be customised to specific manufacturing processes. This makes it an essential tool for businesses that rely on precision manufacturing.
Here are some of the benefits of using CAM software:

Increased Productivity: CAM software can help you increase your productivity by allowing you to create more accurate models in less time. This means you can get your products to market faster and start generating revenue sooner.
Improved Efficiency: By streamlining the modelling process, CAM software can also help improve your overall efficiency. This can free up time and resources that can be reinvested in our business.
Greater Accuracy: Perhaps the most important benefit of using CAM software is the increased accuracy it provides. With CAM software, you can be confident that your models are precise and will result in perfectly manufactured products. This level of precision is essential for businesses that demand the highest quality from their products.
Types Of Organizations That Use CAM Software:
Computer-aided manufacturing (CAM) software is an essential tool for many industries. This software provides a powerful suite of capabilities that enable companies to automate and optimise their manufacturing processes. Who uses CAM software? The use of CAM software is particularly common in the aerospace, automotive, and medical device industries. These types of organisations require high levels of precision, accuracy, and efficiency to produce complex parts or components.
-Manufacturing companies: CAM software is often used in manufacturing to create accurate models of products that will be produced. This helps to ensure that the products are made correctly and to specifications.
-Engineering firms: Engineering firms often use CAM software to create models of products or systems that they are designing. This allows them to test out different designs and see how they would work in the real world.
-Architectural firms: Architects also use CAM software to create models of buildings or other structures. This helps them to plan out the design and see how it would look in the finished product.
-Education institutions: Many schools and universities also use CAM software in their classrooms. This allows students to get hands-on experience with the software and learn how to use it for their projects.
How Does CAM Software Help Different Industries?
CAM (Computer-Aided Manufacturing) software has revolutionized the way different industries operate. CAM software provides a range of capabilities that are critical in modern manufacturing, including computer-aided design, simulation, and analysis. With the help of CAM software, companies can improve their production processes while reducing costs and improving efficiency.
The benefits of using CAM software are numerous across various industries such as aerospace, automotive, medical devices manufacturing, and beyond. One significant benefit is its ability to streamline the entire manufacturing process by automating tasks that were once done manually. This leads to increased productivity with fewer errors and less downtime for maintenance or repairs. Additionally, some companies offer attractive discounts on CAM software like Fusion360 discount which can help small businesses gain access to powerful technology at an affordable price.
Uses Of CAM Software In Manufacturing And Design
CAM software is used extensively in manufacturing and design. In fact, it is an essential tool for many industries. It allows engineers and designers to create models and simulations of products before manufacturing. This helps to ensure that the products will meet the required specifications and performance standards.
CAM software is also used to create prototypes of products. This allows companies to test the products before they go into mass production. It also allows companies to make changes to the design of the product before it goes into production, which can save time and money.
Conclusion
Here we tried to solve the query related to "who uses CAM software in 2023?". This software is an invaluable tool for a variety of professionals including machinists, engineers, and designers. Not only does it improve production speed and reduce costs, but it also allows users to create more detailed projects with greater accuracy. Whether you are looking to get started with CAM software or need to upgrade your existing system, there are plenty of options available on the market today that can help you take your operations to the next level.